Paul Heyman kicked off RAW with a promo summing up Brock's achievements before Drew McIntyre was out to remind everyone of what he did to Brock Lesnar the last timed he was in a ring with him. Standing in the ring with Lesnar, Paul Heyman said that while we live in uncertain times, the one certain thing is that Drew McIntyre can never beat Brock Lesnar.
---
After the segment, we headed to a rerun of the Lesnar vs. John Cena vs. Seth Rollins' match for the WWE Title from the 2015 Royal Rumble.
---
We got a short recap mentioning as The Gronk will host Mania this year as well as AJ Styles vs. The Undertaker.
---
AJ Styles was out next and was taunting the Undertaker, even bringing up his twitter and a video that Taker had shared of him swimming with a tiger. AJ said he wanted Taker's soul but Michelle McCool had already taken it away and had buried the Deadman's career. He challenged Taker to a Boneyard match saying he will bring out the real Deadman.
---
Backstage, Andrade and Angel Garza were there with Zelina Vega before their match with Ricochet and Cedric Alexander.
---
Cedric Alexander & Ricochet vs. Andrade & Angel Garza
The heels attacked Ricochet before Cedric's entrance but Ricochet fought them off. The match started with Ricochet and Andrade and Ricochet was in trouble early before the Street Profits crashed the party.
Cedric and Ricochet hit an Inverted Atomic Drop and Enzuigiri combination and then a double Superkick on Andrade. Andrade hit the double knees on Cedric who was isolated and in trouble.
Andrade was able to connect with a crushing spinning elbow and Cedric went down hard. With that, Andrade picked up the win.
Result: Andrade & Angel Garza def. Cedric Alexander & Ricochet
Match rating: B
Rate this match here.
---
Street Profits vs. Shane Thorne & Brendan Vink
Street Profits were dominating this match early on and Montez Ford was sending a message to anyone who was watching. Ford and Dawkins landed in a spot of trouble but managed to turn things around. Brendan Vink was in the ring when Angelo Dawkins came in and took out both men with numerous suplexes before Montez Ford hit a Splash for the win.
Result: Montez Ford & Angelo Dawkins def. Shane Thorne & Brendan Vink
Match rating: C
Rate this match here.
---
Charly Caruso was in the ring interviewing Shayna Baszler who said Becky should expect to lose before threatening Charly and saying that she "likes to destroy". Becky attacked Shayna in the ring and walked out, leaving Baszler lying in the ring.
---
Aleister Black vs. Leon Ruff
Aleister Black advanced towards Leon and then sat down, taunting Ruff. Leon asked him to get up and went for a kick, but Black caught him and then delivered a sudden an instant Black Mass for the quick win.
Result: Aleister Black def. Leon Ruff
Match rating: C-
Rate this match here.
---
Kevin Owens was out he called Seth Rollins who joined him at ringside. Seth started to tell him how the performance center was built on his blood, sweat, and tears and that without Seth Rollins, "there is no NXT, performance center or Kevin Owens."
Seth went on about having more WrestleMania moments than we could count while Owens' history had seen only failure. Rollins ended with how he compared himself with a god and walked out.
---
We headed to another rerun of a match between Asuka and Charlotte for the SmackDown Women's Championship, this time from WrestleMania 34.
---
Backstage, Charlotte reminded us of how many titles she had won and why Rhea Ripley didn't have a chance against her.
---
Randy Orton was out and admitted that he was handed an opportunity because of his last name, but that did not guarantee success. He said that he had fought for his wins for the IC Championship, defeating Mick Foley, and every other thing that he had accomplished.
Randy accepted Edge's challenge, saying that he will end Edge's career by "writing the last chapter."
---
Episode rating: B
A great bunch of promos but the matches were lacking, probably owing to health and safety restrictions.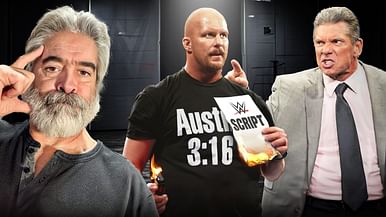 How Stone Cold was born in 2 minutes