Welcome back to Sportskeeda's daily WWE Rumor Roundup, and as expected, some big rumors are doing the rounds as we edge closer to Royal Rumble 2023.
An insightful report recently revealed how WWE officials viewed Bray Wyatt backstage and what Roman Reigns thinks about having another feud with The Eater of Worlds.
Regarding Royal Rumble, details of a pitch to reunite a popular stable have also emerged online, and we've covered them all in today's roundup. An underrated superstar is finally getting due recognition, as company officials are reportedly happy with his rise on SmackDown.
On that note, here is the latest rumor roundup:
---
#1. Backstage news on Bray Wyatt's position on SmackDown
Since his return, Bray Wyatt has been well-protected by WWE, and most fans expect him to cross paths with Roman Reigns eventually. The Tribal Chief is scheduled to defend his titles against Kevin Owens at Royal Rumble, and he is the odds-on favorite to win the high-profile match.
Regarding Reigns' future, Dave Meltzer recently revealed that Bray Wyatt is a viable future opponent for the Bloodline leader. Wyatt is allegedly seen as the #1 babyface on the blue brand, and the logical endgame would be for him to feud with Roman Reigns.
However, it was noted that The Head of the Table realizes how the talents who work against Bray Wyatt always come out looking worse by the end of their program.
Here's what Dave Meltzer revealed on the Wrestling Observer Radio:
"I don't think so. It's possible. Bray is considered the number one babyface on SmackDown. He is the biggest-slotted star that Roman has not worked with, but I also don't know…Roman also knows that people who work with Bray always look a lot worse than going in," Meltzer stated.
Roman Reigns should ideally have no problems working with Bray Wyatt. However, rest assured; the reigning Undisputed World Champion will undoubtedly have a massive influence on the booking if the proposed angle goes through.
---
#2. Reported Royal Rumble pitch for Brock Lesnar and Bobby Lashley revealed
RAW XXX ended with a massive swerve as Brock Lesnar returned to attack Bobby Lashley during the latter's United States title match against Austin Theory.
The Beast and The All Mighty are seemingly destined to complete their trilogy, and Royal Rumble is where their storyline moves on to the next level. As reported by Xero News, a creative pitch has been made backstage to have Brock Lesnar and Bobby Lashley kick off the Rumble match at #1 and #2, respectively.
The idea is for Lesnar to eliminate a few superstars before Bobby Lashley enters the fray. The company has also discussed the possibility of reuniting The Hurt Business, who would eventually help Lashley dump Lesnar out of the Royal Rumble.
Here's what was revealed on Xero's Patreon regarding the rumored pitch for Royal Rumble:
"Brock as number 1 is what it was when I last checked so that Bobby could be number 2, and we can get those two fighting for a bit. Then Brock will eliminate a few people up to 6 or 7. Bobby will eventually eliminate Brock with the help of MVP Omos, Shelton, and Cedric. Reforming Hurt Business."
It should be noted that WWE is yet to confirm their plans for the Rumble, and everything is subject to change as of this writing.
However, going by MVP's recent comments and also the developments from RAW, the reformation of the Hurt Business seems inevitable at this point.
---
#3. Backstage reactions to WWE RAW XXX, praise for LA Knight
As advertised, RAW 30 ended up being one of the most newsworthy episodes in a very long time. In addition to the one-off appearances from several legends, WWE also added more layers to existing storylines heading into the Royal Rumble.
RAW XXX had a must-watch Bloodline segment, The Undertaker seemingly passing the torch to Bray Wyatt, and many other moments that had the fans on the edge of their seats. The WWE Universe isn't the only happy party, as officials behind the scenes are reportedly pleased with how the Monday Night show panned out.
Fightful Select reported that the "people of influence" within the company were "very happy" with RAW 30.
Additionally, Xero News noted that the segment involving Bray Wyatt, The Undertaker, and LA Knight received rave reviews backstage. The 40-year-old Knight's work, in particular, got a lot of plaudits following the angle.
WWE executives are impressed by the former IMPACT Wrestling star's performances as he has held his own despite being in a program with a top star in Bray Wyatt.
"Regarding RAW 30, I'm told the Bray Wyatt/Knight/Taker segment recieved huge praise backstage after the segment was over, Knight is said to have majorly impressed higher ups over the last few months, showcasing his ability to hold his own in the Bray Wyatt feud as a major player."
Could 2023 be LA Knight's year? What do you guys think? Let us know in the comments section below.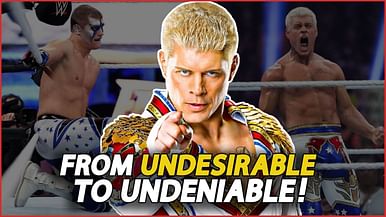 How Cody Rhodes returned to WWE and change pro wrestling forever!