Daniel Bryan vs Brock Lesnar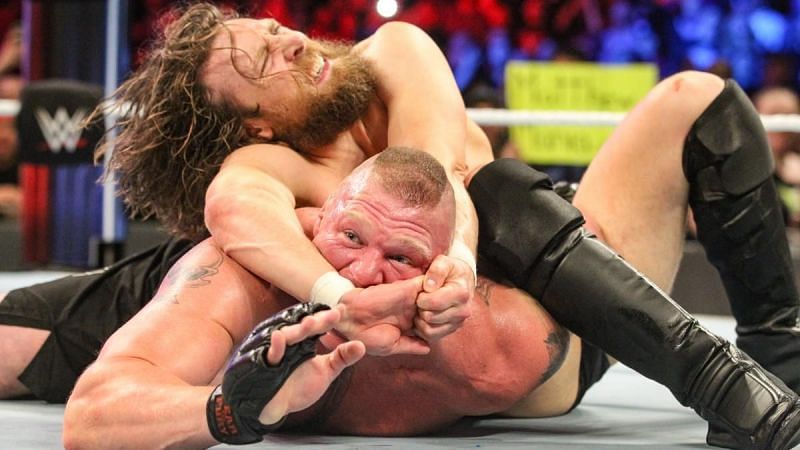 Daniel Bryan looked overconfident before the match, goading Lesnar to come to him. Bryan began the match by kicking Lesnar's legs and then running outside the ring. Bryan circles the ring and mocks Lesnar.
The contact finally begins and Lesnar catches Lesnar's legs and gets hit with a clothesline. Lesnar hit him with a series of suplexes, the first of which looked bad as Bryan landed on his neck. Lesnar dominating Bryan stunned the arena into silence.
Brock Lesnar brutalised Bryan throughout the match, with the WWE Champion getting no offence in whatsoever. He even got hit with the F-5 but Lesnar stopped the pin mid-way to continue.
Bryan came back when he kicked Lesnar's head twice and the referee went down. He low-blowed Lesnar and hit the running knee, but it was a two and a half count.
Bryan then began brutalising Lesnar, hitting him with stomps to the head. He sent Lesnar outside the ring and jumped on him only to get caught. He still sent Lesnar into the ring post and then a jumping knee.
However, Lesnar then caught Bryan and slammed him into the turnbuckles. A frustrated Lesnar took steel steps and missed, making it rebound on himself. Bryan then took advantage and the action went in the ring, where Bryan continued an assault on Lesnar, including a running knee, which Lesnar once again kicked out of.
Bryan came close to submitting Lesnar and it was teased so hard, but Lesnar broke the grip. He modified his carry into an F-5 and beat Bryan in an instant classic.
Brock Lesnar def. Daniel Bryan
RAW - 6
SmackDown - 0
It was a clean sweep for Monday Night RAW
---
Send us news tips at [email protected]