The wrestling world is abuzz with rumors of CM Punk's comeback to WWE, which could lead the way for another beloved star, AJ Lee, to make her comeback after eight years.
Punk's recent exit from AEW, following a backstage altercation with Jack Perry, has left fans wondering about his next move. Tony Khan announced Punk's termination with cause, citing concerns for backstage safety. Dave Meltzer reported that WWE, which previously showed no interest in Punk during his All Elite contract negotiations, might reconsider now that he's a free agent.
The ripple effect of CM Punk's return to WWE return extends beyond him. His comeback may also lead his spouse, AJ Lee, to return to the Stamford-based promotion. Lee retired from in-ring competition in 2015 after teaming up with Saraya (fka Paige) and Naomi to defeat The Bella Twins and Natalya on the RAW after WrestleMania 31.
After her retirement, AJ Lee pursued different ventures, including a backstage position at Women of Wrestling. However, her association with the promotion ended, making her a free agent again.
Now, as a free agent again, this could lead her way back to the Stamford-based promotion after eight years.
---
Tony Khan talked about firing former WWE Superstar CM Punk from his promotion
AEW has recently fired CM Punk after an investigation into a backstage altercation with Jack Perry at All In 2023.
During the post-All Out media scrum, Tony Khan said firing CM Punk was "the right move."
"I don't want to discuss the terms of the separation in that sense. I very much want to thank CM Punk, Phil, for everything he did in AEW as a wrestler. I don't think it was an easy decision for anybody on the discipline committee, or the outside counsel, or for me to do something like that. I do think it was the right move. As far as what's going to happen in the future, I can't speak to that. I'm not the attorney who interpret all that language," he said.
Since his departure, Punk has also remained quiet. It has been reported that both WWE and Impact Wrestling have reportedly shown interest in signing him, with Nick Khan also recently commenting on the possibility of Punk joining the promotion.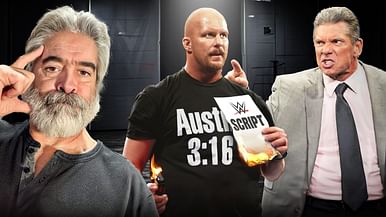 How Stone Cold was born in 2 minutes