Chris Jericho infamously got into a brawl with Goldberg during their shared tenure in WWE. However, the story broke very quickly at the time, and Jericho believes he knows why.
Former AEW star CM Punk's infamous brawls with The Elite and Jack Perry put the spotlight on the promotion. However, since then, many veterans have claimed that this is simply a part of the business.
Chris Jericho recently appeared on Busted Open Radio and recalled his 2003 backstage brawl with Goldberg. Additionally, he reflected on how the internet has blown up reports about his backstage conflict.
"I think people like to focus on [the] negative. I remember when I got into the fight with Goldberg in Milwaukee [in 2003], it was out on whatever version of the internet was then 10 minutes later."
Jericho continued:
"'I was like, 'who the f**k is saying this?' ...So, it's not like this is the first time there's been incidents backstage. It happens. I just think now with social media that people want to jump on the negative."
Jericho recently commented about the rumors that Edge could be jumping to AEW. According to the veteran, the situation mirrors his departure from WWE, and he listed how it could be a good idea for The Rated-R Superstar.
---
Missed out on last week's AEW Dynamite? Catch up with the results before tonight's show here.
---
Chris Jericho also admitted that there were issues backstage in AEW
Chris Jericho has been seen as a locker-room leader over the past few years, and during his appearance on Busted Open Radio, he was asked about how aware he was of the backstage conflict.
Jericho admitted that things were not good backstage in AEW, but they've now been sorted out.
"We know the issues. The issues have been rectified. But the point is, it's like there's so much positive things going on. And those things are always kind of a little bit downplayed. But it's the negative that gets focused on. I know what's going on in the locker room, and we know what areas we need to work on."
It remains to be seen if the issues have been rectified backstage or not. Notably, Santana and Ortiz recently had a public fallout, so perhaps the issues backstage are not as rectified as Chris Jericho claims.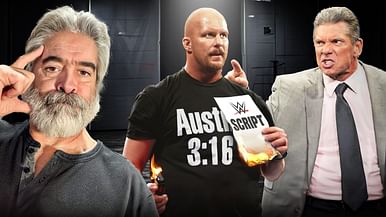 How Stone Cold was born in 2 minutes
Edited by Gurjyot Singh Dadial