Just when fans thought CM Punk could be making his comeback to AEW, the Chicago native seemingly poured water on their excitement. His latest Instagram story has caused a stir among fans on social media.
Amidst rumors that the Straight Edge Superstar wants to be "back" in AEW, Dave Meltzer made some revelations about the build-up to his feud with Jon Moxley en route to All Out last year:
Recently, CM Punk took to his Instagram to debunk Meltzer's claims. The WWE veteran spilled the beans on his side of the story and noted that Moxley refused to lose to him:
"SIGH. I wasn't cleared to come back to wrestle yet. Then plan was to wrestle at the ppv. I sat and listened to moxleys Rocky three idea. I explained how I'd never seen a Rocky movie. I and thought the idea s**ked but if the boss wanted to do it whatever. He said he wouldn't lose to me. I'd never experienced someone refusing to lose to me," wrote Punk.
The Second City Saint called Chris Jericho a liar and blasted Tony Khan for putting his health at risk:
"I just laughed. I asked Tony if this was what he wanted. He said yes. He's the boss so I said okay but I'd need to be cleared first. They kept saying it could just be a squash so l didn't need to be cleared. I scoffed at that. My health is more important. Dave Meltzer is a liar. Jericho is a liar and a stooge. There were plans but plans always change but I'll never put a company above my health ever again."
CM Punk capped things off with a bold statement saying, "he would never put any company above his health ever again."
His Instagram story has since been deleted. It's unknown whether Punk is spitting facts here or if this is all work before his impending return.
---
What do you make of CM Punk's now-deleted Instagram story? Sound off in the comments section below.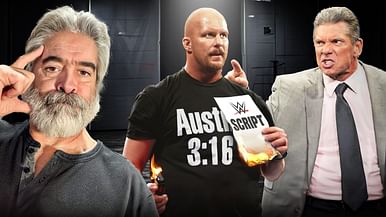 How Stone Cold was born in 2 minutes
Poll : Do you think CM Punk will return to AEW?
112 votes