Sting has entered the final year of his AEW contract, though the exact date of its expiry is still unknown. The Icon has made it clear that once his deal runs out, he will bring the curtain down on his legendary career.
His brief time with All Elite Wrestling has allowed him to write the final chapter of his career on his own after he was forced to retire from in-ring competition in WWE almost eight years ago.
With AEW set to hold All In at Wembley Stadium this summer, there's massive speculation about the 64-year-old possibly having his last hurrah at the marquee show.
During the media call ahead of Double or Nothing, Tony Khan revealed that the Vigilante hasn't mapped out his retirement date yet, though he would want him to stay active as long as he wants:
"I am going to try and keep Sting wrestling and active as long as he wants to do it. He hasn't really given me a set time. He's mentioned it at times that he's not going to wrestle forever. Truth be told, I would like Sting to compete as long as he wants. I really think he adds so much to the company and going forward, as we add more TV shows, more presence on TBS and TNT for AEW, having somebody like Sting in the company, such a great star and a great business asset for the company, but also a great person," Khan said.
The All Elite President assured that whenever Sting decides to hang up his boots, he'd make his swansong a must-see event:
"We love having him here and I would love for Sting to stay as long as he could. Whenever he does decide that it's time for his last match, we would definitely want to make it a big event and I think it's one of, frankly, the biggest moments out there in pro wrestling right now," he added. [H/T - Fightful]
---
Tony Khan sees Sting as a big asset to AEW
Tony Khan believes The Icon's imminent retirement has been the biggest talking point in all of pro wrestling today.
However, the Head Honcho doesn't want to use his final farewell as leverage for AEW's short-term gain:
"It's definitely something that will eventually be a major asset to the company, but in the meantime, he himself is a major asset to the company and I don't want to try and leverage his retirement for short-term gain. Right now, the person we're getting is so incredibly valuable to the company." [H/T - Fightful]
The WCW legend has been undefeated in 13 matches he has wrestled so far, with his most recent AEW outing ensuing in a trios match in March this year. While he has yet to compete in a singles match, many fans want him to pass the torch to his protege Darby Allin.
Only time will tell who will be the one to retire the face-painted star once and for all.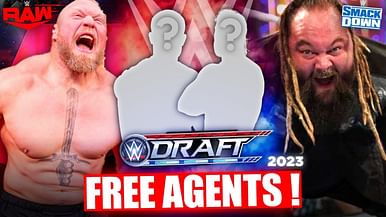 Brock Lesnar and 10 WWE stasr who are FREE AGENTS