20 NBA players Who Underwent Crazy Body Transformations
20 NBA players Who Underwent Crazy Body Transformations
NBA players have to take proper care of their bodies. Staying fit and athletic is the key to success, which is why many players spend a lot of time workout out. While workouts are routine for a lot of players, some of them have gone through drastic transformations.
Several players who struggled with weight became superstars after slimming down. Others, however, have always been fit, but have taken giant leaps when they added more muscle.
Here are the 20 NBA players who underwent crazy body transformations during their careers.
---
#1 - Giannis Antetokounmpo
Giannis Antetokounmpo looks almost unrecognizable when compared to his rookie year. The Milwaukee Bucks forward stood at 6-foot-9 and weighed only 190 pounds in his first season in the league.
You may be interested in reading: 20 Most Overpaid NBA Players: Which Ballers Are Earning Way Too Much?
Antetokounmpo added a lot more muscle later on and now weighs at least 50 pounds more. His body is much bigger and stronger, which helps him beat opponents.
---
#2 - Hassan Whiteside
Hassan Whiteside was drafted by the Sacramento Kings and he appeared in only 19 games in his first two seasons in the league. Shortly after, the big man was out of the league.
The Miami Heat took chances with the center, transforming him into a star player. He went from weighing 220 pounds in his rookie year to 265 pounds in Miami, becoming one of the best rebounders and shot blockers in the NBA.
---
#3 - Joel Embiid
Joel Embiid started playing basketball only three years before he came to the United States. His body drastically changed while playing for Kansas, and he's further developed it in the NBA.
The reigning MVP weighed 240 pounds before the draft, but he's now at 280. Considering that he stands at seven feet, this extra weight and muscle help him with boxouts and inside scoring.
---
#4 - LeBron James
LeBron James is one of the greatest NBA players of all time. He's played in the league for 20 years and is its leading all-time scorer. However, James has worked hard to get to where he is now.
While there is no doubt that athletic stardom is in his genes, the LA Lakers forward's body has drastically transformed over the last two decades. Despite this, he's always been listed at 240 to 250 pounds!
---
#5 - Michael Jordan
Michael Jordan was one of the hardest-working NBA players. He was very competitive, which is why he decided to bulk up and become stronger over the summer of 1990. Jordan couldn't beat the Detroit Pistons and their physical defense, so he decided to change.
When he entered the league, MJ weighed 195 pounds. However, his weight increased to around 220 pounds during the second three-peat. Jordan reportedly weighed 225 pounds during his two-year tenure with the Washington Wizards.
---
#6 - Nikola Jokic
Nikola Jokic is one of the top NBA players. With two MVP awards under his belt and numerous triple-doubles, the Denver Nuggets center has established himself as one of the greatest centers to ever play the game.
Jokic was considered obese growing up, but he managed to lose some weight playing basketball. The Nuggets superstar lost even more weight during the coronavirus lockdown, even getting abs on his body.
---
#7 - Dennis Rodman
Standing at only 6-7, Dennis Rodman was a fantastic rebounder. However, he went through numerous changes during the course of his impressive career. While playing for the Pistons, the forward didn't stick out from other players.
This, however, changed later on. Rodman added many tattoos to his body and colored his hair. He also added a few more pounds to his body, which made him stronger.
---
#8 - Steven Adams
Steven Adams is one of the NBA players who've gone through a massive transformation. His rookie photos look almost unrecognizable, as Adams has changed almost everything about him, from muscle definition to facial hair.
Adams plays primarily under the basket. He's a great rebounder and screener, which is why the extra weight helps him be more efficient.
#9 - Marc Gasol
Marc Gasol went through many changes during his NBA career. During his high school days, Gasol wasn't exactly fit and it didn't seem that he'd become a star. However, he worked hard and got in perfect shape.
The big man weighed 280 pounds on draft day, but trimmed his weight all the way down to 255 pounds, becoming one of the best centers in the league during his prime.
---
#10 - James Johnson
James Johnson is one of the NBA players who were late bloomers. For Johnson, this was never a talented issue, but more of a weight problem. The forward started his season with the Miami Heat at 275 pounds, but trimmed it down all the way to 238 pounds.
The Heat have a strict weight regimen, but Johnson certainly benefited from it. He had the best season of his career in Miami, averaging career-highs in points, rebounds and assists.
---
#11 - Shaquille O'Neal
Shaquille O'Neal is arguably the most dominant player to ever play in the league. He was so powerful that many teams signed seven-footers whose sole purpose was to stop him. However, no one got even close to doing so.
O'Neal weighed 285 pounds coming into the league. He eventually added even more muscle and weighed 395 pounds during his last championship with the Lakers.
---
#12 - Dwight Howard
Dwight Howard was always fit and strong while playing in the NBA. However, there is a difference between a rookie Howard who weighed 240 pounds and a veteran center who bulked up and became dominant.
The former Orlando Magic star heavily relied on his strength during his career, which is why adding more muscles helped him become stronger. Thanks to his transformation, Howard won numerous accolades and was an incredible two-way player.
#13 - Kevin Durant
There aren't many NBA players who can outplay Kevin Durant on the offensive end of the floor. He's one of the greatest scorers in league history, and watching him develop into an elite scorer has been fun.
Durant weighed only 215 pounds at the 2007 NBA Draft Combine. He eventually added more weight and currently weighs around 240 pounds. KD can score from anywhere on the floor, but extra muscle helps him with slashing and posting.
---
#14 - Chris Andersen
It's hard to believe that all three photos above are of the same player, that's how drastic Chris Andersen's body transformation was. His transformation is very similar to Dennis Rodman's.
As a rookie, Andersen was just a regular player who didn't stick out. Later on, he covered nearly his entire body in tattoos, added some extra muscle, and became one of the most valuable NBA players off the bench, helping Miami win it all in 2013.
---
#15 - Mike Bibby
Mike Bibby weighed around 190 pounds during his playing career. He spent 14 years in the professional basketball league, but is mostly known for his seven-year tenure with the Sacramento Kings.
The 6-1 point guard did not change much during his career, but he went through a massive transformation after retiring. Photos of Bibby's impressive muscles went viral in 2022, showing the drastic change the former point guard has had.
---
#16 - Kevin Garnett
Kevin Garnett stood at 6-11 and weighed only 217 pounds when he entered the NBA. He was still athletic and agile, but had to go through a massive transformation to unleash his full potential.
The talented player eventually bulked up to 240 pounds, becoming more dominant in the post. His strength and athleticism helped him become one of the best power forwards in NBA history.
#17 - Udonis Haslem
Udonis Haslem's story is very inspiring. The power forward weighed 300 pounds after high school and went overseas to play in France. He lost 50 pounds in his first season in Europe, eventually returning to the US and signing with the Miami Heat.
Haslem is a Miami native and has spent his entire career with the Heat. He eventually trimmed down to 235 pounds, adding more muscles to his body and becoming very valuable to the franchise's success.
---
#18 - Kevin Love
Kevin Love is among the NBA players who've gone through drastic body changes. During his tenure with the Minnesota Timberwolves, the talented power forward weighed more than 270 pounds and was generally considered overweight.
Since his trade to the Cleveland Cavaliers in 2014, Love has lost more than 30 points. Not only did he lose weight and become more mobile, but he also added extra muscle which helped him with rebounding and post play.
---
#19 - Anthony Davis
Anthony Davis weighed only 222 pounds on draft day. Considering that he's 6-10, this simply wasn't enough to let him dominate heavier and stronger opponents. However, the forward eventually bulked up, going all the way to 253 pounds.
Davis' weight and muscle helped him become a dominant inside player. While he is capable of scoring from the mid-range or three-point line, his game is mostly focused on attacking the rim.
---
#20 - James Harden
James Harden has gone through several changes during his amazing NBA career. He went from being an athletic guard who was named the Sixth Man of the Year in Oklahoma to a superstar in Houston.
You may be interested in reading: 10 youngest NBA Players ever drafted in history
Harden's body has gone through a transformation as he gained a lot of weight during one period with the Rockets. The former MVP was also criticized for his weight in Philadelphia, but he hit the gym and got in much better shape.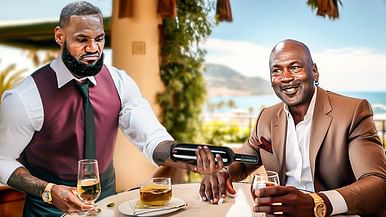 How is Michael Jordan officially richer than NBA's 10 richest players?!
See more
More from Sportskeeda