Jujutsu Kaisen chapter 242 was expected to continue with Takaba and Kenjaku's battle, and while it did not disappoint, the development was rapid and a tad too bizarre for regular readers to keep up with. The official translation is set to be released on Monday, November 20, 2023, at 12 am JST in Shueisha's Weekly Shonen Jump issue 51.
In the previous chapter, a flashback showed Takaba's journey through the process of becoming a comedian and his perseverance when others gave up. At present, Takaba remembers his purpose for becoming a comedian. With newfound confidence, he manages to get his Cursed technique to work again and prepares to go head-to-head with Kenjaku a second time.
Disclaimer: This article contains spoilers from Jujutsu Kaisen chapter 242.
---
Jujutsu Kaisen chapter 242 spoilers and raw scans reveal Takaba's true power as the battle against Kenjaku reaches the climax
According to the spoilers, Jujutsu Kaisen chapter 242 is titled "Foolish Survivor - Rise Up."
Jujutsu Kaisen chapter 242 begins with Kenjaku summoning "Akuro Ouohtake," a Special Grade Curse, against Takaba. However, the Curse gets destroyed by a Truck imagined by Takaba, who has now become its driver. Takaba's imagination turns Kenjaku into a police officer, who accuses the man of Drunk Driving and tries to check his alcohol level.
However, the bag in which he is supposed to breathe contains a goldfish, which is dead. For his next trick, Takaba turns Kenjaku and himself into doctors who try to revive this fish, but they fail to do so. This disheartens Takaba, who turns Kenjaku into a nurse and yells at him.
They then play rock, paper, and scissors, which turns into a quiz show leading towards a door. Kenjaku realizes that Takaba's Cursed Technique does not only materialize his own imagination but can read and materialize his opponent's imagination as well. He can even manipulate his opponent's imagination to suit his needs and the flow of the fight.
As both Takaba and Kenjaku rush towards the door, they hear a cat that's about to be hit by a car. Takaba tries to save the cat, who turns out to be Kenjaku himself and gets hit by the car instead. They then get transported to the ocean, where Takaba first runs Kenjaku over with a water scooter before they engage in a water fight like children.
Kenjaku realizes that Takaba is constantly manipulating his imagination, but he is unable to stop it. He deduces that the only way to stop Takaba is to eradicate his affinity toward comedy altogether. Determined to stop Takaba, Kenjaku suits up and invites the comedian to a battle of humor on stage.
---
Final thoughts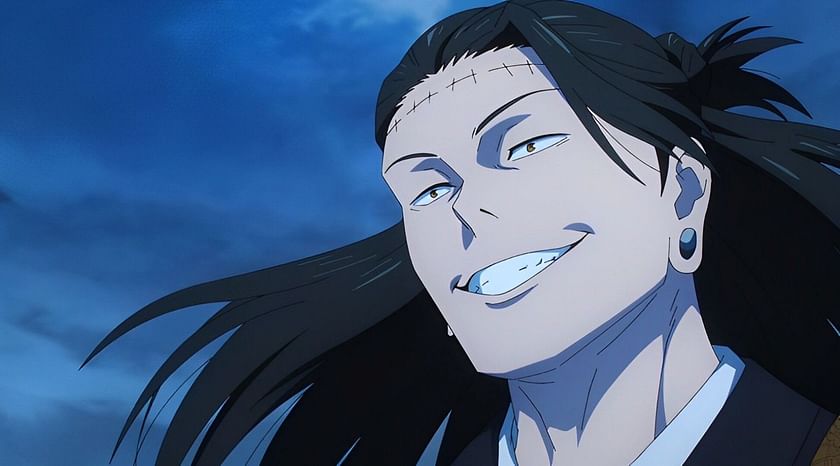 Like this battle, this chapter was deceptively complex and showed how Takaba might have a power that could even defeat Sukuna. The power to control imaginations, not just his own but also his opponent's, gives Takaba a chance to win that he didn't previously have.
Jujutsu Kaisen chapter 242 spoilers leave it unspecified whether Takaba can manipulate or read thoughts, but it is strongly implied. According to the spoilers, mangaka Gege Akutami will not be taking a break next week, and chapter 243 will be released as scheduled in Weekly Shonen Jump issue 52.
Readers can find the official release date and time here.
Sportskeeda Anime is now on Twitter! Follow us here for latest news & updates.
Edited by Aratrika Baidya