The drastic change in playing conditions, from the size of the boundary to the pitch and the speed of the outfield, is one of cricket's most unique aspects. These conditions naturally change over history as well.
St George's Park in Port Elizabeth, for example, was historically a safe haven for bowlers. In the early 19th century, 200 was a good score, with George Lohmann even taking 8/7 on one occasion. The pitches have changed since then and St George's Park is now more friendly to batsmen.
However, the ground's transformation has been a gradual one. More jarring is the change in Melbourne Cricket Ground. It is one of several stadiums in Australia to have moved to drop-in pitches, ensuring the ground remains usable for Australian Rules Football in the winter.
These drop-in pitches have seen Australian grounds robbed of its pace and bounce. Melbourne not only had these typical Australian attributes, but also often provided bowlers with swing, making the early stages of an innings tense for batting sides. This was seen in the 2010/11 Ashes, as James Anderson and Chris Tremlett ripped through Australia with a fine display of swing bowling, dismissing the home side for just 98.
So the grounds that have been the most favourable to batsmen through history are not necessarily the grounds that are most suited for batting today. However, this list takes all three formats into account, ensuring that venues' more recent conditions still hold plenty of relevance.
#7) Adelaide Oval (Australia)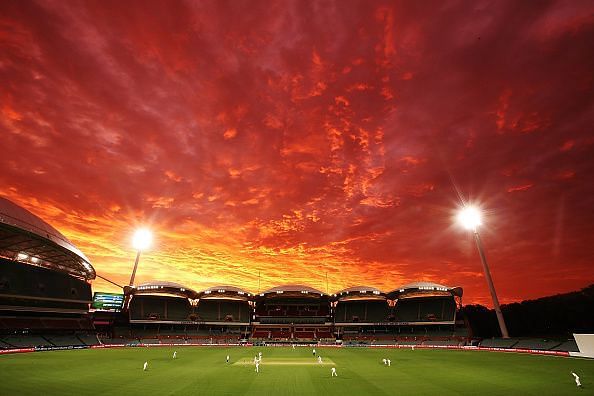 The Adelaide Oval has long been considered the best ground in Australia for batsmen. The flat pitch and short square boundaries mean its seen plenty of high-scoring matches.
The pitch at Adelaide is an oddity in that it has become more friendly for bowlers in recent years as it is currently the only ground in Australia to have successfully integrated a drop in pitch that provides a lively contest between bat and ball.
Yet no venue that has hosted over 50 Tests has a higher average per wicket than Adelaide's 35.49. Despite this, less than a quarter of games at the ground have drawn, which points to how it helps quick scoring.
This was seen in Australia's historic 2006 Ashes win. England had appeared to bounce back magnificently from defeat in the first Test, as they went to Adelaide and declared at 6/551 in the first innings. However, Australia fought back to limit England's first innings lead to just 38. England were then rolled for 129, and Australia marched home in the final session to claim an unlikely victory.
The quick scoring rates have even been witnessed in the handful of T20Is the ground has hosted, as the average economy rate at the venue in this format is 8.15. But the ground has long been a batting haven - the highest score it has ever seen is Don Bradman's unbeaten 299, all the way back in 1932.
#6) Gaddafi Stadium (Pakistan)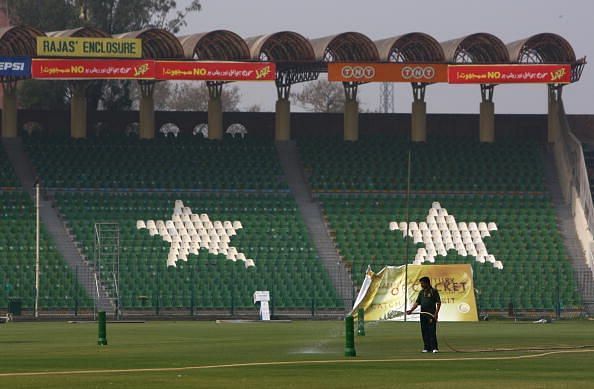 The ground that hosted the 1996 World Cup has seen many great batting performances, not least Aravinda de Silva's match-winning century in that final.
In Test matches here, a wicket on average cost bowling sides 34.99 runs, resulting in 55 percent of the matches played her to be drawn. It has seen nine double-hundreds and one triple-hundred, Inzamam-ul-Haq's mammoth 329 as Pakistan played New Zealand.
Many Pakistani greats have thrived at the Gaddafi Stadium, as both Zaheer Abbass and Mohammad Yousuf average in the 90s at the Lahore-based ground. Yet one of the finest innings it has seen was Virender Sehwag's 254, made in just 247 balls. Sehwag ended up being the only Indian wicket to fall in their one and only innings as they ended the Test at 1/410 in reply to Pakistan's 679.
The ODI statistics at the Gaddafi Stadium are remarkable too, especially since it has hosted ODIs from the time when batsmen scored far slower in the format. The average runs per wicket in ODIs at the Gaddafi Stadium is 33.54, while the average economy rate is 5.24.
Most recently it saw Pakistan score 3/375 there, largely thanks to a 76-ball 112 by Shoaib Malik. In fact, in ODIs Malik has over 1,000 runs at the venue, averaging 54.21 with a strike-rate of 96.26.
But the most impressive ODI performance at the ground would likely be Zaheer Abbass's 87-ball 123 against Sri Lanka in 1983. Scoring at such a rapid rate in this era of cricket was obscene. But he was still in the losing side, as Sri Lanka reached Pakistan's rain-revised score with ease.
#5) Green Park (India)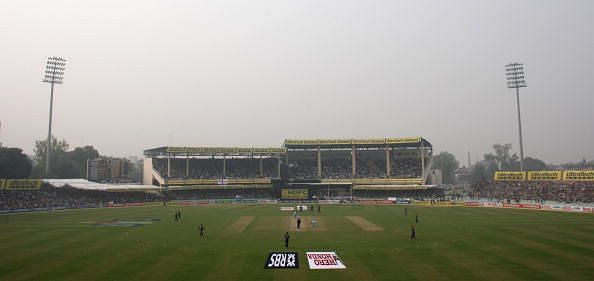 With 54.55% of games here ending in a draw, and an average runs per wicket of 35.73 in Tests and 36.37 in ODIs, Green Park is a fine place for batsmen.
Green Park and Gaddafi Stadium have a statistic in common - both venues saw a batter fall on 199. At Gaddafi, it was Younis Khan. However, while Khan would still manage to score no fewer than five double-centuries in Tests, Mohammad Azharuddin's 199 in Green Park would finish as his highest score.
Yet it is unlikely that this memory soured Azharuddin's feeling about the ground as he still scored two more centuries and averaged 183 at the venue. His 199 was also part of the highest Test partnership the ground has seen as he and Kapil Dev put on 272.
Green Park does seem to have an odd tendency to be kind to batsmen up until the point they near a double-century. Sheik Bacchus remains the only player to have reached the milestone at the ground, while three batsmen have fallen in the 190s.
Garfield Sobers was the first, as he was run out on 198 in 1958. The other unfortunate party was Gordon Greenidge, as he was out on 194 in 1983.
However, in ODIs, Rohit Sharma holds the two highest scores at the venue with his 150 against South Africa and his 147 against New Zealand. Generally when a batsman scores so much, it leads to an easy win. But because of Green Park's batter-friendly pitch, both games were tight and India even lost against South Africa.
#4) Bourda (West Indies)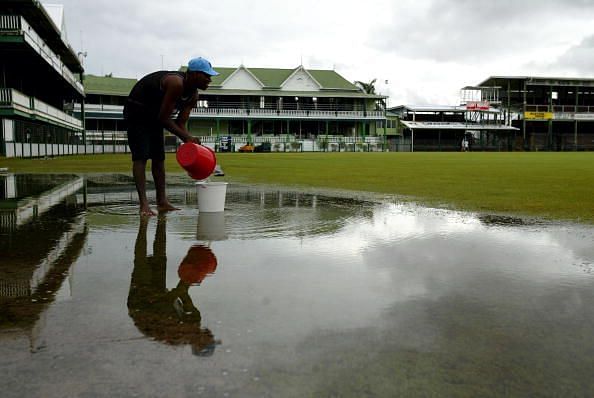 After Providence Stadium was built for the 2007 World Cup, Bourda was relegated to simply being a domestic ground in Guyana. But while the ground may have missed out on hosting international games in the modern era, it still saw high-scoring games in its day.
Two of the 11 ODIs it hosted was tied. The first was against Pakistan in 1993, when Carl Hooper's unbeaten 69 ensured the West Indies ended the game level on 244. This was a fairly strong ODI score in the early nineties, but it meant more considering the bowling attacks both sides had - the likes of Wasim Akram, Waqar Younis, Curtly Ambrose and Courtney Walsh were all in action that day.
The second tied game saw Steve Waugh score 72 off 65 balls. However, the game was only deemed a tie after the fact as a pitch invasion while Shane Warne and Waugh were scurrying for three caused chaos. The West Indies would have almost certainly won by a run, but the stumps were stolen at the end Warne was running to. The result was announced only once the players had left the ground to avoid further tumult.
This was a different type of chaos to what is usually seen at the venue as most often the batsmen were the ones responsible. The average runs per wicket at Bourda is 33.72 in ODIs and 36.22 in Tests, which is the highest of any ground to have hosted at least 30 Tests.
Shivnarine Chanderpaul averages an incredible 126.33 in the seven matches he played at Bourda, while both Garfield Sobers and Richie Richardson have averages in the 90s at the ground.
But it was the 1972 New Zealand side the best displayed the venue's bias towards batsmen. Unlike the West Indies sides of this era, the New Zealanders weren't known for their entertaining cricket. Instead, they would look to grind out draws from stronger opposition. This was a blueprint they followed perfectly in 1972, as their openers, Terrence Jarvis and Glenn Turner, shared a 387-run partnership. Jarvis's 188 came off 555 deliveries and Turner's 259 took him 759 deliveries. Naturally, the match ended in a draw with only 10 wickets falling in the entire Test.
#3) McLean Park (New Zealand)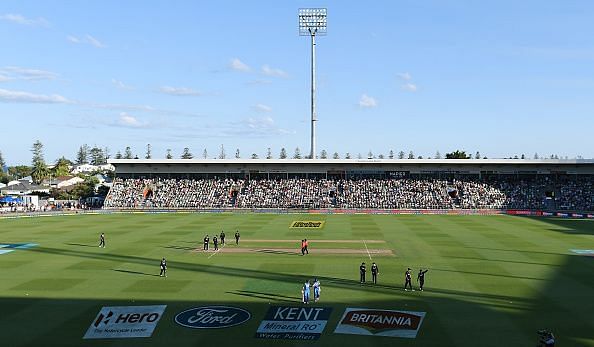 New Zealand is generally one of the better countries to ball in as it favours swing-bowlers. The green pitches and often overcast conditions reward those who bowl full with the seam up.
However, McLean Park's average per wicket in Tests is an incredible 38, the second-highest of any ground with at least 10 matches hosted. This has resulted in seven of the 10 Tests ending in draws.
A game that showed just how difficult it is to force a result is New Zealand vs India in 2009. Jesse Ryder reminded the world what a great batsmen he could be as he smashed a career-best 201, flanked by centuries from Brendon McCullum and Ross Taylor. They scored their runs briskly, the first innings score of 619 coming in just 154.4 overs.
Despite Rahul Dravid's defiant 83, New Zealand seemed in a good position after the second innings, having dismissed India for 305 and enforcing follow-on. They would have been particularly encouraged by their three spinners Daniel Vettori, Iain O'Brien and Jeetan Patel as they anticipated the pitch to deteriorate as the match progressed.
However, this simply didn't happen. The pitch remained great for batting, and India finished the game at 4/476.
McLean park also witnessed one of the stranger individual innings in recent history. In 2008, Tim Southee slammed a 40-ball 77 on his debut. Batting at No 10, Southee struck nine sixes and ended up top-scoring for New Zealand even as they fell to a 121-run defeat.
The Napier-based ground has been a particular favourite of Ross Taylor, who averaged 81.56 at McLean Park in ODIs and 70 in Tests.
#2) Vidarbha Cricket Association Ground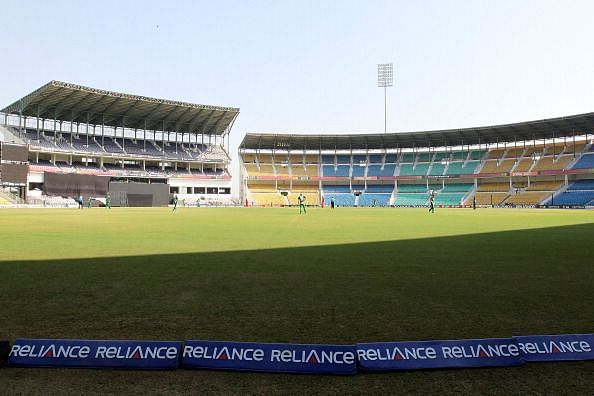 The Vidarbha Cricket Association Ground is likely the best ground for batsmen in India. The venue has only ever hosted 14 ODIs and nine Tests, but the statistics from these games are remarkable.
In Tests, the average runs per wicket is 37.28 and in ODIs it is 36.57, higher than any ground that has hosted as many matches. But perhaps even more impressive, the average runs per over at the ground in ODIs is an incredibly high 5.71. It is therefore no surprise that in 1999 the BCCI recommended the pitch be relaid.
However, this wasn't so effective as the following year Zimbabwe and India played out an incredibly high-scoring draw that included double-centuries from both Sachin Tendulkar and Andy Flower. This was by no means the only time Tendulkar found success at the VCA Ground. In six Tests there, he has scored 679 runs at an average of 97 and holds three of the four highest scores at the ground. Perhaps a more surprising statistic is that Anil Kumble averaged 71, scoring three half-centuries there.
The ground, which saw its last international game in 2007, has also seen a few stunning ODI innings. The very first ODI it hosted saw a game-changing 41-ball 54 from Kapil Dev. This was back in 1985 as India were struggling to chase down England's 240. They needed something special and Kapil Dev provided it with an innings that included four sixes and three fours. India would reach their target with 14 balls to spare.
About three years later, he would almost pull off an even bigger batting miracle. This was a rare low-scoring game at the ground. India restricted a strong West Indies side to just 203. But as India fell to 5/31, Dev showed the ground had something to offer batsmen, blasting 87 from just 64 deliveries. Balfour Patterson's 6/29 would ensure India still fell 10 runs short.
Perhaps the ODI that best surmises how batsmen have thrived at the ground is the 2007 ODI between India and West Indies. The visitors would fall 14 runs short of victory despite Shivnarine Chanderpaul scoring a fantastic 149. This was because India had batted well to reach 338 with Rahul Dravid and MS Dhoni tearing the West Indies bowlers apart in the final ten overs of their innings.
#1) Antigua Recreation Ground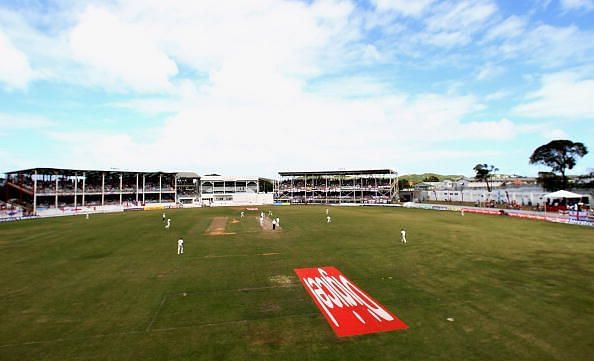 With a staggering average runs per wicket of 38.17 across 22 Tests, the Antigua Recreation Ground may be the best place in the world to be a batsman. It is often called the "feather bed" due to the flatness of the pitch.
The West Indies is currently one of the best-placed in the world for bowlers to tour, but if the Antigua Recreation Ground was still used in international cricket, batsmen would be far less apprehensive about touring the Caribbean.
The ground witnessed history in 2004 when Brian Lara reclaimed the world record for the highest innings in Test cricket by making a colossal 400* against England. Lara ended up declaring with his side at 5/751. This was also against the pace attack that would, in a little over a year, swing England to their first Ashes victory in 16 years.
When Lara scored his 400, he took the record from Matthew Hayden, who had made 380 against Zimbabwe six months earlier. Before Hayden's innings, it was Lara who held the record, a 375 made in 1994 at the very same ground. Like his 400, Lara's 375 was against a strong England attack. However, the English batting line-up was certainly effective as they equalled the West Indies first innings score of 593.
In 2005, Chris Gayle then scored 317 against a South Africa side that bowled all 11 of their players in an attempt to stop the West Indies. 1462 runs were scored and only 17 wickets fell, despite Lara being dismissed for just four.
The ground is also home to the highest successful run chase in cricket history, as the West Indies chased down 418 to defeat Australia by three wickets. This achievement was largely thanks to a 214-run fourth-wicket stand between Shivnarine Chanderpaul and Ramnaresh Sarwan. It was over 15 years ago that the West Indies set this record, and it still stands today.
Another record the ground held was for the quickest century in Test cricket. In 1986 Viv Richards raced to his hundred in just 56 deliveries, once more against England. Richards ended up declaring when he was on 110, presumably because he felt batting on would be sadistic.
England nearly exorcised their demons in Antigua in 2009 when they set the West Indies a target of 503 to win. But despite a bowling attack that included James Anderson, Stuart Broad, Andrew Flintoff, Stephen Harmison and Graeme Swann, the West Indies clung on by a single wicket, finishing the game at 9/370.
This would prove to be the last Test the "Feather bed" would host, having seen record after record broken in its 30 years of hosting international cricket.