After England roared back with a win in the 3rd Test of the 2023 Ashes series at Headingley, Leeds, the bandwagon makes its way over to Old Trafford in Manchester. The pulsating series is well-poised at 2-1 in favor of the visiting Australian side but after the win in Leeds, the momentum is clearly with the hosts.
The way both these teams are playing, we're all but guaranteed a result and a thrilling Test match, and it remains to be seen if the 5th Test at the Oval will be the decider.
Manchester has played host to many iconic Ashes games and has witnessed several splendid knocks from batters from both teams. On that note, let's look at Australia's five highest run-scorers at Old Trafford, Manchester.
---
#5 Bob Simpson - 2 Matches, 370 Runs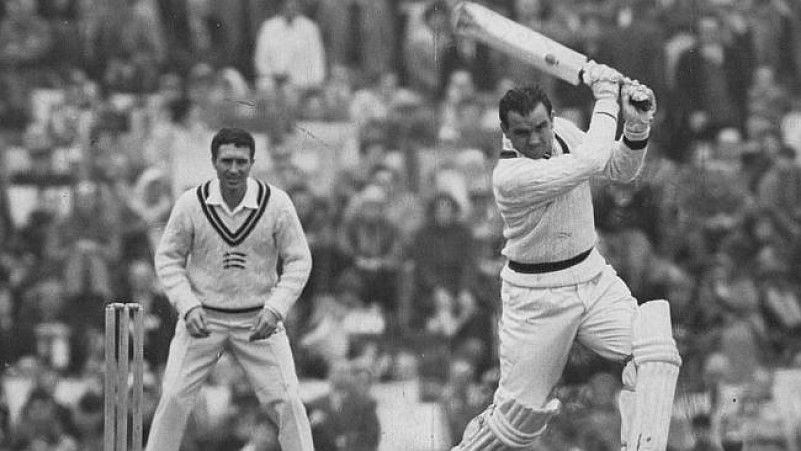 Australian all-rounder Bob Simpson is fifth on the list of highest Australian run-getters in Test cricket at Old Trafford, and he's done it despite featuring in only two games at the venue. The Australian opener also enjoyed stints as the side's captain and later, coach, and boasts an outstanding record in domestic cricket.
In a career that spanned over two decades, Simpson, who debuted in 1957, is best known for his 743-ball 311 in the 4th Test of the 1964 Ashes at Old Trafford in a match that eventually ended up in a draw. His maiden Test hundred helped the Aussies post a total of 656/8 in the first innings.
---
#4 Bill Lawry - 3 Matches, 379 Runs
Bill Lawry was a left-handed opening batter known for his stoic and disciplined approach at the crease. He made his debut in 1961 and played for Australia for ten more years.
Lawry scored more than 5000 runs in Test cricket at an average of 47.15, and Old Trafford was one of his favorite hunting grounds. His highest score on the ground is 106, which he coincidentally scored in the same game as the one where his opening partner Bob Simpson made an unbeaten 311.
He also scored an impressive third innings hundred (102) in the 1961 Ashes to help the Aussies win the 4th Test.
---
#3 Steve Waugh - 3 Matches, 397 Runs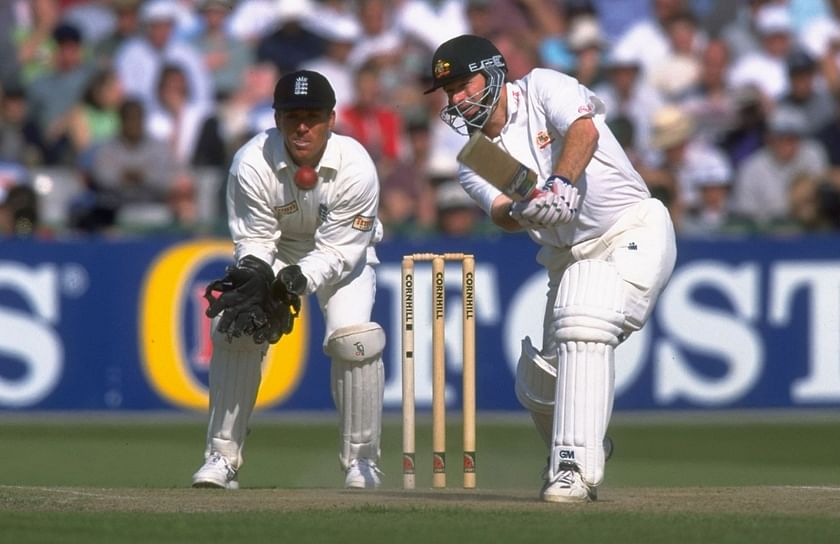 One of the greatest Australian cricketers and captains, Steve Waugh is another player who enjoyed batting at Old Trafford. In three matches played at the venue, Waugh scored 397 runs at an average close to 100, although a bulk of those runs came in a single game.
In what is regarded as one of his best-ever performances, Steve Waugh scored twin tons in the 3rd Test of the 1997 Ashes series to help Australia move one step closer to a series win.
Waugh was the only Australian batter who stood tall, scoring 108, as Dean Headley and Darren Gough helped bowl out the Aussies for 235 in the first innings. A superb spell from Shane Warne helped them secure a first-innings lead. Waugh notched up another hundred in the second innings, and with the support of the lower order, Australia posted a total well out of reach of the hosts, registering a 268-run win in the end.
---
#2 Steven Smith - 2 Matches, 401 Runs
Arguably the best Test batter of his generation, Steven Smith has scored runs wherever Australia have played. Smith loves batting at Old Trafford, and in fact, has scored 401 runs in only four innings at the venue, with one double-hundred and two half-centuries to his name.
His best innings at the venue was a double-hundred in what was a momentous occasion for the Australian team in the 4th Test of the 2019 Ashes tour. Smith's 211 in the first innings was followed up by a quick-fire 82 in the second innings as Australia beat England by 185 runs to help Australia retain the Ashes.
---
#1 Allan Border - 4 Matches, 416 Runs
The highest Australian run-scorer at Old Trafford is Allan Border, another great Australian captain who has scored more than 11000 runs in Test cricket. In four matches at the venue, he scored 416 runs at an average of 83.20 with two hundreds and one half-century. An unbeaten 146 was his best innings at the venue.
An iconic knock in Ashes history, Border's defiant 146* helped Australia draw the 4th Test of the 1985 Ashes series. With the series level as they headed to Manchester, the hopeful Aussies were rattled as England took a 225-run first-innings lead courtesy of some sub-par batting from them and a terrific hundred from Mike Gatting.
While a win was clearly out of reach, even a draw seemed unlikely for Australia before their captain stepped up and bailed them out.