Desert Storm 2: The Tendulkar encore phenomenon
7.69K //
26 Dec 2012, 23:48 IST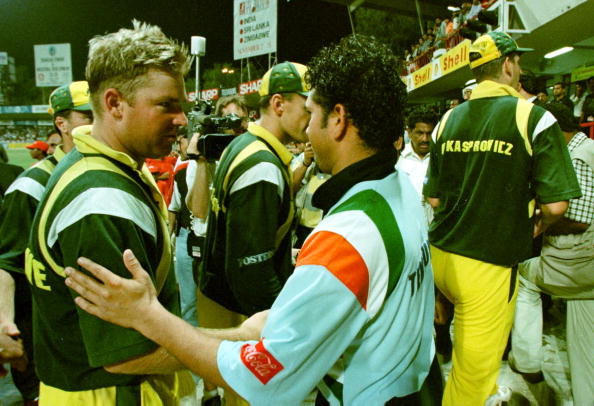 Sachin Tendulkar stepped into the light. And the noise, the chant, that grew louder with each repetition. A billion cameras seemed to flash all at once, there were drums and there were conches, there were war-cries and accelerated heartbeats. The man was in full armour and he waved his heavy-duty bat as he walked like an assault weapon.  The chant was a din, and the din was deafening.
Sacheeeeen, Sachin! Sacheeeeen, Sachin! 
They watched him make his way to the middle in awe, the 24,000 watching, like creatures of the dark blinded by a streak of lightning. Watched him punch gloves with Saurav Ganguly, who exuded confidence. Watched him retreat to the non-striker's end, intent glistening in his eyes. These men knew it was their date with destiny, and somehow they seemed to foresee that they were getting lucky tonight.
The target was Everest. Skipper Azharuddin's decision to field after winning the toss, again, had eyebrows flying up to even greater heights this time. The Aussie top-order buckled cheaply, but the middle-order trio of Michael Bevan, Steve Waugh and Darren Lehmann had pulled them from 121/5 in the 25th over to an imposing 272 in 50. The sense of deja-vu from two nights ago soared.
Damien Fleming summoned the Gods of pace and swing, and most of his deliveries had kissed the 140 km/h mark throughout the tournament. Saurav Ganguly dispatched two of them through the covers with the elegance that'd be associated with royalty, before Tendulkar got to the business end of things.
Michael Kasprowicz had always been one for exquisite wordplay on the pitch, but today he was as foul-mouthed as an open manhole. Fleming was doing a better job at investing his energies on getting Tendulkar out, and almost had him as early as the fourth over of the innings. The latter almost played one of the quicker deliveries on to the stumps with a thick inside-edge, and Fleming went up before the ball snaked past the keeper and raced to the boundary. Reprieve, and a boundary. Again.  It looked like the Gods had picked a side.
Two overs later, Tendulkar was in his element. After a drive to the covers and a leg glance off consecutive deliveries, he charged down the track, caught the ball where it pitched and struck it back with incredible force straight towards… Ganguly. The latter had milliseconds to get out of the way – which he did, diving to the ground as the ball rocketed towards the long-on boundary. It was a miracle no one was injured. Tony Greig, who seemed as excited as a child in Disneyland, shrieked in glee: "Sachin Tendulkar, you need someone at the other end." Ganguly sat up dazed, and took a while to collect himself.
Ten minutes later he was gone, only to be replaced by Nayan Mongia, who had been given express permission to whack everything that moved. They needed to muscle up the run rate; the first 10 overs had produced 39 runs, and there was too much pressure on Tendulkar for the latter to restrain himself. Mongia charged down for quick singles and hit the odd boundary to anchor the chase, which allowed Tendulkar to be his trigger-happy self.
Bringing in Mark Waugh seemed to be a good idea when Tendulkar misjudged his very first delivery and the ball rolled to his pads, producing the first make-or-break appeal against him. Tendulkar smiled. The next three balls were consecutive boundaries, the second of which brought up his 50 and the third took India past the 100 run-mark.
Shane Warne was brought on the very next over. He'd some scores to settle – Tendulkar had made a mockery of him two nights ago. He had some aces up his sleeve, and Tendulkar did look nervous as he was handed the ball. For Warne, this was about vengeance as much as victory. Only last month had he been hailed as the 'Greatest spin bowler the world has ever seen' by the Sydney Herald. He needed to take Tendulkar out, if only to justify that unofficial but ridiculously good-looking title. He began with a textbook delivery that was just short of length. There was enough movement in the air to get Carl Sagan to rethink everything he knew about the cosmos.
Sachin Tendulkar charged down the track and heaved. It disappeared from view. No one treated Shane Warne with such disdain and audacity, future generations shall be told, he hit him for a six the first ball! Warne's famous "nightmares" comment must have begun to take form in his mind at that very instant.
Soon after, Mongia lost the plot against Fleming and the skipper came out to play. Mohammad Azharuddin's famous wrists swung into action, literally, and any pleasant feeling Fleming had at having dismissed Mongia soon evaporated. At the other end, Tendulkar made skipper Steve Waugh realize what a big mistake it was to hand the ball back to his brother. An inside-out cover loft and another leg glance and Mark Waugh was sent back to third-man position.
Over number 37 and suddenly Tendulkar was in his 90s. Tom Moody found himself bowling to the much-shorter fellow again at this crucial juncture. Two nights ago, Tendulkar had been a bit shaky as he approached three-figures. Tonight, however, he tore past it with two fours and a couple. The flick towards leg that brought up his 15th ton had people screaming almost as loud as Tony Grieg.
Deja-vu all over again. Tendulkar unleashed hell once he put back his helmet after the celebrations.
Shane Warne returned tight-lipped in the 42nd over, and Tendulkar dug the second ball out of the ground and hit it straight back at…umpire Steve Bucknor. Bucknor would have landed in the Emergency Room, or worse, had he not ducked with surprisingly fast reflexes. The ball was beyond the boundary before long-on could react. The next ball was a sign of Warne's increasing despondency with its serious lack of turn and bounce, and was mercilessly whipped for four.
Moody returned, and Sachin waltzed down a mile before he banged his first delivery to the heavens. Tony Grieg shrieked his famous "Whatte playa! Whatte playa!" line and the whole world agreed in one breath. Michael Kasprowicz was punished for his sins the next over with a towering six that landed on the roof and stayed there, as though the ball was done being hit for the night.
India needed 27 off 35, and Grieg pronounced, "This little man's the nearest thing to Bradman there's ever been. "
He was not done yet. Kasprowicz was made to wait for five whole minutes before he'd bowl the next delivery, even as Tendulkar was directing the sight-screen like a conductor directing a clueless orchestra. Grieg took this to mean another six or two, and advised the spectators around long-on and long-off to brace for impact. In an anticlimactic twist, Kasprowicz pulled a fast one and it missed Tendulkar's swing towards fine-leg and kissed his pads. Everyone wearing yellow went up, and Bucknor raised the finger. Replays showed that the ball would have missed off-stump by a mile.
Victory suddenly seemed as inconsequential as it did inevitable. Tendulkar had torpedoed his team to within touching distance of the finish-line, and the whole world seemed to have appeared at Sharjah to applaud him. There was hardly any need for words at this juncture.
Azharuddin fell soon after, but Ajay Jadega and Hrishikesh Kanitkar eased India through. Australia, downcast as they were, applauded, but there was no mistaking whom it was meant for. People who were allowed to do so were rushing to hug a laughing Tendulkar and lift him on their shoulders. Cheques and trophies were passed around and an Opel Astra was driven around as a victory-lap. What better way to spend one's birthday! The boy had turned 25, and he was only getting better!
Sharjah had witnessed a fairy-tale, one that was guaranteed history-book material. In a span three days, Sachin Tendulkar had single-handedly led India to prevail over the most feared side in limited-overs cricket. The sheer audacity of the little man's batting had made fans out of the most hardcore naysayers. Was he The Great Don reincarnated, people began to ask. Tendulkar was laughing like a school-boy, alternatively being hugged and patted on the back. No, they saw, this is a different beast altogether.
Desert Storm was over. Time to scale higher peaks. The World Cup of 1999 loomed ahead on the horizon…
Part 1 of this story can be found here.