Highest run-scorers in 2012
Taking a look at the batting records of 2012, Michael Clarke has scored 2145 across all the formats, closely followed by Virat Kohli with 2091 runs. Clarke and Alastair Cook lead the Test batting charts, while Kumar Sangakarra, Tilakaratne Dilshan lead the ODI batting charts. It is the reign of the specialists like Brendan Mcculum, Shane Watson and Chris Gayle in the T20 batting charts.
As far as India is concerned, Kohli has been their mainstay in the limited over formats, while India's failure in Tests this year is visible from the Test statistics.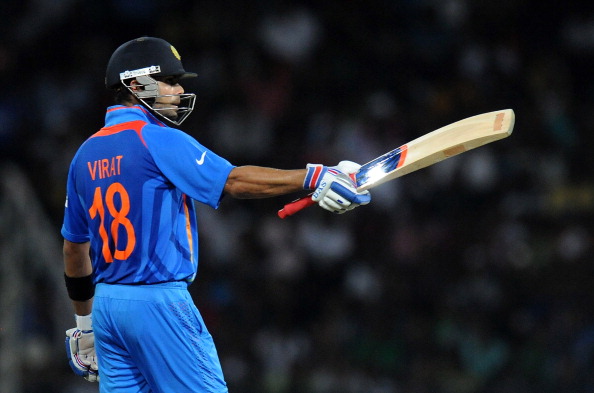 | | | | | | | | | | |
| --- | --- | --- | --- | --- | --- | --- | --- | --- | --- |
| Player | Mat | Inns | NO | Runs | HS | Ave |  SR | 100 | 50 |
| MJ Clarke (Aus) | 10* | 17 | 3 | 1489 | 329* | 106.35 | 66.74 | 4 | 3 |
| AN Cook (Eng) | 15* | 29 | 3 | 1249 | 190 | 48.03 | 41.89 | 4 | 3 |
| HM Amla (SA) | 10 | 17 | 2 | 1064 | 311* | 70.93 | 58.91 | 4 | 2 |
| KP Pietersen (Eng) | 14* | 25 | 1 | 1053 | 186 | 43.87 | 65.12 | 3 | 4 |
| IJL Trott (Eng) | 15* | 28 | 2 | 1005 | 143 | 38.65 | 43.67 | 2 | 6 |
| S Chanderpaul (WI) | 9 | 15 | 5 | 987 | 203* | 98.70 | 47.04 | 3 | 5 |
| JH Kallis (SA) | 9 | 15 | 1 | 944 | 224 | 67.42 | 55.79 | 4 | 1 |
| MN Samuels (WI) | 7 | 11 | 1 | 866 | 260 | 86.60 | 53.75 | 3 | 4 |
| MEK Hussey (Aus) | 10* | 17 | 3 | 864 | 150* | 61.71 | 54.99 | 4 | 2 |
| | | | | | | | | | | |
| --- | --- | --- | --- | --- | --- | --- | --- | --- | --- | --- |
| Player | Mat | Inns | NO | Runs | HS | Ave | | SR | 100 | 50 |
| KC Sangakkara (SL) | 31 | 29 | 2 | 1184 | 133 | 43.85 | | 79.14 | 3 | 6 |
| TM Dilshan (SL) | 31 | 30 | 3 | 1119 | 160* | 41.44 | | 84.64 | 4 | 3 |
| V Kohli (India) | 16 | 16 | 2 | 1026 | 183 | 73.28 | | 94.21 | 5 | 3 |
| LD Chandimal (SL) | 30 | 29 | 5 | 845 | 92* | 35.20 | | 74.38 | 0 | 7 |
| DA Warner (Aus) | 25 | 24 | 0 | 840 | 163 | 35.00 | | 82.84 | 2 | 3 |
| DPMD Jayawardene (SL) | 30 | 27 | 2 | 785 | 85 | 31.40 | | 88.30 | 0 | 6 |
| WU Tharanga (SL) | 28 | 26 | 1 | 752 | 71 | 30.08 | | 75.73 | 0 | 8 |
| DJ Hussey (Aus) | 25 | 24 | 3 | 728 | 74 | 34.66 | | 91.11 | 0 | 7 |
| HM Amla (SA) | 10 | 9 | 1 | 678 | 150 | 84.75 | | 90.76 | 2 | 4 |
| G Gambhir (India) | 15 | 15 | 0 | 677 | 102 | 45.13 | | 82.66 | 2 | 5 |
| | | | | | | | | | |
| --- | --- | --- | --- | --- | --- | --- | --- | --- | --- |
| Player | Mat | Inns | NO | Runs | HS | Ave | SR | 100 | 50 |
| BB McCullum (NZ) | 12 | 12 | 0 | 411 | 123 | 34.25 | 141.72 | 1 | 1 |
| SR Watson (Aus) | 11 | 11 | 1 | 406 | 72 | 40.60 | 143.97 | 0 | 4 |
| V Kohli (India) | 10 | 9 | 1 | 376 | 78* | 47.00 | 131.92 | 0 | 4 |
| CH Gayle (WI) | 11 | 10 | 2 | 368 | 85* | 46.00 | 144.88 | 0 | 5 |
| MJ Guptill (NZ) | 11 | 11 | 2 | 347 | 91* | 38.55 | 127.57 | 0 | 2 |
| PR Stirling (Ire) | 13 | 13 | 3 | 338 | 79 | 33.80 | 135.20 | 0 | 3 |
| DA Warner (Aus) | 13 | 13 | 1 | 334 | 63* | 27.83 | 133.06 | 0 | 3 |
| Tamim Iqbal (Ban) | 9 | 9 | 2 | 327 | 88* | 46.71 | 119.34 | 0 | 3 |
| MN Samuels (WI) | 12 | 10 | 2 | 325 | 85* | 40.62 | 143.17 | 0 | 4 |
| RJ Nicol (NZ) | 14 | 13 | 0 | 282 | 58 | 21.69 | 114.63 | 0 | 2 |