Let the bat and ball do the talking
1.85K //
28 Jan 2015, 01:11 IST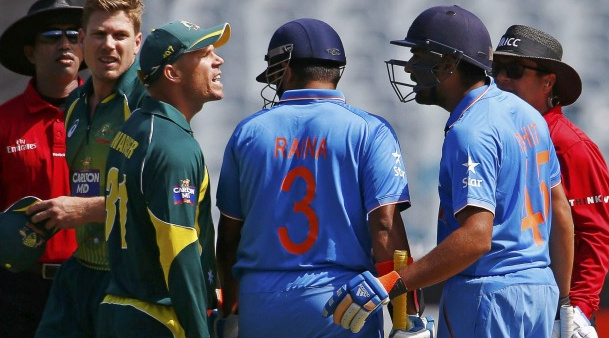 The recent confrontation between Rohit Sharma and David Warner has once again goaded cricket enthusiasts to talk about sledging. It is befuddling that in a game which doesn't require any physical contact that even we are talking about intimidation and abuses.
A sharp inswinging yorker or a beautiful off-break would do a more 'mental disintegration' of a batsman than an unpleasant talk into his ears and the same goes with bowlers. Instead of giving him directions, a perfect straight drive would send a better message in a more visually appealing manner.
As the great Vivian Richards would say, what sledging does is to get competitive veins pumping. The way he responded after Glamorgan fast bowler Greg Thomas sledged him shows you how your own words can fire an opponent and act against you. A humorous chat amidst a tense session is fine, but when it transcends to personal abuses it only sullies the game.
Young players should not learn the wrong message
A young cricket fan who would have watched the Mitchell Starc-Kieron Pollard altercation in IPL would find it hard to believe that cricket is a 'gentleman's game'. There is a possibility that he might think that this is the way to play the game – by abusing and sledging the opposition players. Is this the path we want our beloved game to move towards?
Surely no, the last thing that cricket needs is a bat thrown in exasperation hitting somebody. With the constant sledging going on in the modern game it is not hard to believe that soon a broken arm as Michael Clarke threatened James Anderson with in the recent Ashes, will materialize on the cricket field.
What cricket needs are the players with the skills David Warner has but not the attitude he carries on the cricket field. It is the responsibility of the 22 players on the cricket field to set the right example for the next generation. They should be aware that young kids who imitate them not only imitate their style and technique but also the way they carry themselves on the field.
Key role of administrators
Administrators have a key role to play in eliminating this undesired facet of the game. A trivial match-fee deduction does little harm to the player involved in sledging. What if David Warner's World Cup participation became uncertain, like if a ban of 5-10 matches had been imposed on him after the recent squabble? Then he would have surely thought twice before telling somebody to speak English again.
As Martin Crowe recently noted, there might be a need for yellow and red cards in cricket. Match suspension is the best way to send a message to the players that they cannot get away after besmirching the game's reputation.
Removing sledging from the game will surely be the most fitting tribute to the death of Philip Hughes. Isn't it time players,arbiters and administrators start taking more responsibilities to make cricket a cleaner game?