England coach Brendon McCullum believes that the team will continue its aggressive brand of cricket in the upcoming Ashes series to help promote Test cricket.
McCullum, who transformed England's approach to batting in Test cricket, has stated that the team will continue playing the much-discussed ' Bazball' style of cricket despite the magnitude of the series.
Speaking to Sky Sports, the former Kiwi skipper felt that England's exciting brand of cricket on a bigger stage like the Ashes will only bring in a greater audience to the sport. He said:
The fact that it is the biggest stage you can play in is great. It's better.You have to be prepared to marry yourself to a position and that for us is freeing guys up to play the style of cricket that gives them the greatest amount of satisfaction and could transfer to results. Think of all the kids around the world who are going to be watching over the next two months. All those who have football, rugby, athletics or any other sport that they could choose from - or cricket," remarked McCullum.
He continued:
"We have an opportunity to captivate them and grab them to not just cricket but Test cricket, a game which needs that relevance and has been around for a hundred years. How do we provide that next shot in the arm to ensure we get people wanting to play Test cricket? You do it by providing the greatest entertainment on the biggest stage while everyone is watching. That's what's in front of us. Bring it on. If it doesn't work, it's okay. We'll get up and go again."
McCullum's understanding with skipper Ben Stokes has worked wonders for England, who have won 10 of the 12 Tests thus far. This includes a clean sweep at home of New Zealand 3-0 and a home series win against South Africa 2-1.
Later in 2022, England also won their Test series in Pakistan 3-0, becoming the first team to whitewash the home team in cricket history.
The Three Lions began 2023 on a similar note in the two-Test series in New Zealand, demolishing the Kiwis by 267 runs in the first Test before losing a thriller by one run in the second Test.
---
"The skipper writes his own scripts" - Brendon McCullum hails England skipper Ben Stokes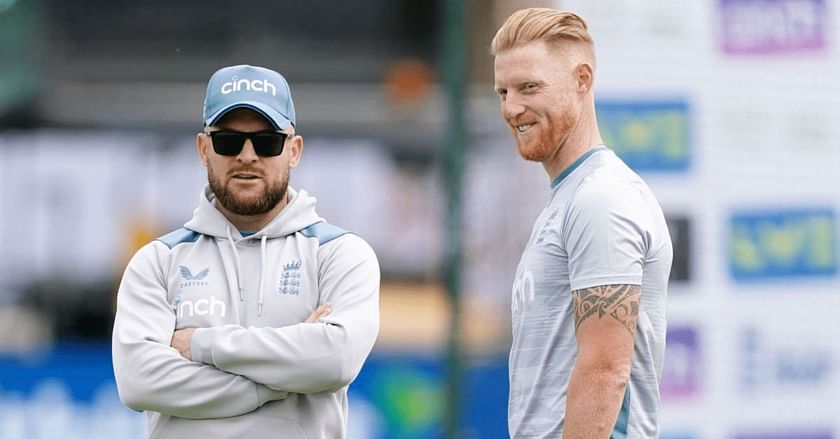 England coach Brendon McCullum is hopeful that skipper Ben Stokes is back to full fitness and will be able to bowl at full tilt during the 2023 Ashes series.
Stokes has been managing a knee issue that forced him to miss most of the recently concluded IPL season.
The former Kiwi wicket-keeper hailed Stokes for his tremendous impact within the side, even if unable to bowl at full throttle. Speaking to Sky Sports, McCullum said of Stokes:
"The skipper writes his own scripts and this is the biggest stage you can probably get. He has got something up his sleeve. He is going to have to push through the pain barrier at times but we know he is not afraid of that. If he doesn't bowl a ball he will still have a tremendous impact in this series. He is an absolute beauty and we are so lucky to have him as our captain."
The previous Ashes series in England in 2019 was one of the most captivating ones, with both teams trading blows back and forth before ending in a 2-2 stalemate.
Despite the series being mainly remembered for Steve Smith's incredible comeback to Test cricket, Stokes undoubtedly produced the innings of the tournament when he scored an unbeaten 135 in the final innings at Headingley to lead England to a thrilling run chase of 362 with one wicket to spare.
All action from this year's Ashes unfolds at Edgbaston from June 16.