Stephen Fleming picks one player from each side who could take World Cup 2015 by storm
20.66K //
05 Feb 2015, 15:25 IST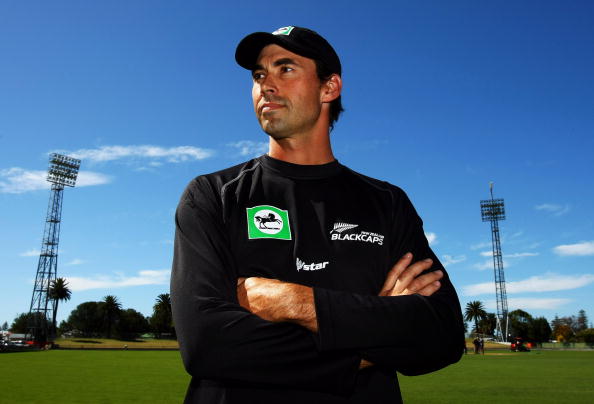 Now the squads have been finalised and the countdown to the action is well and truly on, everyone – fans, the media and the teams themselves – are looking at the line-ups and wondering who will take the ICC Cricket World Cup by storm.
Just like cream, the best players invariably rise to the top in a global event like this, as they tend to thrive on the biggest stages.
But before a ball has been bowled in anger it is a fun exercise to try and figure out one player from each side that will dominate and here is my best guess:

Afghanistan – Hamid Hassan. The big quick has had an injury-ruined past three years and has been nursed along to ensure he is ready for his country's first time in the ICC Cricket World Cup. The two new balls work against his ability to find reverse swing but he is a skillful enough bowler to cope with that handicap.

Australia – Glenn Maxwell. There is lots of attention on David Warner and Aaron Finch at the top of the order but Maxwell is the man who, if he is hot, is capable of winning matches on his own. I saw that first-hand in last year's Pepsi Indian Premier League when, for Kings XI Punjab, he destroyed Chennai single-handedly. He is unorthodox and I would use him as a floater in the order, give him license to go for his shots and fill him full of positive thoughts. He is not a player you should count on every time but in tournaments like this, where you need big performances in big matches, he can be the difference between winning and losing.

Bangladesh – Shakib Al Hasan. Shakib is the leading all-rounder in all three forms of the game in the ICC rankings and this is his time to show why. He is a skilled athlete and his time ahead of the tournament playing in the Big Bash League in Australia will count in his favour. His experience of playing alongside top players in various teams means he will not be overawed by this stage but for Bangladesh to do well, he will need to excel with both bat and ball.
England – Eoin Morgan. Eoin can be a match-winner in two ways: as captain and batsman. The team needed a breath of fresh air and someone to lead by example and his hundred in the opening match of the pre-ICC Cricket World Cup tri-series against Australia will give him confidence. If he gets runs then others can feed off that and although it is too early to know what sort of captain he is, if he can encourage some positivity and belief then England could, just could, be contenders.
India – MS Dhoni. Knowing him as I do from our time together at the Chennai Super Kings I just have a feeling he could do something special. It is true he has nothing to prove – he won the tournament on home soil as captain with a six, for goodness sake – but he thrives on the big stage in the biggest matches. He loves being part of and winning battles and as he showed in the 2011 final, when he pushed himself up the order, he can be a catalyst for his team.

Ireland – Paul Stirling. In the same way that Hamid Hassan can define matches for Afghanistan with the ball, Stirling can do the same for Ireland with the bat. He has a superb eye, his first instinct is to attack and he can time the ball as well as any player through the off-side. He can rattle sides by going hard from the start and although he has yet to deliver consistently, he will relish the ball coming on to the bat. Paul's handy off-spinners can also be a factor.

New Zealand – Ross Taylor. There is lots of focus, and rightly so, on Brendon McCullum and Kane Williamson, but if Taylor can complement those two at number four then that really will take New Zealand to a new level. His form at the start of last year against India hinted at what he can do, as did his barnstorming innings against Pakistan in Pallekele four years ago, and he offers skills as either a stabiliser or a devastating finisher. He will also feed off his mentor Martin Crowe's inspiration given Crowe's role as a Kiwi talisman 23 years ago.

Pakistan – Shahid Afridi. When Afridi is on his game he can drag the team along almost singlehandedly. His bowling has been consistently excellent and against New Zealand late last year he also added surprising maturity to his long-forgotten batting while still retaining his devastating ability to hit hard and long. If he shines he will also take the pressure off others and as it is his last ICC Cricket World Cup, he will want to go out with a bang.

Scotland – Preston Mommsen. Preston is an example of a player who has thrived on extra responsibility. Given the captaincy when Kyle Coetzer was injured during the ICC Cricket World Cup Qualifier in New Zealand last year, he ended as the player of that tournament and has continued to lead by example. He played as an opener early in his international career but is now the middle order glue and big runs from him are a non-negotiable if Scotland is to turn promise into results.

South Africa – Faf du Plessis. Everyone is raving about AB de Villiers after his world record hundred from just 31 balls – and rightly so – but Faf du Plessis can be just as effective and destructive. I know his ability having coached him at Chennai Super Kings. He is unorthodox but very driven and he has taken his game forward with huge strides in the past 12 to 18 months. He is capable of digging in or blitzing the opposition and he will be a wicket every opposition side will be desperate to get and get early.
Sri Lanka – Lasith Malinga. Everyone knows that with Kumar Sangakkara, Mahela Jayawardene, Angelo Mathews and Tillakaratne Dilshan, Sri Lanka has a batting line-up to rank with every other side. He has lost some pace and comes into the tournament recovering from injury but if he can rise to the challenge then he can lift those around him; if not, it could get ugly for an attack that otherwise lacks that X factor.

United Arab Emirates – Khurram Khan. At an age (43) when most players have long-since retired, Khurram is like a good wine: he just gets better and better and is showing no sign of losing his ability. He was the leading run-scorer in last year's ICC Cricket World Cup Qualifier, became the oldest player, last November, to score a One-Day International hundred and he is fitter than men 20 years younger than him. He does it all while juggling work as a pursuer with Emirates with his cricket and also has a point to prove having been stripped of the captaincy on the eve of the tournament.

West Indies – Jason Holder. The new, young captain holds the fortunes of the side in his hands. The team has the potential to be a fractured environment after the omissions of Kieron Pollard and Dwayne Bravo and his ability to pull the players together and get them fighting for the cause will be fundamental. He can do that through leadership and also through performances with bat and ball. If he cannot lift the team through action and deed then the wheels could easily fall off.

Zimbabwe – Brendan Taylor. The cupboard is pretty bare for Zimbabwe at the moment but in order to try and compete they have to get enough runs and Taylor, one of the most experienced players left, will be vital for them doing just that. He has been on this stage enough now to know what is involved and so he should not be overawed and if he is ever going to deliver against the best then it could be now or never.
*This column first appeared on www.icc-cricket.com