Best Test eleven of 2012
3.21K //
28 Dec 2012, 23:26 IST
2012 has been a sad year (no, I am not talking about the great Mayan disappointment), for it has lost many of its favorite sons to age and form. It has been a heart-breaking affair for many fans, for they had to bear with the departure of their idols and still be strong enough to say good-bye to them. Amidst these tearful farewells, there were few players who made our stay in cricket worth the effort, striving on without a buzz, yet managing to retain the audience. Beautiful moments in cricket were forged by master artisans with their bat, ball and even on the field. It is year in which every cricketing nation had a reason to smile (yup, even India! They won the U-19 World Cup and the Blind World Cup, remember?). Test cricket was at its best with every team fighting to the death to attain the coveted first rank. Some players were astonishing, and the others, disappointing. I am going to list out few of those players who captured stardom, fame, and hearts and who make the Test eleven for the year 2012.
The openers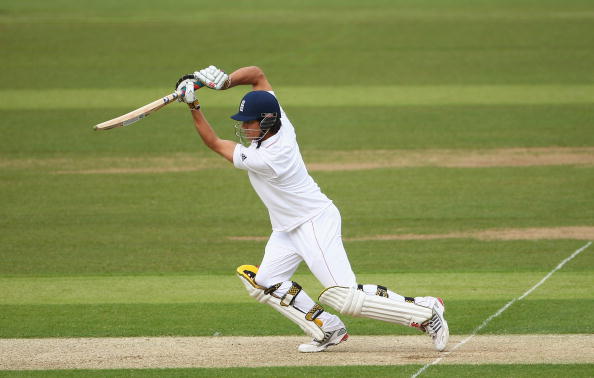 Alastair Cook: This name doesn't need any explanation for the kind of impact he's had on cricket for the past 3 years. Since the time he scored that gritty century against Pakistan in the lead up to the Ashes, he has been prolific and merciless, much to the opponent's dislike. He has four centuries and three fifties to his name this year, and is one of the leading contestants for the ICC Player of the Year award. His exploits against India led England to a thumping win against the hosts after 28 long years. Taking up the captaincy hasn't deterred him either, as he looks to dominate the best bowling attacks from all over the world.
Graeme Smith: The burly left-hander from the Republic of South Africa has a dream team to lead and has been absolutely brilliant through the years. Smith has been instrumental in their success, getting crucial runs for the team, up the order.  He has three centuries and five half-centuries this year and success as captain has only made it more exciting to have him open the batting. Being an experienced hand at leading a team, I would like him to skipper the side as well. (C)
The middle order
Hashim Amla: He does not talk much; rather he lets his bat do all the talking. The humble, bearded run-making machine from South Africa has played one more year where he can be proud of his achievements. He started off the year in a not so Amla-ish way with only two half-centuries against New Zealand. But he had different ideas against the English. In the first Test against England, Amla scored a breath-taking triple century and followed it up with a match-winning century in the third Test. He rounded off the year with two more centuries to beat Australia at home.
Jacques Kallis: The veteran all-rounder from South Africa has defied age, form and fitness to stay in contention amidst youngsters and has been scoring bucket loads of runs. He has been the same dodgy and solid Kallis, a trademark over the years. He has three centuries and a gritty fifty which he grinded out to save the match against Australia even after being injured. His stats have been on the higher side and his form has helped South Africa to dominate in world cricket.
Michael Clarke: Undoubtedly the best Test batsman of the year with four double centuries to his name, including one triple-ton. He has bee in terrific form this year, and has an average that could put Don Bradman to shame. He is definitely the Test player of the year, and success against India, South Africa and Sri Lanka has augured well for him and could go on to become the next Ricky Ponting with the right kind of results in his kitty.
Shiv Chanderpaul: The number one player in the ICC Test rankings for the major part of the year, Chanderpaul has defined run-making into a well developed hobby. He has been the beacon of hope for the West Indies team; constantly keeping them in the hunt with his master-class batting abilities. He has made three centuries and five fifties this year, and has made a double-century at the age of 37. He deserves a place for the consistency that has been his forte through the years.
AB de Villiers:  It was a tough call between Matt Prior and AB since both of them have been instrumental for their team's success in recent times. But AB has edged out Prior due to his splendid match saving effort against Australia, where he batted for 220 balls and made a defiant 33 to draw the Test. And he backed it up with a brilliant 160 in the next Test to set up a famous victory against Australia on their home turf. (WK)
Saeed Ajmal: "Chucker" is the tag he has received from the cricket pundits, but that has not stopped him from bamboozling the opponents with his wily bowling. He started off the year destroying England's pride that was carefully built over the last two years. He picked up a whopping 24 wickets in just three Test matches. He did not stop there and picked up 15 wickets against Sri Lanka to take his tally up to 39 wickets from just six Tests. He is a lethal bowler whose high arm action makes it difficult for the batsmen to score easily off him.
Peter Siddle: Siddle has been an under-rated bowler for Australia for too long now. He is quick and precise in his action and has a bit of swing to entice the batsmen to play a false stroke. He bowled well against India and has been bowling well against Sri Lanka. He has got nearly 40 wickets this season, and has looked to clinch a place in the pace-filled Australian team.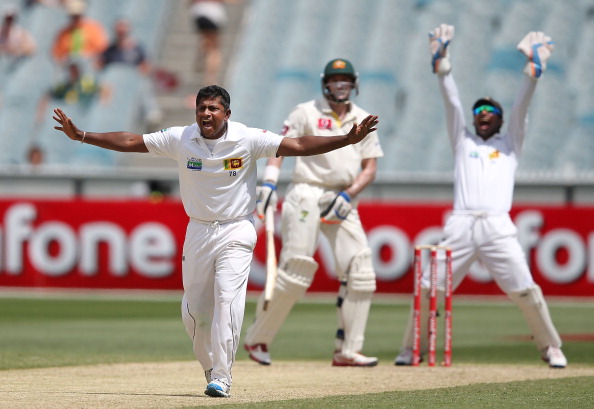 Rangana Herath: The stocky left-arm spinner from Sri Lanka is the only inclusion in the World XI for the number of wickets he has picked this year (59). Sri Lanka has probably found the replacement for Murali, though no one can fill his void. But Herath has been a bright spot for Sri Lanka in the past twelve months.
Dale Steyn: The 'Steyn" remover has some serious pace and swing about him, which has been the reason why the opponents fear him. He is an automatic choice for the bowling spear-head to lead the prestigious World XI bowlers, having picked up nearly 40 wickets at an average of nearly 26.
There are many deserving candidates who have been left out of this playing eleven and they have been terrific as well.  Players like Marlon Samuels, Kieran Powell and Kevin Pietersen have missed out on this list, but the best have been quite clear, in my opinion. I would like to have James Anderson as my twelfth man in place of Rangana Herath, in case any changes need to be made to suit the conditions.
South Africa have dominated World Cricket for the last six years. They certainly deserve the number one ranking and the number of players they have on the above list. Congratulations to South Africa for their splendid show throughout the year!