Hogwarts Legacy is a great opportunity for RPG aficionados and Potterheads to participate in a magical world and live out their wizarding fantasy. They can create their own character and explore the vast open world at their own pace. Fans will be ecstatic to know that there are many cosmetics to choose from for their in-game wizard or witch.
One can even change the gear appearance in Hogwarts Legacy. The game features a transmog system that allows players to retain the look of their favorite item and use the stats of the discarded one. This is a sigh of relief for fans who wish to indulge themselves in tinkering with their costumes and looking their best in Hogwarts Legacy.
---
Changing gear appearance in Hogwarts Legacy is simple and requires a few steps
You can equip robes, neckwear, handwear, cloaks, and robes in Hogwarts Legacy. Every single piece of gear is bundled with specific stats such as defence, offence, and more. They have different levels as well. If you like the look of a specific item but wish to keep the stats of your equipped piece of gear, then you can use the game's transmog system.
To change the gear's appearance, follow the steps listed below:
In the field guide, select the Gear menu.
Hover your cursor over the gear with superior stats. You will see a detailed pop-up appear, which will display the stats of that particular item. At the bottom of this pop-up is the option to change appearance.
If you are on PlayStation 5, press the square button. On Xbox X/S it is the X button. This shows you the list of other items of that gear type.
Select the one you like and press the Square button again (on PlayStation 5) or X (on Xbox Series X/S).
It is easy for you to keep track of all the items as they are sorted based on their type. It doesn't matter where you get something from as all of them are easy to spot and equip. The UI is intuitive and doesn't feel crowded or overwhelming.
You will be happy to know that even if you sell the gear or destroy it, that item will remain available forever in the Change Appearance section. You can therefore freely select your desired look at any moment in the game, which eliminates the need to hoard them in your inventory.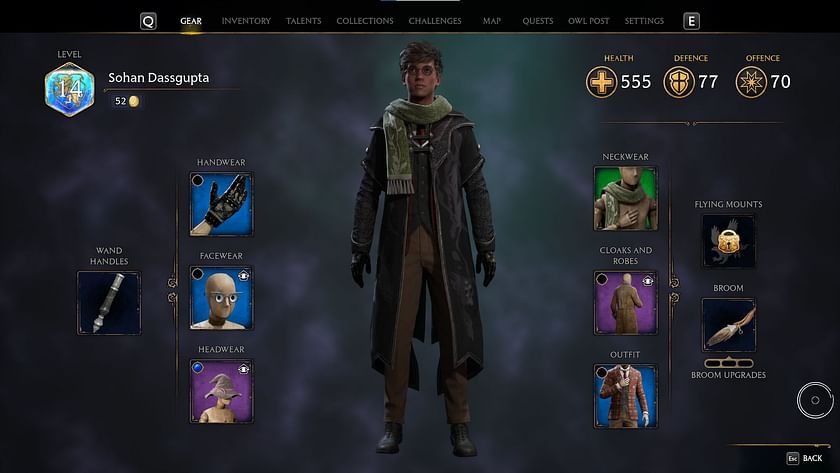 This system is neat and highly appreciated as there have been many situations in RPGs where players find their inventory packed with cosmetic items and the only option is to drop them. In Hogwarts Legacy, they have a significant amount of control over their looks and can mix and match with various types of costumes.
Hogwarts Legacy also features a character creator that allows fans to choose from a variety of preset face options. You can change facial complexions, add scars or even equip glasses. Upon finalizing the look, you can choose the desired difficulty and start the game.
Hogwarts Legacy delivers a sprawling world with creatures to find, secrets to uncover, and spells to learn. The game allows you to side with any one of the major houses. There are common rooms unique and packed with thematic decor and furniture.
The vast open world is ripe for exploration as you can use the flying broom to do so. Some creatures can be mounted for speedier traversal across the magical world.
---
Hogwarts Legacy is available for preload, and Deluxe Edition owners can play the game starting February 7, 2023. Standard Edition buyers can boot it on February 10, 2023. Last-gen console users can play the game on April 4, 2023, while gamers on the portable Nintendo Switch must wait until July 25, 2023.
Hogwarts Legacy's reviews are out and the majority of them showcase positive reception. Many are praising the developers for the in-depth game mechanics and for crafting a world that is faithful to the source material. The title comprises a substantial amount of main quests and side missions to solidify the RPG experience.