F1 mid-season review 2012
Last weekend the tenth race of the 2012 Formula One World Championship was driven at Hockenheim. Fernando Alonso is currently leading the Drivers Championship while rival Red Bull is on top of the Constructors' Championship. Red Bull has a lead of 53 points over Ferrari. It has been a unique season so far with the first couple of races being won by several different drivers. Especially the first five races were full of excitement.
Australian Grand Prix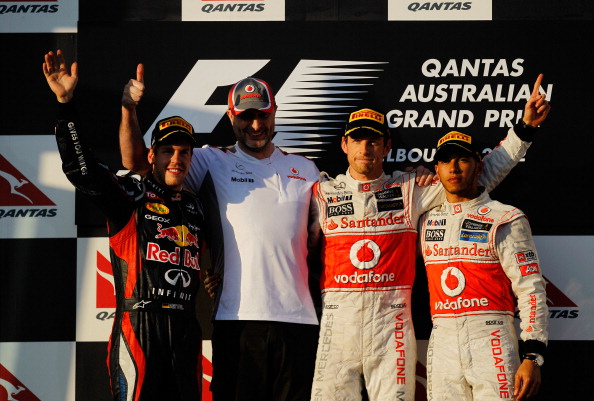 The official start of the Formula 1 World Championship 2012 took place in Australia, Melbourne. Button had a very good start together with teammate Hamilton. Even though Grosjean surprised everybody with his good qualifying, he had to retire after a collision with Maldonado. Michael Schumacher's Mercedes developed gearbox problems thus he had to retire as well. Pastor Maldonado had a marvellous race but crashed out of 6th place, leaving Williams without points. The race ended with a first place for Button followed by Vettel. The podium was finished by Hamilton.
Malaysian Grand Prix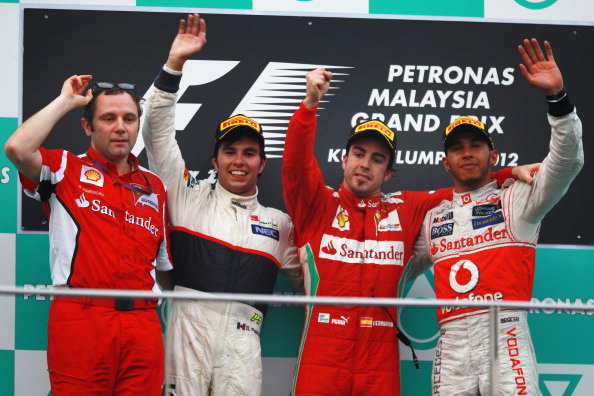 The second race at Malaysia was one of the most surprising races so far. Heavy rainfall caused a 52 minute break during the race. There were many disappointments in the Malaysian Grand Prix for the drivers who are regularly seen in the top ten, but the drivers of the smaller teams showed their skills wonderfully. Vettel finished outside the top ten after a clash with Karthikeyan while Button ended up at fourteenth due to a problem with the same HRT driver. Also Senna, di Resta and Hülkenberg captured a top ten finish.  In the end the drivers on the podium were Fernando Alonso, Sergio Perez and Lewis Hamilton.
Chinese Grand Prix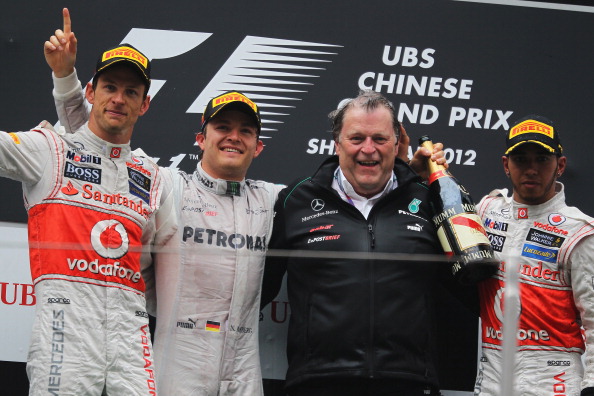 The Chinese Grand Prix at the Shanghai International Circuit marked Mercedes' first victory since the 1955 Italian GP. Nico Rosberg took the victory while his teammate Schumacher wasn't able to finish due to a failed pit stop. McLaren duo Jenson Button and Lewis Hamilton gave McLaren a double podium finish. Vettel fought hard for a podium spot but ended up in fifth place. Alonso disappointed his team by finishing ninth after having started from the same position. Senna and Maldonado of Williams finished seventh and eighth, which was a reasonable result for the team.
Bahrain Grand Prix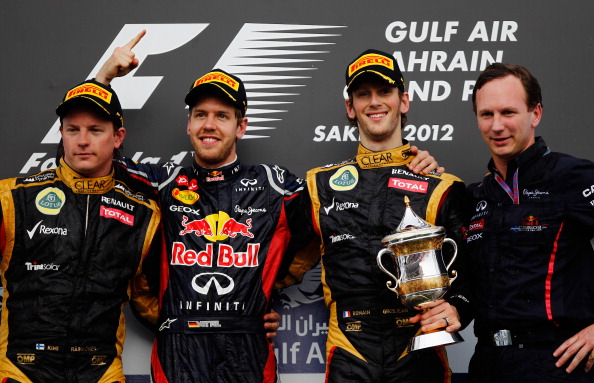 The Bahrain Grand Prix started after a long period of protests by the local residents. After a long, hard battle, Sebastian Vettel took his first victory of the 2012 season, starting from pole. Lotus drivers Kimi Räikkönen and Romain Grosjean formed a huge threat throughout the race for Vettel and finished second and third. Räikkönen had an impressive run as he pulled himself op from eleventh on the grid. Ferrari was once again disappointed as Alonso and Massa finished seventh and ninth. Both McLaren drivers had a terrible race as Hamilton had two failed pit stops (one was 9.9 seconds) and Button finished eighteenth.
Spanish Grand Prix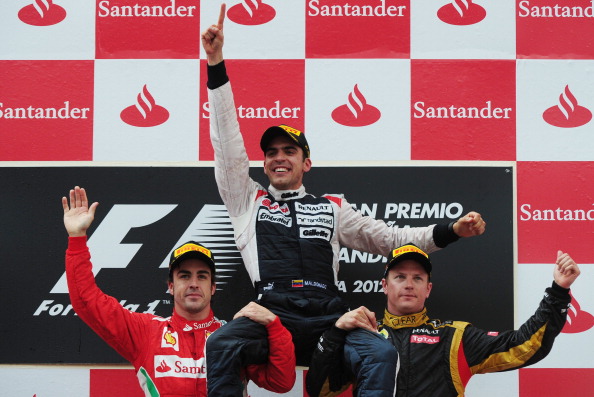 Pastor Maldonado took his maiden Formula 1 victory in the Spanish Grand Prix and marked the first victory for Team Williams since 2004! In an amazing run, he fought with early race leader Fernando Alonso until the final laps and eventually left the Ferrari driver behind him. A very quick Kimi Räikkönen came in third and took his second podium victory since his comeback. Hamilton experienced another failed pit stop during the race and finished eight with his teammate behind him. The Red Bull team had a bad day as Vettel struggled to keep up with the drivers in front of him while Webber suffered from a horrible start which put him way down the order.
Monaco Grand Prix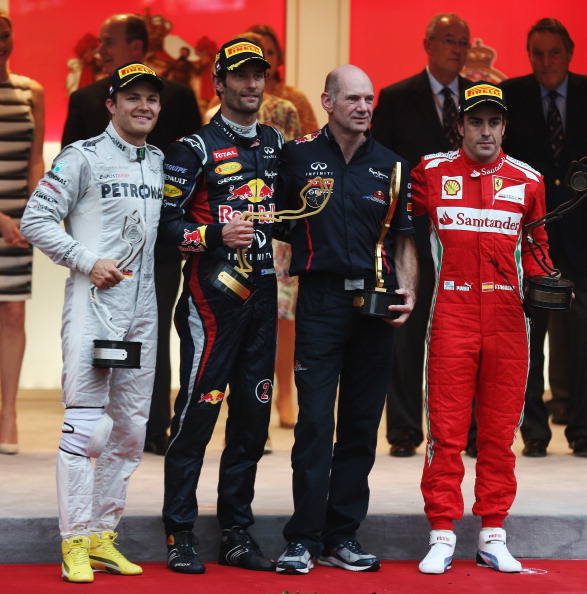 Mark Webber took the victory in the Monaco Grand Prix after holding off a strong Nico Rosberg. Fernando Alonso came in third and with teammate Felipe Massa in sixth, it was a reasonable weekend for the Ferrari team. Grosjean was forced to retire due to a collision with Schumacher. Also Button and Räikkönen crashed together with Maldonado, Kobayashi and de la Rosa. This crash caused a safety car to come out. Button, Schumacher and Räikkönen were able to continue the race while the others retired. However, later on Schumacher had to retire as well due to fuel problems and on lap 72 Button had another crash with Kovalainen and left the race.
Canadian Grand Prix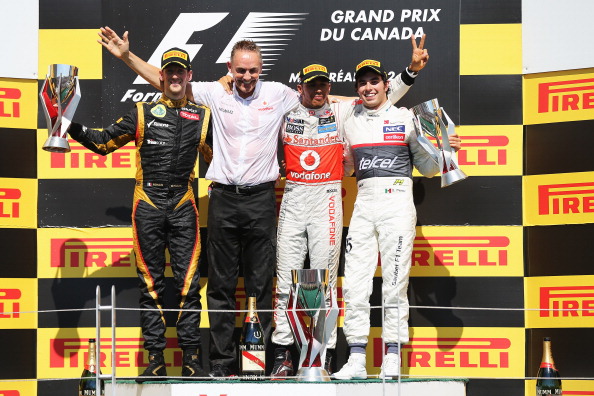 The Canadian GP again was a race with surprising results. McLaren driver Lewis Hamilton came in first  and secured a seventh winner for the 2012 season. He was followed by Romain Grosjean of Lotus and Sergio Perez of Sauber. In the first couple of laps, the drivers mostly stayed in their grid positions. Only Massa passed Nico Rosberg but spun out of contention at Turn 2 several minutes later. Vettel, Rosberg, Webber and Räikkönen all finished lower. Ferrari driver Fernando Alonso was very disappointed about this results in the Canadian Grand Prix. He fell behind the leading pack as well and finished fifth.
European Grand Prix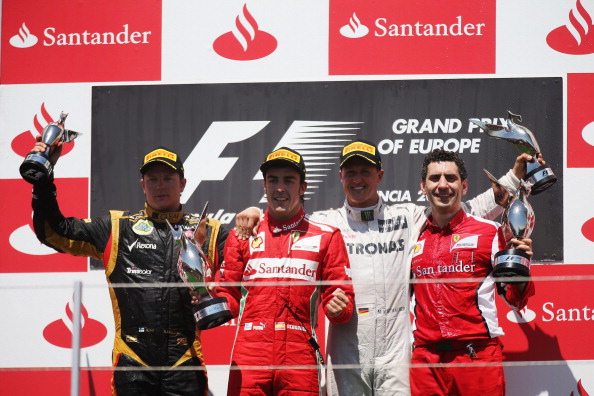 Alonso became the first driver to win two races this season after he dominated the European Grand Prix at Valencia. It was a very exciting race. Alonso managed to pull himself up from eleventh on the grid to the top podium spot. He was followed by Kimi Räikkönen who took second place. Finally. Schumacher captured his first podium finish since his F1 comeback and finished third. At the start of the race Vettel took the lead and everybody assumed he would win again at Valencia. He opened a 20-seconds gap. However, on lap 27 Vergne crashed into Kovalainen which brought a safety car out. After the restart of the race, Vettel's Red Bull stopped with a technical problem and he was forced to retire.
British Grand Prix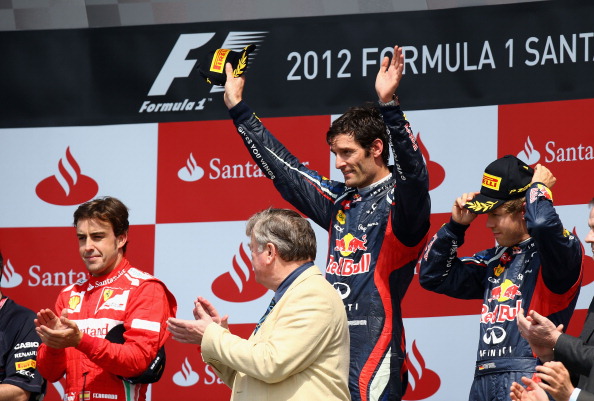 Mark Webber took a surprising victory in the British Grand Prix, after passing race leader Fernando Alonso with only four laps to go. The race was undecided until the end and Red Bull had a great day with a double podium finish as Sebastian Vettel came in third. But that did not spoil the fun for Ferrari as driver Felipe Massa had an amazingly strong pace and just missed out on a podium finish by coming in fourth. The battle between Red Bull and Ferrari had put McLaren and Lotus on the sidelines.
German Grand Prix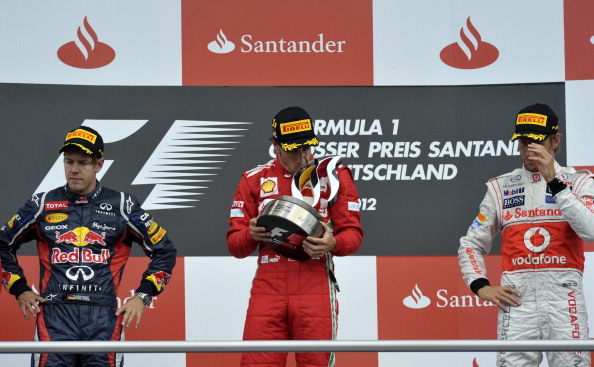 Fernando Alonso took the victory in the German Grand Prix. While Sebastian Vettel originally finished second, a twenty seconds penalty dropped him to fifth. He got penalized for an illegal overtaking attempt on Jenson Button where he overtook the McLaren driver by running off the sidelines. Fortunately, the penalty for Vettel left Button in (his probably rightful) second place. The podium was completed by Kimi Räikkönen, who finally seems to have broken his Hockenheim-curse which made him retire from the past five races at this track.