In a modern game where super-athletes are the norm and everyone runs (and runs fast) till they drop, in a world where Gegenpressing and its various Bieslaesque variants are the order of the day, no one seems to remember the simple fact that sometimes, you dont really need to run all that fast to play good football. Like the chain-smoking, long-haired, tactical genius Csar Luis Menotti once said, Since when do you need to run to play football?Here we take a look at 10 players who have (or had in some cases) made great careers without as much as sprinting the length of a football field at anything resembling decent pace.Note: the list is neither in any specific order nor is it definitive
#1 Per Mertesacker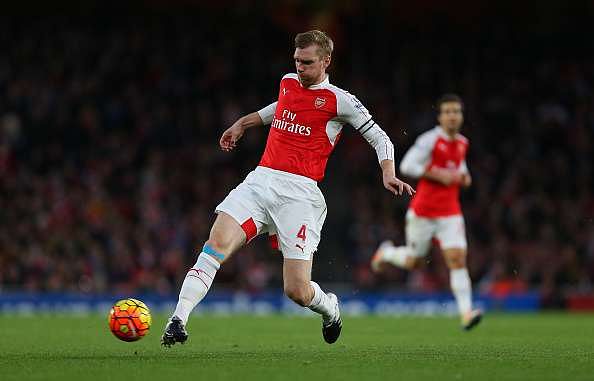 In the world of unparalleled imaginative brilliance that is Roald Dahl's literature, the BFG – Big Friendly Giant – is a 24-foot tall individual (good) dream collector-cum-distributor, blessed with superhuman hearing abilities and immense speed. In the almost equally colourful book of hymns that is passed around at Arsenal Football Club, the BFG – Big F***ing German – is a more homo sapien-ish 6 and a half foot tall master defender, blessed with superhuman aerial-duel winning abilities and absolutely no speed whatsoever.
With the turning speed of the Queen Mary 2, it is natural that Mertesacker has had to suffer jeers of "Too slow!" and "Not mobile enough!" from armchair football pundits and 'expert' football journalists across the board. Ever since he put on the German shirt for the U-16s, he has heard the same accusations being thrown at him by detractors wherever he has gone but that hasn't stopped the humble, self-deprecating German giant from becoming one of the great defenders of his time.
His height allied with a powerful jump make him a terrifying prospect in the air – at either end of the pitch – while his immaculate sense of positioning and ability to sniff out danger more than compensate for his inadequacy in the pace department.
An almost finished career – spent dominating the air, trying to chase annoyingly zippy forwards, putting in brilliant sliding tackles, winning over skeptical fans and winning the World Cup – lies as a testament to the great character and the not inconsiderable skill of the big man.
Titles – 1 x World Cup, 2 x FA Cup, 1 x DFB Pokal, 1 X DFB Ligapokal
#2 Michael Carrick
On the shores where the game was invented, the ideal central midfielder has long been seen as the tough-tackling, hard-shooting, box-to-box types and the most popular ones - Big Duncan Edwards, Steven Gerrard, Frank Lampard, et al – have all adhered to that common formula.
So when a tall, almost dainty, Geordie set about displaying to the "blood and thunder" world of English football that the art of dispossessing an opponent without involving the medium of a barnstorming tackle was not the sole province of those "fancy Europeans", they were a little taken aback.
Well, they must have been! How else can you explain the fact that the man who has almost single-handedly held together the midfield of Manchester United for nearly nine years has been capped only 33 times for the English national side?
Sir Alex Ferguson, though, certainly recognised the air of calm that Michael Carrick brought to proceedings; his metronomic forward passing (and the uncanny ability to pick out a killer ball – like this beauty against Chelsea in the FA Cup) and natural ability to read the game and position himself at exactly the right spot more than making up for his utter lack of pace.
Louis van Gaal acknowledged his integral importance as well – United have lost only two of the 20 games he has played in this season – and as the most underrated English footballer of his time winds up yet another excellent season, maybe the English national setup will to
Don't take my word for it. Here's the always excellent Gary Neville analyzing just how Carrick protects his defense so well:
Titles – 1 x Club World Cup, 1 x Champions League, 5 x Premier League, 2 x FA Cup, 3 x League Cup
#3 Xabi Alonso
"He was a player we wanted. But he is a player, who even though he is an extraordinary man and a great professional, left me perplexed by the slowness of his movement in midfield". So said Claudio Ranieri, then manager of Juventus FC, when asked why the Grand old lady of Turin hadn't signed Xabi Alonso after he had evinced interest in joining them.
This was way back in 2008, when Alonso had just returned from the wonderful success of La Furia Roja's European Championship campaign, and had already established himself as the metronomic heart of Liverpool FC. Seven years on, he is slower still. But the quality of his football hasn't dipped one bit.
From captaining his hometown club Real Sociedad (at age 21) to second place in La Liga in 2002-03 (from the brink of relegation no less), to winning the Champions League at his first attempt with the Merseysiders; from marshaling Real Madrid to their long awaited Decima to being an integral part of one of the greatest national teams ever – the tall, straight-backed Basque has done it all.
Now at Bayern, he looks like he'll be pulling strings for some time to come, as he guides the Bavarian juggernaut on yet another season of utter domination.
What adds to his allure is that he's done all that mostly while simply sitting comfortably deep within his own half. Why get out when you can do this from 70 yards, eh?
He may never have been able to run (with or without the ball) but he can calculate angles and trajectories faster than most anyone else on a football pitch, and that right foot can deliver through balls and long passes with military sniper-like precision. Even Simo Häyhä would have been proud of this one:
Titles: 1 x World Cup, 2 x European Championship, 1 x La Liga, 2 x Copa Del Rey, 1 x FA Cup, 2 x Bundesliga, 1 x DFB Pokal
#4 Juan Romn Riquelme
In Argentina, his detractors called him pecho frío – cold chested – a term used by gauchos to refer to a horse unwilling to pull a heavy cart. The word seemed apt, for the great man rarely looked like he was doing much more than taking an afternoon stroll. Possessed of feet as fast as a pickpocket's hands and a mind more inventive than Francis Crick on LSD, Juan Román Riquelme was a slow motion genius who played football in a beautiful, unlikely-ever-to-be-seen-again, style that defied description.
Thirteen years he spent at Boca Juniors in two different spells, and La Bombanera probably never has seen a player quite like him in their long and illustrious history. El Madrigal (where he spent four of his best years) certainly hasn't. Adaptability – that most sacred of terms in modern football - meant absolutely nothing to a player who never, ever, played in any manner but his own.
Build a team around him, and his genius would lift the most mundane little club (read –Villarreal) to stratospheric heights. Shun him; ask him to adjust for the sake of the collective; and no matter how great the club (read – Barcelona) he wouldn't lift a damn finger for you.
On the field, his almost comic lack of pace meant diddly-squat when he had the ball at his feet; he would dribble around you, he would pass through you, and if a gap opened up he would find any of the four corners of the goal with almost insulting ease.
And if, like Mario Yepes here, you tried to gain the upper hand by coming at him fast and hard, assuming his slowness meant he wouldn't be able to handle it – he would make you like look an absolute dunce:
Titles - 1 x Olympics (2008), 5 x Apertura (Argentine Primera Division), 3 x Copa Libertadores, 1 x Intercontinental Cup, 2 x UEFA Intertoto Cup
#5 Daniel Van Buyten
Slightly bigger than your average barn door, and a little less mobile than one, Daniel Van Buyten, creatively nicknamed "Big Dan", was a lumbering giant of a defender who terrorized strikers in his native Belgium, France and (mostly) Germany for the best part of sixteen years.
Like the other giant defender on our list, Big Dan was an absolute monster in the air – equally adept at scoring and clearing danger with his noggin'. Unlike the beanpole that is Mertesacker though, Van Buyten was almost as wide as he was tall; and he wasn't afraid to use the immense strength that came along with that body. The big Belgian was also exceptionally comfortable with the ball at his feet – having started off life as a striker – and regularly ended games with 90% + pass accuracy numbers.
A strict disciplinarian, Van Buyten extended his career by dedicating himself to very strict off-the-field routines and diligent training methods. With age, his gradual loss of speed (which never was track-burning in the first place) was compensated by a growing understanding of the game, which combined with a natural awareness of where to position himself and a ready willingness to put his body on the line made him such a tough defender to play against.
He also had the happy knack of coming up with the odd match-winning goal, and his free-kicks were some of the most fearsome in the business. He certainly looked like he wanted to hit the leather off of the ball, and sometimes he really took that phrase to heart:
Titles – 1 x FIFA Club World Cup, 1x UEFA Champions League, 4 x Bundesliga, 4 x DFB Pokal, 1 x DFB Ligapokal, 1 x UEFA Intertoto Cup
#6 Matt Le Tissier
Matthew Le Tissier never had the aura that usually comes with great footballers – the physical prowess, the force of personality, the fast cars – none of that was him. If he were to take off his red and white Saints jersey and stand in amongst the crowd at the Dell, he would had been thought of as just another spectator - a normal guy who comes to see his favourite team play on the weekend to escape the burdens of the working week - a man who hardly ever stood out.
Unless he had the ball at his feet. For then, you would see why the Saints faithful nicknamed him "Le God"; a man who did things with a football few others could even dream up.
That's what made him so special – he looked like one of us, but he played like he had been touched by the footballing Gods. He spent 16 years at the Dell, never breaking into anything even remotely resembling a brisk jog, powering in goal after goal for his beloved Southampton; goals that spelt the difference between relegation to the Championship and survival in the top division.
His lack of hard work in training off the field and absolute commitment to doing perfectly nothing off the ball while on the field meant he went untrusted by managers for both club and country, but his magic – a magic that would brighten even the dullest lives in that gloriously brief moment – made him a living deity in the south coast.
He scored plenty of goals, and not one of them was ordinary. Howitzers blasted in from of thirty yards, dainty little chips, mazy dribbles, insouciant lobs - he had the entire repertoire. It didn't matter if you had the best defence in the league or the best goalkeeper in the world on your side – he could make all of them look like bewildered school kids, all the while looking he was just popping down to the neighborhood grocery store for a carton of milk:
Titles – He won zilch. But a lifetime spent ensuring your hometown club, the love of your life, doesn't go down? That's quite something else!
#7 Teddy Sheringham
As the strapping young Londoner completed his debut, noted football writer Rod Liddle had already decided what he would write – "Now here's a slow, lazy ponce who won't amount to anything". Rather harsh you say?
Well, this was early 80's England and nothing less than your typical English full-blooded commitment would do. This young lad however was content walking around in the final third, occasionally running into pockets of space that developed out of nowhere. As the striker announced his retirement, nearly 25 years after that debut which Liddle had so whimsically dismissed, the writer mused "I had forgotten that crucial ingredient, intelligence; which he had in spades".
It was the very deficiency that Liddle noted that had made Edward Paul "Teddy" Sheringham such a wonderful player. He didn't have pace – a teammate from Spurs once said that 40 year old Sheringham was still as slow as when he was 18! – so he never depended on it.
Possessed of a fine footballing brain that saw gaps for passes and runs, spaces to exploit before others knew that space would even open up, and a heading technique that should have a chapter to itself in any football textbook, Sheringham was adept as the lone centre forward and brilliant playing slightly off the main striker.
The high points of his career were of course the two touches in two minutes against Bayern Munich in the '99 Champions League final, but his was a career filled with many such important touches – glancing headers, perfect volleys, inch-perfect through balls; an array of skills that combined with his tactical and positional intelligence to enable Sheringham become one of the English League's greats.
Titles – 1 x Intercontinental Cup, 1 x UEFA Champions League, 3 x English Premier League, 1 x FA Cup, 1 x Full Members' Cup
#8 Ronald Koeman
Ronald Koeman was built like a first generation Tiger tank, and very much like the Tiger I, he was exceptionally slow on the turn, cumbersome and awkward when facing lightning fast opponents and had a shot that could level anything in front of it.
He may have run at a pace just slightly faster than a beached humpback whale – he once admitted "I'm not a real defender. My lack of speed can put me in trouble" – but a keen sense of positional awareness, a bruising physical presence and a die-hard spirit made him a fearsome prospect for any striker.
On the field he displayed great tactical intelligence – an intelligence that has served him well as he became the first person to ever serve as both player and coach to the big three of Dutch football (PSV, Ajax and Feyenoord), and embarked on a remarkable transformation this season with Southampton – but this was oft overlooked during his playing days because of his exploits at the other end of the pitch.
It was here, in the opposition half, where that the afore mentioned 88-mm-tank-gun of a right foot came to good use - his trademark thunderbolt free-kicks and long range strikes regularly tested the strength of goal nets across Europe – and made him arguably the greatest goal-scoring central defender of all time. He netted an incredible 193 goals in 535 club appearances and 14 in 78 national caps.
Not only were his goals frequent, they were usually rather important too - it was his preposterously powerful free-kick in extra time (112') that handed Barcelona their first ever European Cup:
Titles – 1 X European Championship, 2 X European Cup (Champions League), 4 x La Liga, 1 x Copa Del Rey, 4 x Eredivisie, 3 x KNVB Cup
#9 Andrea Pirlo
Sitting in front of his defence Andrea Pirlo has been creating his own, inimitable symphonies - like a post-modern footballing Richard Strauss - for the best part of a decade and a half now. To the casual observer Pirlo spends most of this time idly walking around, breaking into a casual jog now and then; doing absolutely nothing. But the great Regista is pulling strings that you and I could never begin to fathom – every step taken, every little pass, every laser guided long ball, fits into the grand scheme of things; into a plan only he sees.
About as fast across the ground as a three-legged tortoise, Pirlo makes zippier, faster, more mobile opponents around him look like nursery kids senselessly running around on a sugar high – such is his control of the ball, and, the situation itself. And as Milan found out the hard way back in 2011, the great man seems to be getting better and better with age.
The genius of Pirlo is the time he seems to have on the ball, the ability to slow down the frenetic goings-on around him into frame-by-frame slow motion so that he can do exactly what he wants, when he wants. Nothing serves as a better illustration of this than Fabio Grosso's opener against Germany in that barnstorming '06 World Cup semi.
Watch the video given below - as Pirlo received the ball at the edge of the German penalty area in the 119th minute, it was do or die for the Italians and had it been anyone else, they would have had a crack at goal. But Pirlo feints, and waits.
Here we think he is going to pass it out wide – but he feints and waits again. You see, those extra milliseconds of waiting has given Fabio Grosso enough time to set himself up. Pirlo, on the third opportunity to do so, passes it to the left back, who duly scores an absolute screamer. The beauty of the goal lay in that pass – a no-look pass that took balls of steel and the mind of a pure genius to create – the unhurried nature it encapsulating the very essence of Andrea Pirlo.
Titles – 1 x World Cup, 1x FIFA Club World Cup 2 x Champions League, 5 x Serie A, 1 x Coppa Italia
#10 Dimitar Berbatov
If Andrea Pirlo is the master conducting the orchestra, Dimitar Berbatov is the aristocrat sitting up in the balcony wearing the latest in high-street fashion, twirling one of those uber-posh thin cigarettes between his fingers, sipping on a glass of the finest Chardonnay. The lanky striker is arguably the fastest man on this list, and probably could muster up some decent speed across a football field if he wanted to, but speed and pace... they are just so… mundane.
And Berbatov is anything but mundane. Arrogant, self-assured, tactically adept and indisputably brilliant, Dimitar Berbatov plays football at his own sweet pace; and at times, there is nothing more beautiful on planet Earth.
Plucking steepling long balls out of thin air, knocking in impossible volleys and the most audacious of lobs, threading through balls through the eye of the proverbial needle, making defenders look like absolute idiots – no one has made all this and more look lazier and more effortless than the great Bulgarian. According to him "there is a great saying in Bulgaria that great quality doesn't require much effort" - he has lived his career having taken that 'saying' to heart.
His first touch is pure footballing porn, a thing of beauty known on the internet as Berbarotica (actually encompasses anything Berba does on a football pitch – first touches, dribbles, finishes).
So sit back, and enjoy some good ol' Berbarotica – this time, the Monaco edition.
Titles – 1 x Club World Cup, 2 x English Premier League, 2 x Football League cup, 1 x Bulgarian Cup