5 instances of what would happen if managers swapped places
4.40K //
22 May 2015, 15:35 IST
Football fans always weigh possibilities and imagine multiple scenarios of the same situation or change the situation altogether. We are a bunch of people who spend most of our time in a world of imagination.
The world of football is such that there is often a lot of ambiguity that surrounds any news and rumours fly about unchecked. Most of this contributes to sending football fans into overdrive thinking of hypothetical situations involving a lot of ifs and whens.
What could have been if this player played for this club? What would happen if this club was bought by oil-rich tycoons? These are the type of things that find shelter in our minds.
One such thought is: what would have happened if certain managers swapped clubs? We take a shot at 5 cases.
---
Jose Mourinho & Pep Guardiola
Just imagine. You wouldn't be able to find two managers whose philosophies are as different as these two. While Guardiola has an obsession for fluid possession football, Mourinho believes in rearguard strength as a base for counter-attacking football.
So what would have happened if they swapped?
Bayern Munich would automatically become the most hated club in the world because of Mourinho's us-against-the-world mentality. Their footballing approach would become more like the old-school Bayern than the possession-based team that they are now.
Also, the Bundesliga, in general, would become more interesting with the Portuguese's dynamic press conference rants if, God forbid, a referee makes a mishap against his team.
However, with Bayern's huge dominance in the league, it would be very likely that at some point, the former Real Madrid manager would start sending his assistant manager in front of the press.
On the other hand, if Pep Guardiola joined Chelsea, the first season would be spent in totally changing the players' football mentality and how it should be played. At training, defenders would be played as strikers, strikers as midfielders and midfielders as defenders in order to make the players complete.
In fact, we might see Diego Costa play in central midfield because of his ruffian approach to the game and Nemanja Matic would become the first choice central defender because he would be the ideal man to start moves from the deepest line.
Basically, Chelsea would be fun to watch. The clueless looks on the players' faces for the first few weeks would be an apt replacement for the lack of good comedy movies these days.
---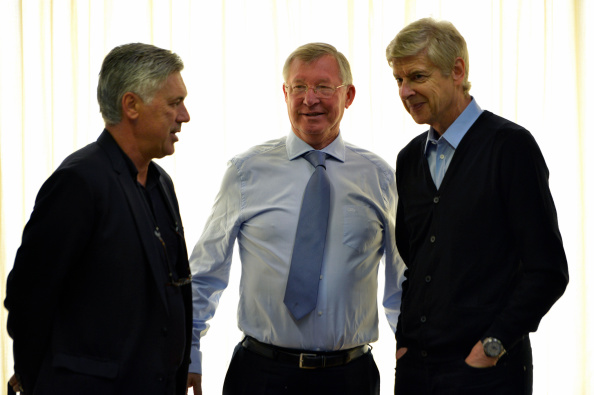 Arsene Wenger and Carlo Ancelotti
This would be an interesting swap. Arsene Wenger has failed to win the league for over a decade now and the Champions League has never touched his palms. Ancelotti, however, has won the Holy Grail of club football two times as a manager, but his league record is just as bad as the Frenchman.
If Arsene Wenger joined Real Madrid, he would be sacked the very next season due to his inability to deliver trophies instantly. While there is no doubt that his arrival would benefit the Blancos in the long-term, there is, however, no chance he would be given the time he has been at Arsenal.
The playing style of Real Madrid would probably stay the same, with just a slight increase in possession. The best thing, though, would be the emphasis on the youth academy. Real's academy is renowned for producing talents and Wenger is certainly the man who could groom some of them to stardom.
Oh, and given the way some fans at the Bernabeu are, Wenger will be booed. A lot.
Whereas, if Carlo Ancelotti becomes the gaffer at Arsenal, the Gunners will have someone who can raise the competitive attitude among the players, like his own eyebrow. The playing style would remain the same because the Italian is a very flexible manager and likes to make slight tweaks rather than wholesale changes that border on egoism.
Ancelotti would also address the issue which should have been addressed a long time ago: a defensive midfielder. With more freedom in England than at Real Madrid, the former Milan boss would buy himself a world class holding midfielder and bring joy to the fans like the sight of a bone brings to a dog.