Belgium Brigade – The next big thing in Football!
2.26K //
31 Dec 2012, 20:46 IST
When it comes to having the most promising youngsters who are ready to take the world stage by surprise, the Belgium national team is a step ahead of many others. A stream of young and talented players have come up and performed for their respective clubs in recent times. Some of the biggest names in football circles are coming out from this region, and are blending into a perfect combination for their national team. They might just be the next big thing in football!
Belgium has a respectable record in the international stage, with 6 successive World Cup qualifications from 1980 to 2002, which saw them reach the knockout stages on 5 occasions. Their last outing in the Euros was in 2000, and their best was their runners up medal in 1980. The team is often called "The Red Devil" and it looks ready to live up to its name.
In this analysis, we will look at the possible team combination and formation which will lead Belgium to become one of the best in world football, a fierce opponent and a force to reckon with!
Simon Mignolet – Goal Keeper – Sunderland
Currently playing for Sunderland in the English Premier League, Simon Mignolet is regarded as one of the finest young goal keepers in the league. His solid and consistent performances whenever he plays has seen him gather accolades from many pundits of the game. At 193 cms and 87 kgs, his imposing physical presence and bravery in front of the goal is an asset to any team he plays for. He is lined up for a move to a bigger club anytime soon, with Arsenal and Manchester interested in his duties. Mignolet faces tough competition from youngster Thibaut Courtois for the place in the national team. Both of them are immensely talented but Mignolet might edge out the other based on his consistency and experience.
Thomas Vermaelen – Center Back – Arsenal
Regarded as the bargain of the season when Arsene brought him to Emirates for €10 million from Ajax, Vermaelen went on to become club captain after the departure of Van Persie at the start of this season. He is the true epitome of a modern day defender, solid at the back line and dangerous in the penalty box. His powerful shots, combined with aerial threats and leadership skills makes him the most valuable player at his club. Affectionately called as "The Verminator", he has established a special place in the hearts of the Gooners. With 40 International caps under his belt, he is one of the most experienced players in the team and will be a force of strength and motivation for the youngsters around him. He combines with Kompany on national duty to form the best defending partnership for years to come. His goal scoring ability makes him more venomous compared to other defenders and will look to strike at every opportunity moving forward.
Vincent Kompany – Center Back – Man City
Kompany made his debut for the Belgium side in 2004 at an age of 17, as one of the youngest players ever to do so. Since then, he has made bigger strides, claiming the captaincy for both club and country and establishing himself as one of the pillars of the team. He played an integral part in the City team that won the Premier League title last season, and bagged individual honours as the league's Player of the Season. He is a bargain when compared to other big money signings in the revolution that took place at City. He has the ability to play as a central defender as well as a holding midfielder for Belgium and does so with great prowess. His composure makes him solid in defense and his work rate lifts anyone around him, as he looks committed to the cause. As the Captain, he holds responsibility to instill confidence in his team and steer them through crunch games. His experience of playing regularly at the highest levels with his club is also an added asset to the team.
Jan Vertonghen – Left Back – Tottenham Hotspur 
Another prodigy to have emerged out of Ajax Academy, Vertonghen snubbed Arsenal to join Spurs for more playing time and a new challenge. His recent performances under Andre Villa-Boas have been scintillating and a delight for football fans to watch. He prefers to play at centre back but has been deployed in the more attacking full back role for his club. Absence of Vermaelen due to injury saw him partner Kompany in the heart of defense for Belgium last year, but he might have to assume a more familiar right back position on the field when he steps in his national colours. He has been phenomenal moving forward for Spurs and has his shooting boots on most of the times. He will look to partner Hazard on the left flank for Belgium and will be a potent threat from set pieces as well. His crossing will prove to be crucial when the team looks to deploy wing attack against opposition. He is growing in confidence each week and is sure to establish himself as a world class defender in the coming years. At 25, he is still an unfinished product and will need to gather composure and perseverance moving forward.
Toby Alderweireld – Right back – Ajax Amsterdam
Comparatively unknown in the footballing circles, Toby is the next graduate from Ajax who belongs to the Belgium national team. Following on the footsteps of his team mates, he is bound to leave Ajax for greener pastures with English teams weighing up a move for the youngster. Being of the same grade as others, he is quite versatile and can play as centre or right back. For the recent Euro qualifiers, he was deployed at the right back position and excelled there with strong performances. He has not been a regular in the national team but he is bound to strengthen his place in years to come. He was instrumental in Ajax's Eredivisie winning campaign alongside Vertonghen and will look to replicate his form in Belgium colours. Another defender with an attacking mindset will give plenty of options to Belgium moving forward. He would need to move to a bigger league in order to establish himself as a world class defender. At right back, he is the best option for Belgium.
Alex Witsel – Central midfield – Zenit St Petersburg
With a price tag of €40 million on his head for his services, Alex Witsel has taken the footballing world by storm. His big money move from Benfica in the summer of 2012 left every one awestruck and it was tough to establish its actual worth. No one doubts his immense talent when he made headlines as a teenager at Standard Liege, making 148 appearances and scoring 33 goals. He is essentially known for excellent technique and passing skills. He has been most effective in central midfield but can also play as an attacking midfielder when required. He was the Belgian footballer of the Year in 2007-08, while he was still a teenager. At 23 years of age, he is still very young and has to be moulded into a complete footballer. He has to prove himself to his critics who doubt his valuation and this might just give fuel to his engine. He will have to improve on his defensive duties when he looks to play alongside Dembele in the heart of midfield.
Witsel will face tough competition from Stevan Defour for his place in the middle and might be rotated to fit in another talented player in the Belgian ranks. Defours playing style is more suited to this position but his form has not been impressive. His talent is overshadowed by his blown up transfer fee but now it is time for him to justify it.
Moussa Dembele – Central midfield - Tottenham Hotspur
Sir Alex Ferguson will admit that missing out on Dembele in the last window is hurting him more than he had expected. Spurs again grabbed a talented midfielder in the form of Moussa Dembele from Fulham after they triggered a £15 million release clause in his contract. He has been the main man in Spurs midfield, engineering most of their attacks and holding the midfield like an anchor. He is the most industrious player in the Belgian team and is a major piece of the jigsaw. His presence on the ball is a treat to watch and he makes things happen with it. He has been given more defensive responsibilities this season and which has helped other team mates to attack freely. He has been a revelation for Spurs and they have won almost every game when he has started. He has a pass completion rate of 87% and tackle success rate of 84%. The stats show how effective Dembele is when he plays. His passing and tackling abilities will make him see most of the ball during the game. His composure is improving with every passing game and he looks more dangerous with the ball now. He will cement his place in the Belgian team for the upcoming years and will be hard to replace.
Kevin Mirallas – Right Winger – Everton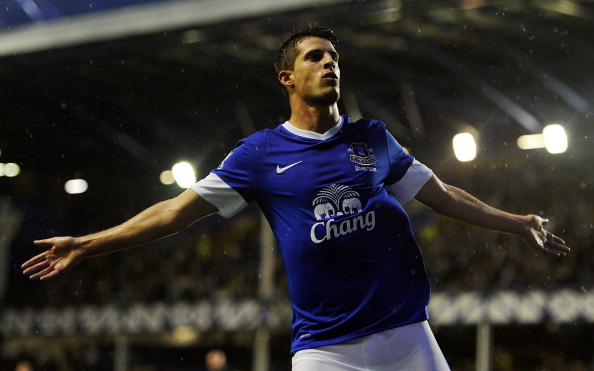 Mirallas is another lesser known youngster from Belgian who has proven his worth in the Premier League this year. Part of David Moyes's Everton, which he joined in the summer of 2012 for £6 million, he has established himself as a promising winger cum forward in the current season. His preferred role in the national team is in the forward position but he can be deployed on the flanks as a winger to accommodate depth. His form has been good in the run up to the World Cup 2014 as Belgium looks to leave its mark on the world stage. He has 32 international caps, a big achievement for a lesser known player. He has spent time in various leagues and carries a good exposure at his age. He likes to cut in from the wing and create shooting space for himself. Along with Fellaini , fellow Everton-ian, Mirallas will look to gain on their mutual chemistry and build the game for Belgium while on attack. His natural instinct for goal will make him a score few while he looks to create opportunities. His place in the side also gives an experience campaigner in the attacking half.
Marouane Fellaini – Attacking Midfielder - Everton
The most transformed player of English Premier League this season, Fellaini has become almost unplayable in recent times. He has outclassed opposition defenders with sheer strength and scored goals more frequently than before. His ball control and decisive passing has seen him excel in every position he has played on the field. He has moved from central midfield to assume more attacking positions behind the striker, which has led him to score some spectacular goals. He will be the creative source for his team as a play-maker and create scoring chances for others as well as himself. He has scored 8 goals in 16 appearances for club and is looking forward to recreate the magic for Belgium. He is hoping to move away from Goodison Park and this might just help him to improve as a player. In a team that has so many attack minded players, his versatility can prove to be quite handy while making tactical changes as he can defend and attack with same finesse. His athleticism is unquestionable as he is among the top 1 % midfielders when it comes to energy and distance covered during a match with a whopping average of 6.65 miles per match. His physical stature causes chaos among the opposition defender during set pieces and creates scoring chances. He is one of the biggest upcoming talents in Europe and like many others he belongs to the Belgium arena.
Eden Hazard – Left Winger – Chelsea
Big clubs all over Europe anticipated his signature when the "Hazard"-ous attacker signed for the European Champions. The biggest talent to have emerged in recent times, Eden Hazard has lived up to every last penny of his high profile move to Chelsea. He has been in sensational form for his new club and looks every bit of a natural attacker. He has the potential to turn a game from head to toe single handed. He prefers to play as an attacking midfielder or a winger depending on the requirement. At present, his role in the Belgian team is at the left wing from where he makes tireless runs throughout the game, leaving defenders to gasping for breath. His turn of pace and close ball control are lethal qualities only seen in handful of players in the World. He has a powerful shot and lines up to take set pieces for his team on many occasions. He is frequently compared to Ronaldo or Messi and is ready to take the baton from the seniors. He already has 32 appearances for Chelsea this season with 6 goals and 15 assists, a reflection of why Roman Abramovic agreed to pay £32 million for the youngster. His selfless nature on field has made him a team player for club and country and is adored by fans all over. He is definitely among the most promising young talents alongside Neymar from Brazil. His presence in the Belgian team gives them confidence that they can go on and stake claim for the best team in the world. He can carry the team on his shoulders for a very long time and can assume leadership responsibilities too.
Romelu Lukaku –  Striker – Chelsea
Touted to be the next Drogba, he was given an opportunity to replace his childhood idol at Chelsea at a very young age. Romelu Lukaku did not anticipate the hardship of Premiership when he left Anderlecht in the summer of 2011. A fee of £18 million was paid by Chelsea to seal the deal and the prodigy moved to Stamford Bridge. Lack of opportunities in the playing 11 saw Lukaku grab a loan move to West Bromwich this season which has helped him grow as a player. He has scored crucial goals at his new home and looks forward to stay there for the whole season. He is an immense talent at his age and is assured of greater heights if he continues to stay on this path. His daunting physique is a nightmare for defense and can run riot with his strength and stature. Still a teenager, he can grow on to become one of the best strikers the world has ever seen. Belgium will look to benefit with such a talented teenager in their armour. He can be very effective in wing attacks and set pieces with his presence in the box looming over defenders for an opportunity to score. He needs mentoring at the hands of more experienced team mates and coaches to help him achieve what he really deserves.
Substitutes 
- Thibaut Cortouis , Athletico Madrid 
- Stevan Defour , FC Porto 
- Dries Mertens , PSV  
- Christian Benteke , Aston Villa
- Kevin De Bruyne , Werder Bremen
- Daniel Van Buyten , Bayern Munich