The Spanish league has never been short of amazing players. Right through the ages, some of the world's best players have graced La Liga and left their indelible mark on this competition.
From Laszlo Kubala and Alfredo Di Stefano in the 1950s to Lionel Messi and Cristiano Ronaldo in the present generation, La Liga has always been the league to watch for football fans all over the world.
Multiple Ballon d'Or winners, legendary strikers, record breakers, pioneering midfielders all played in this league and it is no easy task to pick the 10 best players from a pool of so many ridiculously talented footballers.
Without much ado, let us take a look at the 10 greatest La Liga players of all time:
Note: Players have been ranked based on their performances in La Liga only, number of La Ligas won and the impact they had on their respective teams.
#10 Raul Gonzalez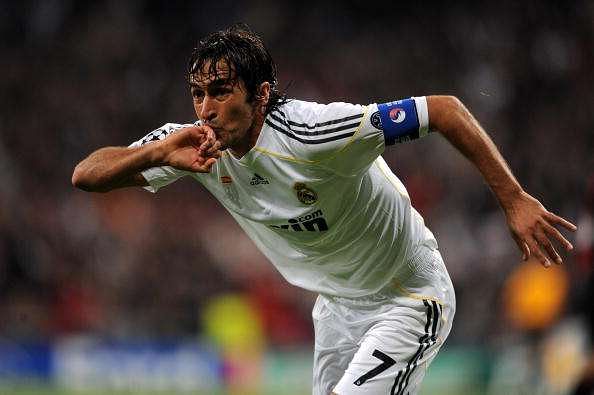 A prolific goalscorer and a highly creative forward, Raul is regarded as one of the greatest and most consistent strikers of his generation. Raul was a quick, left-footed player, who was capable of scoring both in and outside the penalty area with his accurate and powerful shot.
n addition to these characteristics, Raul is remembered for his leadership and discipline; throughout his extensive career, he never received a red card, and he was rarely booked. For his technical skills, elegance and performances, he was nicknamed "El Ferrari," or "The Ferrari," by Fernando Hierro.
Also read: Iker Casillas picks his all-time greatest Real Madrid XI
A true and loyal servant for the Los Blancos, Raul Gonzalez displayed amazing longevity at the top level and is still the most capped player in Real Madrid history having played 741 times (343 goals) for his childhood club.
During his amazing 16 year spell at Real Madrid, the legendary number 7 won an astonishing 6 La Liga titles along with numerous other trophies such as the Champions League and Copa del Rey. Raul holds a special place in the hearts of the Real Madrid supporters.
#9 Cristiano Ronaldo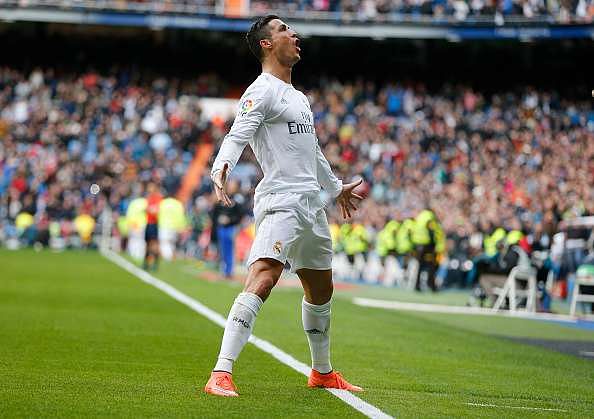 One of the two standout players of this generation, Cristiano Ronaldo is easily one of the greatest players of all time. Ronaldo joined Real Madrid from Manchester United for a then world record fee of £80 million and he has been worth every single penny so far.
Real Madrid's record goalscorer and the second highest La Liga scorer of all time, Ronaldo's goalscoring exploits in the La Liga have been absolutely mind boggling. In 252 appearances for Los Blancos, the Portuguese Superstar has scored 274 goals and is the only player in La Liga history to have a goalscoring ratio of more than 1 (1.087) goal per game (minimum 100 goals).
Also read: Ballon d'Or winners 2000-2010: Where are they now?
While there is no doubt that Ronaldo is one of the greatest players of all time, the fact that he has won only one La Liga title during his illustrious career sees him in the 9th position. With Ronaldo showing no signs of slowing down, he might well end up much higher on this list by the time he retires.
#8 Ronaldinho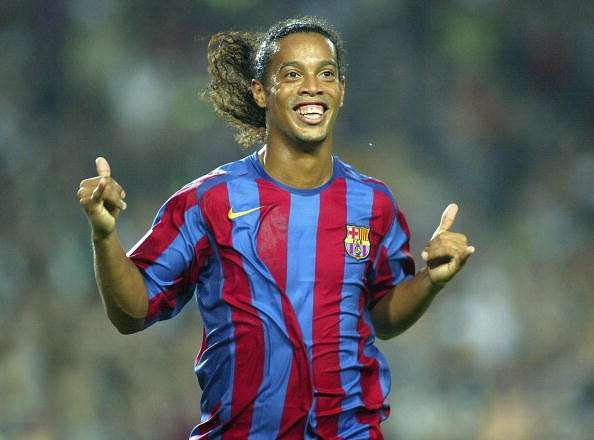 The first step towards Barcelona's dominance of modern football was achieved with the signing of Ronaldinho. One of the most skilled players ever to play the game, Ronaldinho's signing in 2003 ushered in a new era of dominance for Barcelona.
A first league title in six years was a direct result of the Brazilian's artistry. Who can forget the way he destroyed Real Madrid at the Santiago Bernabeu in 2005 where even the Madridistas stood up to applaud – a gesture that is only reserved for the very best opponents. ( Maradona. Ronaldinho and Iniesta)
Also read: Ronaldinho considers MSN to be the second best trio in Barcelona history
The Brazilian helped Barcelona win two La Liga titles during his magical spell at the Camp Nou and although it might not seem much, compared to the other legends on this list, the impact Ronaldinho had on Barcelona and the La Liga is still seen to this day.
#7 Michael Laudrup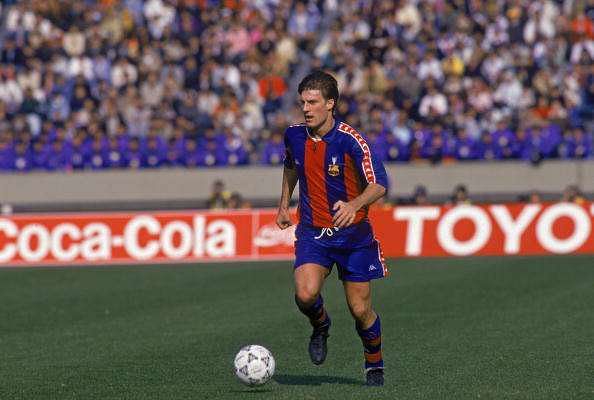 Laudrup is one of the most talented players to have ever played. The elegant Dane has the unique achievement of being on the right side of a 5-0 scoreline for both Barcelona and Real Madrid in successive seasons.
A quick, intelligent and talented midfielder, Laudrup was known for his pace on the ball. He is regarded as one of the most effective and versatile attacking midfielders, as well as one of the most skilful and elegant players in the history of the game. Although primarily an offensive playmaker, he was capable of playing in several positions in or behind the front-line, and was even deployed as a winger.
Also read: 5 players who won La Liga with both Real Madrid and Barcelona
Probably the greatest player ever to never win the Ballon d'Or, Laudrup won 5 La Liga titles in a row – 4 with Barcelona and one with Real Madrid. One of the most successful and skilful players to ever play in the Spanish League, Laudrup is one of the few players who is liked by both Real Madrid and Barcelona fans.
#6 Laszlo Kubala
Considered by many to be Barcelona's greatest ever player (yes even greater than Lionel Messi), Laszlo Kubala was a Hungarian refugee who became a Catalan hero. Fans familiar with the history of General Franco's reign at Real Madrid will know what an important role Kubala played in Barcelona's emergence as a La Liga superpower.
Voted as the greatest player in Barcelona history by the Catalan fans, Kubala was the architect of Barcelona's legendary Cini Copes season where they won an incredible 5 trophies in a single year.
Also read: Why Laszlo Kubala, and not Lionel Messi, is the greatest Barcelona player of all time
Although Kubala played only 256 times for the Catalan giants, he still managed to score 194 league goals which make him the third highest goalscorer in Barcelona's history. The legendary forward also has a host of other La Liga records to his name such as being the first player ever to score 7 goals in a single game and he also helped Barcelona win the League 4 times breaking Real Madrid's monopoly over the title in the 1950's and 1960's.
A Hungarian who adopted the Catalan culture and made it his own, Kubala definitely holds an important place in the history of Barcelona and La Liga.
#5 Andres Iniesta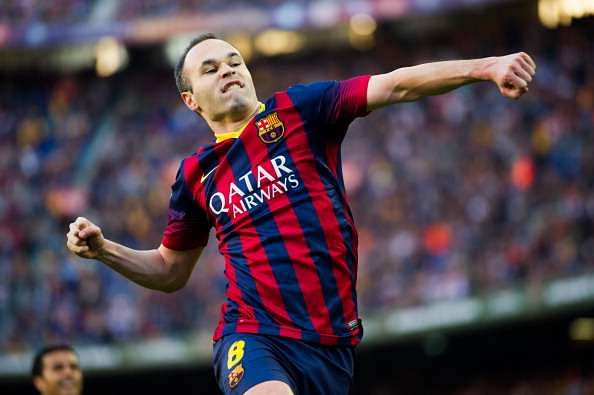 The diminutive Spaniard has been astonishing the footballing world since 2005 and there are no signs of him slowing down. A true gem in the crown of the Barcelona midfield, Iniesta almost has a telepathic understanding of his team mates' positions. Always setting up goals or scoring crucial ones, Iniesta is truly a big match player. Much like other Barcelona youth products such as Guardiola and Xavi.
Iniesta relies on exceptional creative passing, intuition and inventiveness to control the midfield and dictate the ebb and flow of play. He has won 29 trophies in his stellar career making him the most successful Spanish player of all time.
Also read: 5 best midfielders above the age of 30
The Spaniard has starred in the Champions League and on the national stage for Spain, but, his impact and excellence in La Liga cannot be discounted as well. The Barcelona captain has won an astonishing 8 La Liga titles and has often been the brains behind Barcelona's amazing midfield.
At 32, Iniesta still has the capability to add a couple more La Liga titles to his burgeoning trophy cabinet.
#4 Xavi Hernandez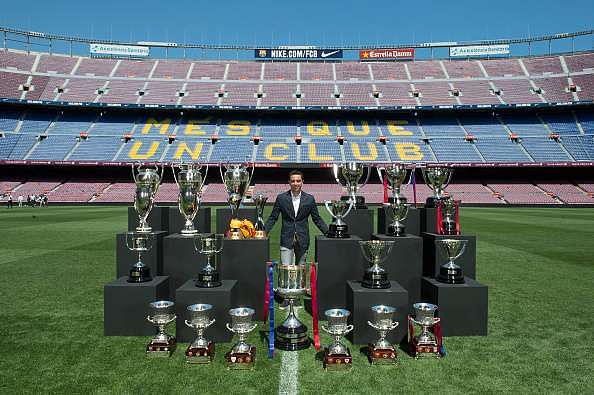 Considered by many to be the greatest Spanish player ever, Xavi Hernandez is truly one of the best midfielders to ever play the game. The Spanish legend has won the La Liga an astonishing eight times. Having won all the trophies club competition has to offer, Xavi is arguably the best midfielder in La Liga history.
Xavi's vision, pinpoint accurate passing and world class ball control allowed him to dictate the flow of play while rarely relinquishing possession. His ability to control the play and pick out the runs of the attackers made him absolutely invaluable to the Barcelona team.
Also read: Xavi claims Catalonia would be in Top 10 footballing countries if allowed to compete
Pulling the strings in midfield, Xavi was the lynchpin in Pep Guardiola's all-conquering Barcelona team and was the heart and soul of the famous tiki-taka system which Barcelona employed to such great effect.
Having made more than 180 assists in his stellar career at Barcelona, Xavi is definitely one of the greatest Barcelona and La Liga player of all time.
#3 Alfredo Di Stefano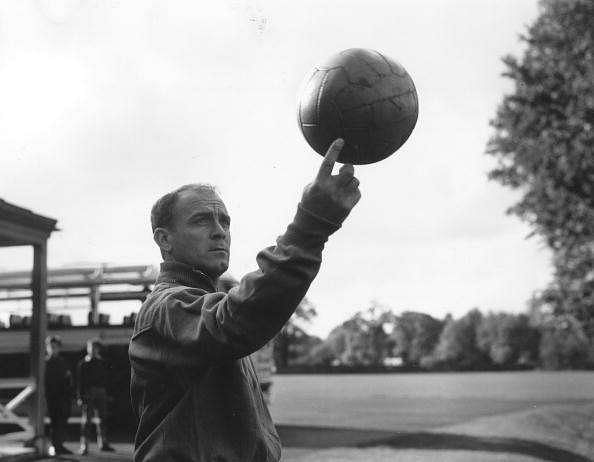 Undoubtedly the player who redefined Real Madrid's legacy as one of the greatest club teams in the world, Di Stefano is arguably the best Real Madrid player of all time.
Not many people know that Real Madrid legend Alfredo Di Stefano had initially signed for Barcelona in the year 1953 after a dispute over his signature with Real. The Spanish federation came up with a ludicrous solution where Di Stefano would play alternate seasons at both clubs, however, Barcelona withdrew from the agreement in protest leaving Di Stefano free to sign for their great rivals Real Madrid.
Also read: Alfredo Di Stefano better than Lionel Messi and Diego Maradona, claims Pele
Barcelona forever regretted that move as Di Stefano went on to cement his legacy as one of the greatest players the world has ever seen. While the Argentine is famous for scoring in 5 European finals, his impact in the La Liga cannot be discounted.
In 10 years (from 1954-1964), Di Stefano helped Real Madrid win an incredible 8 La Liga titles. Di Stefano was so good, that Pele considered him to be an even better player thn Diego Maradona and Lionel Messi:
"I believe that Alfredo Di Stefano was the most complete of the Argentine stars, he was more complete than [Diego] Maradona and Messi. Players like Di Stefano and I are not as well-known because there are far fewer recordings of our performances."
Di Stefano played a huge role in Real Madrid's position as the most successful club in La Liga history.
#2 Lionel Messi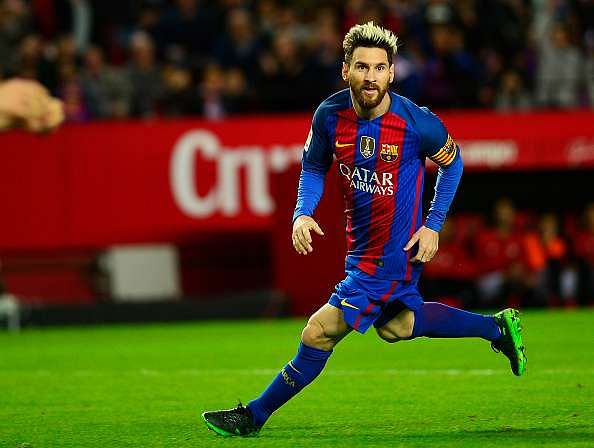 The greatest number 10 Barcelona have had and will probably ever have, Lionel Messi is a footballer who defines an era. One of the two standout footballers of this generation along with Cristiano Ronaldo, Lionel Messi has won a staggering 28 trophies with Barcelona.
The only footballer ever to win the Ballon d'Or five times, Lionel Messi is an absolute phenomenon. The diminutive Argentine has been Barcelona's main man since 2008 and has put in some spell bounding performances in La Liga and the Champions League.
Video: Cristiano Ronaldo and Lionel Messi - rivals on the pitch, friends off it
The all-time top goalscorer in La Liga, Messi like Xavi and Iniesta has won the La Liga 8 times and has multiple records in the League such as winning the best player in La Liga award 6 times, and having the most number of assists (130) in La Liga history.
While Messi's role might have changed from being a false 9 under Pep Guardiola to being a more traditional right winger under Luis Enrique, his importance to the team has not diminished one bit and at 29, Messi still has a good 4-5 years at the very top level.
#1 Francisco Gento
The only player in the history of the game to win six European cups, Francisco Gento was a pacy winger who was an integral part of the most successful team in Real Madrid's history. Gento is also the only player ever to win an incredible 12 La Liga titles.
In a long career that spanned from 1952-1971, Gento won everything that club football has to offer. Not only did he win everything, he also captained the side which won everything for 9 long years.
Gento was known for his remarkable pace and is considered by many to be the fastest player to ever play. At his peak, Gento was clocked to have run 100 metres in 10.9 seconds with the ball.
Also read: The forgotten legends of football: Gento
Gento was a very smart player who always managed to beat the offside trap. Because of his phenomenal pace, he almost always got the ball first, and ran through to put a team-mate in on goal, or score himself.
While the legendary Spaniard might not be as talented as Ronaldinho or Di Stefano, or as good as Ronaldo and Messi, Gento for his longevity, leadership and the incredible amount of La Liga trophies won is the greatest La Liga player of all time.
Honourable mentions: Johan Cruyff, Ronald Koeman, Telmo Zarra, Carlos Santillana, Hristo Stoichkov, Iker Casillas, David Villa and Cesar Rodriguez