FIFA FIFPro World XI 2014, Coaches of the Year, Presidential and Fair Play Awards announced
9.95K //
12 Jan 2015, 23:13 IST
Many awards were given at the FIFA Ballon d'Or ceremony in Zurich. Here we take a look at the awards given at the gala event. Here are the awards for the FIFA FIFPro World XI, Coaches of the Year along with the Fair Play and the Presidential Awards.
Find out who won the Puskas award.
Also, find out the winners of the Ballon d'Or and Women's World Player of the Year Awards.
FIFA FIFPro World XI 2014
At the Ballon d'Or ceremony, the FIFA FIFPro World XI of the year 2014 was announced. The side includes the best players on the planet over the past year and what an amazing team has been chosen. It'll be a dream for us all to witness them in action together.
World Cup winners Germany have 3 representatives. Two Brazilian players are selected and the same number from their neighbours Argentina have made the team. Spain have two representatives as well, whereas semi-finalists at the World Cup, the Netherlands have a single member. Portugal's captain Cristiano Ronaldo is the only one player in the team whose team failed to reach the semi-finals of the 2014 FIFA World Cup.
All the 11 players chosen represent just 5 clubs across Europe.
Here is the team in full:
Goalkeeper:
Defenders:
Phillip Lahm
Sergio Ramos
David Luiz
Thiago Silva
Midfielders:
Andres Iniesta
Angel Di Maria
Toni Kroos
Forwards:
Arjen Robben
Lionel Messi
Cristiano Ronaldo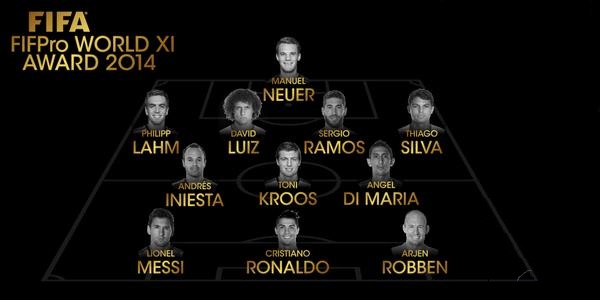 FIFA Presidential Award
The FIFA Presidential award went to Japanese journalist Hiroshi Kagawa.
FIFA Women's Coach of the Year
Ralf Kellermann won the award for his achievements with the Wolfsburg women's team coach
FIFA Men's Coach of the Year
Joachim Low was acknowledged for his team's World Cup winning performance as he won the FIFA Men's Coach of the Year
FIFA Fair Play Award
The winners of the FIFA Fair Play Award were the volunteers from FIFA tournaments.