Greatest Footballing Rivalries - Manchester United vs. Manchester City
2.59K //
11 Jul 2011, 01:25 IST
After going through the El Clasico, the Milan Derby and the Red Rivalry in England, it would only be fair if the series was continued with a traditional rivalry. Let's have a look at what is currently the only intra-city rivalry in England that is of some consequence to the outcome of the League; the famous Manchester Derby. As is with every rivalry, this one too has some history behind it.
History of the Manchester Derby
The first Manchester Derby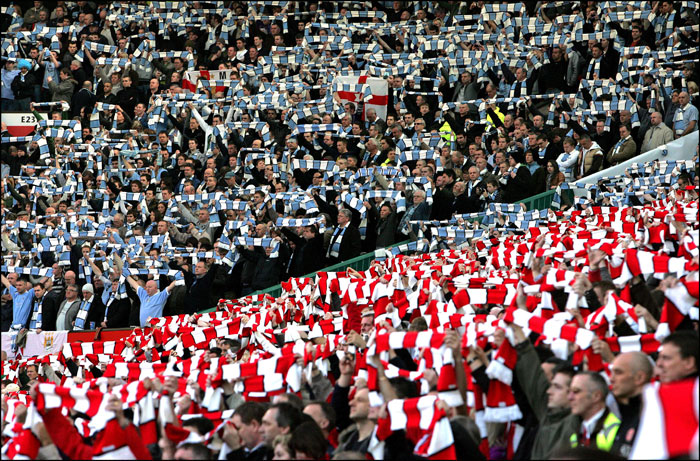 was not played between Manchester United and Manchester City. No, it's not a typo. It was in fact played on 12th November, 1881, between the two clubs which were then known as Newton Heath (United) and West Gorton (City). That wasn't even a typical derby, with the Ashton Reporter terming it as a "pleasant game". Heath and Gorton were just playing a game between two of a number of local Manchester clubs and there wasn't anything that suggested that there would be any sort of bad blood between them anytime. Gorton changed their name to Ardwick FC and along with Heath began climbing up the ladders of English Football, with the two teams becoming dominant sides in the Manchester area with either Heath or Ardwick winning the Manchester Cup every year between 1888 and 1893. It was in 1891 that Newton Heath got election to the First Division and Ardwick got through to the new Second division in 1892. This probably must have rubbed Ardwick the wrong way as both teams were considered to be equally strong at that time.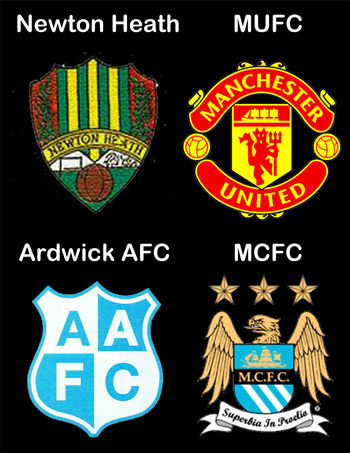 In 1894-95 season, the two clubs played their first Football League match, with Newton Heath beating Manchester City FC 5-2 at Hyde Park, City's home ground. Before the Second World War, many football supporters in Manchester, watched City one week and United the next, which made sense as both teams were strong and were competing for "Manchester glory". The first floodlit Manchester derby played was an aid game for the Hyde Coal Mine disaster. The match ended in a victory to Newton Heath (3 – 2).  That was on 26th February 1889. After the war though, a stronger rivalry developed and following both teams became uncommon. This was when the real rivalry began. The first competitive floodlit derby was the Charity Shield match played in October 1956, which needed a change of venue as Old Trafford had yet to install floodlights.
The two clubs in question
Let us now take a brief look as how the two clubs shape up against each other in terms of stats and glory.
Manchester United is the most successful club in English Football, having won a record 19 Premier League titles, a record 11 FA Cups, 4 League Cups, 18 Charity Shields(4 of them shared), 3 UEFA Champions Leagues, 1 Intercontinental Cup and have been crowned Club World Champions in 2008.
Manchester City on the other hand hasn't been anything close to being as successful as United, which has led to severe taunts and jibes from United supporters. They've won the First Division twice, 5 FA Cups, 2 League Cups, 3 charity shields and a European Cup Winners Cup.
The rivalry between the two clubs was always tense with fiercely fought games and no club wanting to give away the upper hand on or off the football field. Although United have been clearly the superior team in terms of cups and trophies, City have never let that boggle them down. Over the last 4-5 years, the rivalry has scaled new heights after City become 'moneywells' and managed to match the spending power of the traditional big 4 clubs, especially United.
Controversies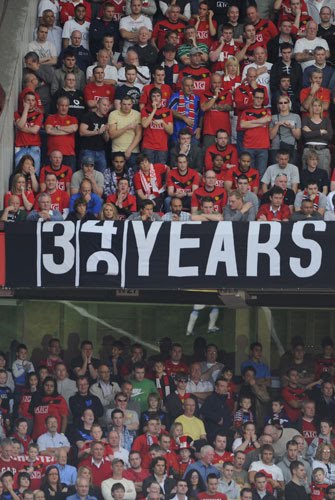 An intense cross-city rivalry always comes with its fair share of controversies and the Manchester Derby is no different. Most of the controversies have been in the post Ferguson era, when the wily old Scotsman has managed to rile the City fans and management alike with his jibes and comments towards the blue half of Manchester. United fans haven't been left behind. They famously had the so-called City Ticker banner positioned beneath the top tier of United's Stretford End stand. It was put up by the Stretford End Flags supporters' organisation in collaboration with the club and has been a thorn in the side of City's long-suffering fans since it was first unfurled more than a decade ago. It read 33 years, almost ticking to 34 which was a count of City's trohpyless sojourn in English football before the FA Cup final last season which City won.
Carlos Tévez transfer saga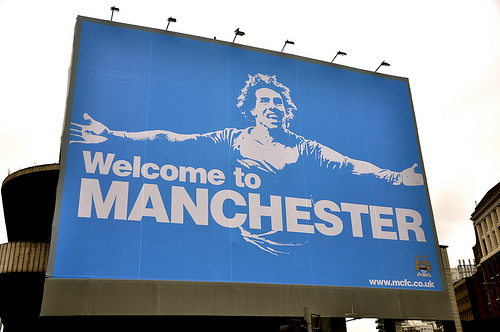 Simply put, this was 'the transfer' that heightened the rivalry between the two clubs to what it is now. It's usually considered stupid and the height of tomfoolery if a top player leaves his current club, especially one like United. It's even worse when the club he gets transferred to United's cross-town rivals Man City. But of course, Carlitos didn't think that way or perhaps didn't think at all. The transfer led to such intense hatred between the two sets of fans that police and anti-riot forces needed to be deployed when Tévez first took to the pitch against Untied in City colors.
Carlos Tévez was first spotted when he was plying his trade in native Argentina, for Boca juniors. His impressive performances at a young age prompted Brazilian club Corinthians to snap him up for a reported £ 13.7mn, the biggest deal in South American Football. Tévez would then go on to play for West Ham United in the Premier League and then for Manchester United on a two year loan deal.
After united signed Dimitar Berbatov in 2008, Tévez's chances were limited and he didn't' want to stay on at Old Trafford. Manchester City had just been taken over by wealthy Sheikhs and could not let such a chance slip. Especially when it meant that they would be able to get one over United. Thus in one of the most controversial transfers of the Premier League era, Tévez was transferred to City on 14th July, 2009 amidst a lot of issues with Tévez's owning agency, Media Sports Investments. Tévez was given the number 32 shirt, just as he was at Manchester United and West Ham. In signing for Manchester City, Tévez became the first player to move between the two Manchester clubs since Terry Cooke moved from United to City in 1999.
One assumed that everything would get back to normal once a few weeks passed and the football started. But further Controversy was generated prior to the start of the 2009–10 season, when City erected a billboard reading "Welcome to Manchester" at the top of Deansgate. The billboard provoked Sir Alex Ferguson into claiming City had a "small club mentality" and subsequently called them "noisy neighbors" during the season.
Manchester derbies in the 1970s were frequently bad tempered. And the one in December 1970 was no different. In a feisty game, a late tackle by George Best, the magical United winger broke the leg of City fullback Glyn Pardoe; the injury being so severe that it almost caused Pardoe to lose his leg. In the following season, an entertaining 3–3 draw saw Francis Lee accuse George Best of diving and emphasized the point to the referee by throwing himself theatrically to the floor. The Manchester Derby had reached boiling point by now.
The first derby of the 1973–74 season was a dour contest which finished 0–0. The two sides were probably too bored and maybe had resigned to the fact that the tie was going to end in a stalemate. Thus when Lou Macari and Mike Doyle were given marching orders by the referee, both players refused to leave the pitch, leading the referee to take both teams back to the dressing room until the two players accepted their dismissals. They had found a way to add some spice to an otherwise boring tie.
City failed to Beat United even once in the 90's. This era sparked a long lasting feud between Roy Keane and Alf-Inge Haaland. In 1998, Keane was clean through to goal and Haaland (then playing for Leeds United) was chasing him and tackled him. As Keane was lying on the ground Haaland accused him of faking. The tackle actually that meant Keane would miss a few games as he suffered cruciate ligament injury. Three years later when Haaland was the Captain of City, Keane came in with a knee high tackle for which he was sent off. Haaland suffered with knee problems from then on and retired from football in 1992. He said that it was not due to the challenge but medics say it aggravated a previous knee problem. Keane admitted in his autobiography that the tackle was premeditated and that he intended to cause Haaland injury. He was subsequently fined £150,000 and received a five match ban.
Club Legends
Glyn Pardoe (Man City: 1962-1976)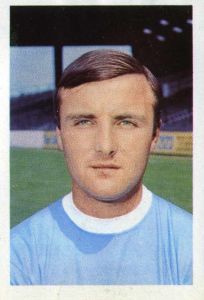 One of the few one club players to have graced English football, Pardoe was a very talented and versatile footballer. He rejected Everton as a kid to join Manchester City and it was always and upward journey from there.
Pardoe began his career as a forward who mesmerized defences with his pace at a very young age. But he wasn't as effective as he was perceived to be, with 11 goals his best return in a season. Thus in 1966 he converted to a fullback where he spent the rest of his career.
Being versatile helped Glyn as he could play in the right and left fullback slots although he predominantly played on the left, cutting in onto his right or making overlapping runs which are a very common sight today. Pardoe was a regular in the City side which was a part of the clubs most successful period to date, when they won the FA Cup, League Cup and a European Cup Winners Cup in a three year period.
Call it destiny or fate; Pardoe's career almost came to an end in 1970 in a Manchester Derby when a tackle by George best was deemed to be so violent that it almost took Pardoe's leg off. The severity of the injury meant than Glyn had to sit out that and the following two seasons trying to recover. When he did come back, his fullback position had been taken by another player and his playing chances were limited. City fans still consider him to be one of the best players to have worn the Sky Blue strip and hate Best even more for nearly ending the career of their darling.
Ryan Giggs (Manchester United: 1987-??)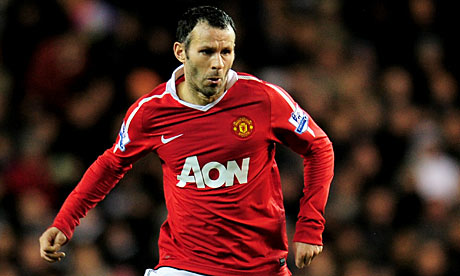 It wouldn't be wrong to call Ryan Giggs Mr. United. If one proclaimed that he has been instrumental in almost all of United's triumphs in the Ferguson era, contradicting that would be nearly impossible. Giggs has been there and done it all.
Ironically, Giggs, then known as Ryan Wilson, was a product of City's youth system. Yes, the same Manchester City who now curse him for flying down the flanks time and again lost Giggs to United when Sir Alex's Under-15's side were demolished by the flying Welshman.
He has been the base of United's tactics of wide play and has seen 4 generations of United wingers come and go, from Kanchelskis, Beckham to Ronaldo and now Nani and Young. His pace from a very early age was always his major strength. He didn't really try too many fancy tricks like a Ronaldo, but relied more on quick drop of a shoulder or a body-feint.
Giggs is the most capped United player and in 1999 he scored what is considered by many as the greatest united goal ever. It was the FA Cup Semi Final and Giggs; collecting the ball in his own half waltzed past 5 Arsenal players and smashed the ball into the roof of the net to send United through into the Semis.
Giggs has been the ultimate gentleman on the pitch and so far hasn't received a single red card!!
He has appeared in 34 Manchester Derbies to date and has failed to start just one, which shows the passion and determination to do well for United and especially against City. And those "??" are there with a reason. Nobody really knows for how long Giggs will go on playing for United considering that he has had two of his best seasons in the last two years, aged 36 and 37!
5 key clashes that define the Manchester Derby
The Denis Law Game, City 1-0 United (27th April 1974, Old Trafford)
"27th April, 2974, The day that Denis Law backheeled United into the Second Division."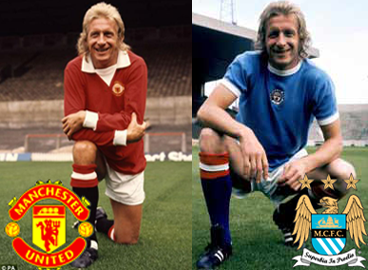 In football, very rarely does it happen that a player on the field gets more importance than the game itself (The Cristiano v Messi battle notwithstanding). But this was different. It was the return fixture of the Macari-Doyle game, on the penultimate day of the season. Having played for both Manchester teams and the man who scored a goal for City against United on the day the Old Trafford club were relegated from the old First Division in 1974, Law remains one of the most famous players in derby history.
That was a poor season for United and they were facing relegation. They had to win this derby and hope that other results went in their favor to stay up. After 80 goalless minutes at Old Trafford, Francis Lee played the ball towards Law who was standing with his back to goal. Instinctively, Law back-heeled the ball past goalkeeper Alex Stepney into the net and immediately walked off the pitch, no celebrations, nothing, knowing well that his goal meant United would definitely be relegated. Law never played league football again. In the closing minutes of the match, United supporters invaded the pitch and forced an abandonment. However, the result stood, and other results meant that United would have still been relegated if the match had been a draw. When asked about the game recently, this is what Law had to say,
"I was inconsolable. I didn't want it to happen. How long did the feeling last? How long ago was the game? Thirty-odd years and the subject always crops up. It's one of those things. It's always there and I am always remembered for it. That's a shame. I played with all those guys. They were pals. I didn't want them down. It was the last thing in the world that I wanted. It didn't feel good, no. We weren't friends on the field. We would kick each other. But once the whistle went and it was over, things changed".
Law went on to be regarded as a United legend and a part 'Holy Trinity' with Sir Bobby Charlton and George Best. The three of them have Bronze statues erected in their memory outside Old Trafford.
Manchester United 4 – 3 Manchester City (21st September, 2009, Old Trafford)
"When Michael Owen showed he still had it in him."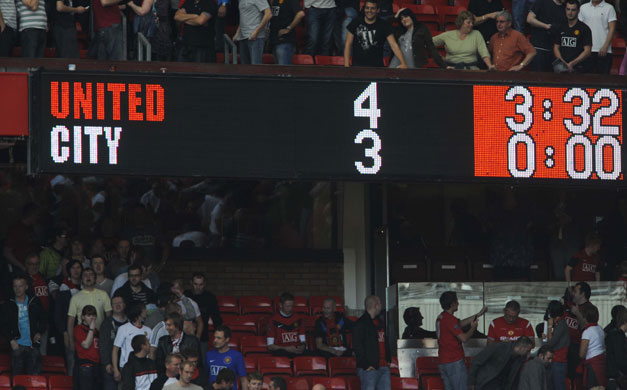 In what was a topsy turvy battle of Manchester, United's self-destructive streak allowed their neighbors to peg them back three times before the knockout punch was finally administered by Michael Owen, prompting Craig Bellamy to aim a punch of his own at a pitch invader. Sir Alex Ferguson had shocked the football world by signing ex Liverpool striker Michael Owen on a free transfer at the beginning of the season. People questioned Fergie's judgment as many believed Owen to be past his prime with injuries plaguing his career. Guess SAF had foreseen what was to happen.
In the first Manchester Derby of the season, United and City drew swords at Old Trafford with new boy Carlos Tévez making his Manchester Derby debut for the Eastlanders.
United took an early lead through golden boy Wayne Rooney before being pegged back by City through an error by 'keeper Ben Foster which allowed Tévez to set up Gareth Barry to slot into an open net. A little before half time, Tévez, who had been all over the place was put through on goal but couldn't keep his composure and shot against the post.
Second half, and with SAF's words still ringing in their ears, United scored through Darren Fletcher to make it 2-1. Bellamy scored one of the best derby goals when he left Ji Park and John O'shea for dead and rifled home the equalizer. Fletcher scored yet again to make it 3-2 and one thought this had to be United's day. A silly error from Rio Ferdinand into stoppage allowed Bellamy to score and make it 3-3. Surely it was over. But SAF's decision to sign Owen was to be vindicated. A late late late free kick in the 95th minute allowed Ryan Giggs to put Owen through on goal and the rest went down in folklore. Mark Hughes, the City manager was furious at the referee as he believed that the scheduled period of stoppage time was over before the goal. Well, that made no difference to the outcome of the match or the title. The ensuing celebrations were as raucous as those when United won the Barclays Premier League title in May.
Sir Alex Ferguson called it "the greatest derby of all time" and that would definitely have found backers from Flixton to Florida and from Ardwick to Abu Dhabi.
Carling Cup Semi Finals, United 4 – 3 City (on aggr.) (19th January and 27th January, 2010)
"He's a Boot Sucking Moron."
The Carling Cup usually has sides play their second or maybe third string sides. Managers tend to give their youngsters a chance of First team football to see if any of them have matured to play at the top level. Well, there was never going to be anything of that sort when these two sides were set to meet each other in the Semi Finals.
This was the same season that Owen got "that" goal, so City were clearly hurting and were looking for some revenge. With the first leg being played at Eastlands, they had much more than just a chance.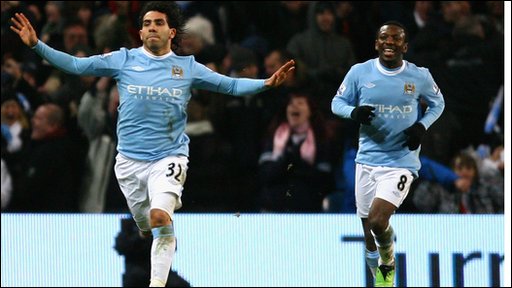 Giggs put United ahead but two Carlos Tévez goals, the first being a controversial (yes, again) penalty put City ahead and won them the game 2-1. Sheikh Mansour had finally got some sort of return on his investment, but again, this game was not to go down without some bad blood between the two sets of players. First, the City fans chanted "USA! USA!" as City completed their win, with direct references to United's debt ridden American owners and establishing by the scoreline at least, that the gap between the two clubs was probably being narrowed. Then, came the punches. Prior to the game, Gary Neville had said that Tévez "wasn't worth the £ 25mn" that City spent on him and was accused of showing a middle finger gesture to ex United Carlos Tévez. The Argentinean didn't take too kindly to the statement and actions and in return called Neville something of a "Boot Sucking moron" and giving him a yapping sign with his palm after scoring the penalty.
Profanities aside, the return leg was played at Old Trafford, with both managers asking their players to keep the off-field banter to a minimum. It was supposed to be the biggest English club match of the season, at least in terms of interest levels. With all the talk about a potential powershift in English Football lent the humble League Cup 'Clasico-esque' significance, while the stakes had been cranked up even further by all the hullaballoo that unfolded in the first leg.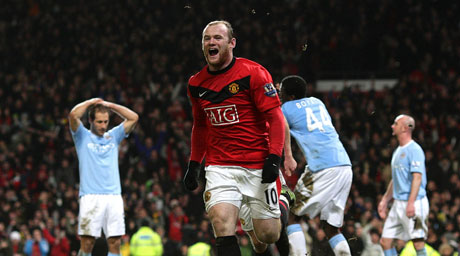 A scoreless and almost anticlimactic first half led people to wonder if the derby was actually going to live up to all the hype that had been generated in the past week or whether it would turn out to be a damp squib like most highly anticipated fixtures usually are.
Controversy struck early in the second half, but this time due to a part off-field incident when City's Craig Bellamy was struck by a coin to the side of his head as he prepared to take a corner… and a bottle landed not too far away from him (reminds of what happened to Figo on his return to the Nou Camp). Paul Scholes scored and put united ahead on away goals. Carrick made it 2 and the tie was almost sealed before a clever Tévez flick made it 3-3 aggregate. As it was in September at OT, this tie too was decided late into the game. Wayne Rooney this time popping up to head home in the 92nd minute to eruptions from the Old Trafford faithful. The tie ended 4-3 to United on aggregate.
Manchester United 2 – 1 Manchester City (12th February, 2011, Old Trafford)
"Roooooooooonnnnneeeeeeeeeeeeeeeeeeeeeeeeeeyyyyyyyyyyyyyyyy"!!!!!!!!!!!!
Majestic- Superb- Unbelievable… Three adjectives most certainly weren't applicable to the match that fans witnessed on a sunny Saturday afternoon at Old Trafford. This derby clash was the return fixture to a drab and dull 0-0 draw at Eastlands where neither team wanted to lose.
United started the game without top scorer Dimitar Berbatov and opted for Wayne Rooney as the lone man upfront. City were without their influential midfield destroyer Nigel De Jong. Both sides were looking to come out trumps in this one as City started on a positive note with David Silva going close.
City were dominating but United went ahead out of the blue (pun unintended) when Rooney flicked a header onto the non-ageing Ryan Giggs. Giggs played it to Nani, who controlled the ball superbly and slotted it past Joe Hart.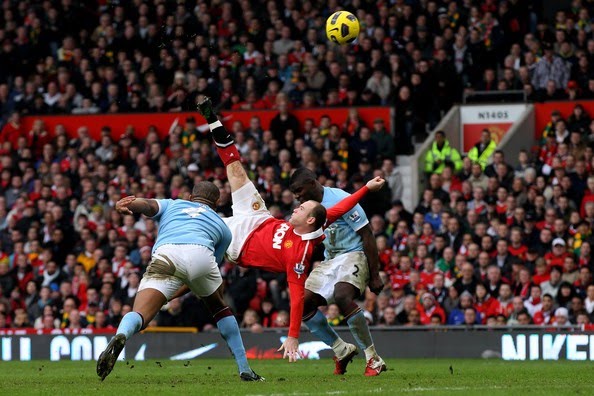 City tried their best to equalize and brought on Edin Dzeko to bolster their attack. It paid off as his shot deflected off Silva's derriere and flew into the net past the helpless Van der Sar. It seemed that United would drop more points. A draw, considering all things, seemed fair enough as the game approached the last fifteen minutes. Both teams seemed pretty even and there wasn't anything really that could give either team an edge. Or was there??
Wayne Rooney, although energetic, had been kept good 'Kompany' all game. Then, in the 78th minute, Rooney produced a match winning, piece of magic as he executed an absolutely stunning over-head kick. In a mixture of flawless technique and epic brutality, it left Joe Hart, who had hardly had a save to make, stranded as the ball flew into the top corner.
Old Trafford was delirious as Rooney ran to the corner where he performed a 'Christ Redeemed' celebration in front of the away fans. The first three words of this portion were perfectly applicable to that goal.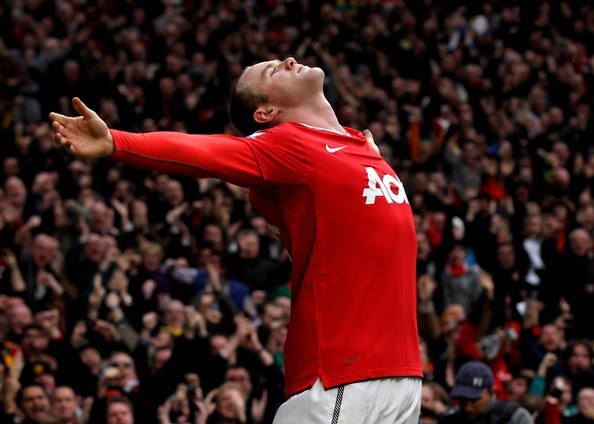 Manchester United 0 – 1 Manchester City (16th April, 2011, New Wembley)
"When City finally stopped Old Trafford's 'City ticker Banner'."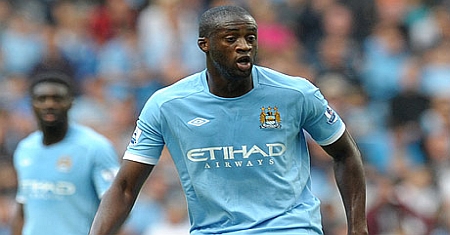 A fixture that had ginormous proportions. A fixture that was set to be the most tightly fought derby clash, ever. City had never been historically successful, until they were taken over by billionaires, who supplied the club with talent, allowing them to compete for a title. Regardless, the match is always heated and this match had a new title as "The Most Expensive Match in History".
Yes you read that right, this was going to be the most expensive game of football ever played. Forget the El Clasico and Red Rivalry. That day Manchester derby had officially become the most pricey and probably overpriced game. In European football, transfer fees are usually speculated, but after analysts looked at a mix of media reports and team statements, the final tally came to $850 million. That means that for the 50 players that make up both teams (25 per team), $850 million was spent to acquire them. That amounts to an average of $17 mn per player. To compare, Eric Cantona was purchased by United, from Leeds for a then record English transfer fee of £3.75 mn which roughly translates to $6mn today.
A pulsating and packed Wembley saw United take charge, after a turgid first ten minutes, of sparing and dull "Serie-A-ness". Berbatov wasted a glorious chance to put United ahead after 14 minutes when he missed from 2 yards out. City thought this was their day and began to pressurize United.
City had taken the initiative, and a goal from them looked on the cards. It came early in the second half, following a poor clearance from Van der Sar; the ball bobbled off Silva, Michael Carrick picked it up, but his poor cross-field pass was intercepted by Toure, who charged into the box. He evaded Vidic and calmly placed the ball between the legs of the crestfallen United keeper – to send City fans into raptures; this had been the moment they and their team had been waiting for.
City won the game 1-0 and went on to win the FA Cup final, thus ending 34 trophy less years and thus shutting United fans' jibes at them for some time.
Stats and Facts
There have been 159 competitive meetings between the teams. United have won 66 and City 43, the remaining 50 games finishing as draws.
The biggest victory was 6–1 to City on 23 January 1926. Both teams have won 5–0 once (City in 1955, United in 1994). The largest attendance for a Manchester derby was 78,000 on 20 September 1947, a time when both clubs were playing at Maine Road, as Old Trafford was being repaired following damage sustained in the Second World War.
City's Joe Hayes and Francis Lee are the leading scorers in derby matches with 10 each. United's top marksman is Bobby Charlton with nine.
Ryan Giggs has made the most appearances in the Manchester derby, strutting his stuff on 34 occasions between the two teams.
A host of players have played in both the red and blue of Manchester, most notably Dennis Law, Peter Schmeichel, Andy Cole and recently Carlos Tévez. Only one manager has done the same though and he was Ernest Mangnall, who was in charge of United 1903-12 and City 1912-24.
City were the first of the Manchester teams to win the trophy (below), doing so in 1904.
Brian Kidd is now assistant manager at City, but in January 1970 he helped United beat their rivals in the cup with a brace. Willie Morgan completed the scoring for the Red Devils in a 3-0 victory.
Peter Schmeichel left United after winning the Champions League in 1999 and joined City in 2002. Apparently Gary Neville didn't take too kindly to this. In Schmeichel's first derby clash in City colors, THIS happened in the tunnel.
Legendary United manager Sir Matt Busby actually played for Manchester City for 8 years (1928-36).
Ernest Mangnall is the only man to have managed both clubs, United 1903-12, winning 51.4% games and City 1912-24 winning 43.1% games. He signed Billy Meredith for United from City in 1906, and did the same again in 1921, but in the opposite direction. Off the field, he played an important role in both; United's move to Old Trafford in 1910 and City's move to Maine Road in 1923.
Current situation and what the future holds in store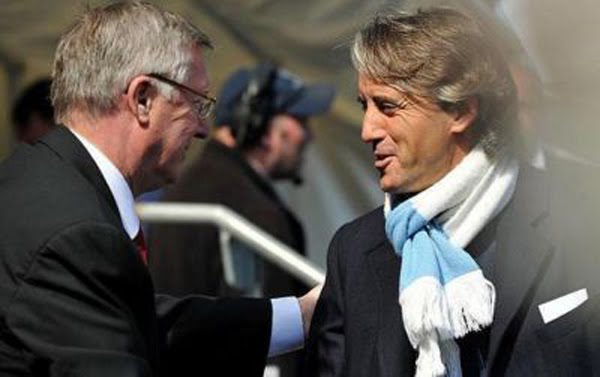 After witnessing some pulsating fixtures in the last 2 seasons, one can only believe that the Manchester Derby would go on to rival some of the world's top clashes like the Milan Derby or the El Clasico. Getting there would obviously take a while but you wouldn't want to bet against it.
With United having grasped title number 19 and showing no signs of stopping or giving way to its rivals in the League, the future doesn't seem very rosy for City. But as it has showed in the case of Real Madrid(The Galacticos) and Chelsea (Russian money), huge loads of cash and an astute manager can get you success, even though temporary. Now that the English League has sides closing in on and even displacing the traditional Big Four, City would be expected to more than ruffle a few feathers.
Roberto Mancini at City has all the resources that Jose Mourinho had when he joined Chelsea from Porto. He has the money, much more than Abramovich could have ever given Jose. The players at his disposal are younger and better equipped to play in the physical Premier League. The only thing he lacks is experience, experience in the sense of playing and succeeding in those big games. If Mancini can bring the same mentality that he had at Inter Milan where he guided his team to 3 successive Scudettos, then one can truly expect City to challenge regularly for top honors in English Football.
This obviously is easier said than done. The case of Carlos Tévez is a prime example where in spite of winning the FA Cup this season and finishing 2nd in the League, Carlitos wants away from the club. Convincing his captain to stay on will help Mancini greatly in his quest for domestic success. What he must also realize that too many signings in a short period of time can destabilize the club and can make the current lot of players unhappy as then nobody would be sure of their positions.
Internal matters, if sorted, Mancini must then look to his rivals, especially United. Sir Alex Ferguson seems like he's just won his first Premier League trophy and is gunning for more. His hunger for winning games and getting one over his rivals, be it on or off the pitch is unparalleled in world sport. There has been no manager who has stayed on at one club for so long. Nowadays, no manager is allowed to stay on for so long. Even Ferguson knows that City are going to challenge his side more than ever with their players on the pitch and spending powers off it. This has already prompted 3 fresh faces being brought into the Old Trafford club's setup.
With SAF branding his local rivals as "The Noisy neighbors" and infamously saying that City had a "Small Club mentality" after they put up billboards to celebrate Carlos Tévez's cross city transfer, the rivalry has taken a new stage.
There will be many more jibes, taunts and boorishness on and off the pitch. The two managers will have to deal with much more than inflated player prices this season. It will be the player egos that they will have to keep in check. They must ensure that none of their players believe that they have got bigger than the game itself, else it would take a lot away from what is very soon, going to be the most anticipated and watched footballing event in the Continent, or maybe even the World.