Premier League's winter wishlist
2.06K //
25 Dec 2012, 10:31 IST
As the world prepares to break open their Christmas stockings, here's a look at five players who could chart history with the right move to the right club over the January transfer window. These are stars capable of making a difference – not a Jack Rodwell or Marko Marin style promise for the future, but rather a proven performer like Robin van Persie.
Of course, high profile attackers like Radamel Falcao and Edinson Cavani can make a mark at any of these teams but prising them away from their current clubs during January may prove too big an ask. All these players mentioned here appear unhappy at their respective clubs and hence a transfer is a real possibility, though whether the clubs suggested here are interested in them is a different matter. So who would/should be on Sir Alex Ferguson, Arsene Wenger and Co's New Year shopping list? Read on.
Wesley Sneijder to Manchester United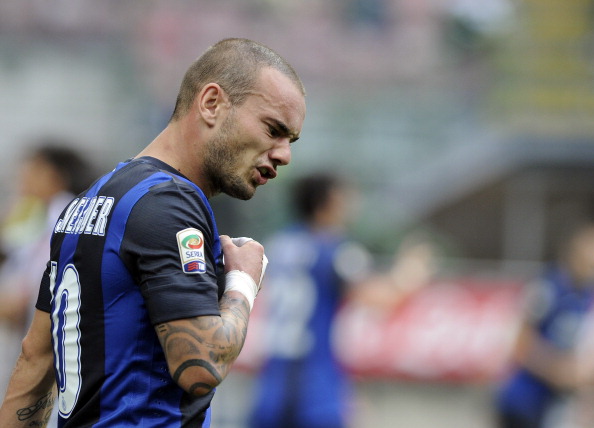 From Sir Alex to Sneijder's wife, everyone has had a say on this protracted transfer saga. What lies in the deal for both club and player and what there is to lose for both those parties and the aforementioned player's wife, is clear as crystal to see. Sneijder is a midfield visionary, the likes of whom United has not seen since a young Paul Scholes. United is a club filled with talents that could finally unleash the real range of the Dutchman's game.
Why has the deal stalled the last couple of times? Sneijder's exorbitant wage demands and Fergie being put off by inflated price quotations for a nearly 29-year-old from his current club Inter Milan. However, with Sneijder frozen out of the first team picture at Inter by current boss Andrea Stramacconi, he may be prepared to lessen his asking price and take the Old Trafford lifeline.
His wife of course wouldn't like the deal falling through as the model prefers fashionable Milan, Paris or even Los Angeles and London over cold, dreary Manchester. The appeal of the Theatre of Dreams or the charm of the rainy Cotton Capital of the world mean nothing to Sneijder's Prada and Gucci sporting Mrs. Unfortunately, his wife seems to be the only one Wes listens to! However, the footballing powers that be may still knock some sense into the attacking midfielder with the mean long-range freekick ability.
While United fans salivate about a front six of Michael Carrick, Sneijder, Antonio Valencia, Ashley Young, Wayne Rooney and van Persie, it could also mean the final chapter in the legendary career of the soft spoken Scholesy.
Mario Balotelli to Liverpool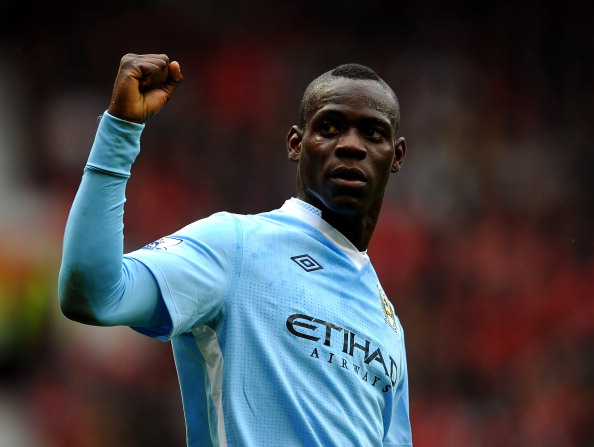 Super Mario linking up with Brendan Rodgers isn't quite like Iron Man joining forces with Hulk, but the possible Balotelli-Luis Suarez combine is worth getting worked up about. With the inventive Steven Gerrard behind them, Balotelli would provide the perfect focal point around whom Suarez can work his magic. Just as the Uruguayan's partnership with Diego Forlan led his nation's charge at the 2010 World Cup and Balotelli prospered alongside Antonio Cassano for Italy, this particular combination could prove to be the new Ian Rush-Kenny Dalglish pairing for the Anfield faithful.
Of course, the Italian is a real piece of work and will take Rodgers' considerable skill to get him to give up his frolicking ways, but this is a real challenge that the Northern Irishman might enjoy. And surely, being away from the father-like mentor-ship of Roberto Mancini should only do good for the volatile Balotelli. This is a deal that could make an immediate difference for the Reds, instead of showing promise for the future like young Thomas Ince.
Nani to Manchester City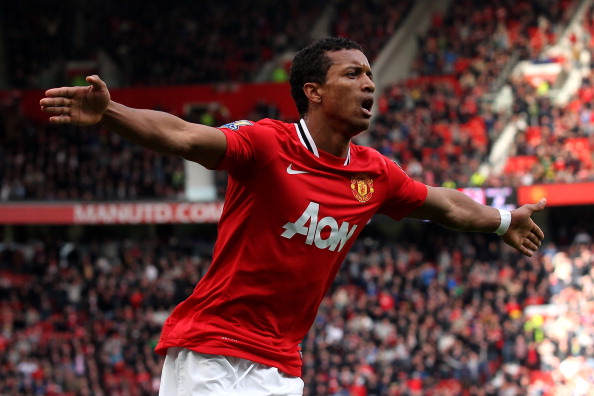 With the style Mancini adopts at City, this is not a clear cut move either. However, the prodigious Portuguese winger will definitely be a step up in ability over James Milner or Adam Johnson, the last real wide man City has employed.
Currently, with the Blues depending on Pablo Zabaleta to provide crosses from the right, most of their build up play is worryingly slow, complex and narrow. Nani would provide that pacy, wide option with equal parts trickery and inventiveness with a genuine ability to beat his man, get to the byline and put in a good ball. Nani's goal scoring traits should also not be ignored by a City side which is not finding goals that easy to come by anymore. His signing could also bring Edin Dzeko into the picture much more.
The only real downside to Nani's transfer would be that Gareth Barry would be frozen out more and there would be a real pressure on Yaya Toure to go back to his defensive best from his times at Barcelona. While the Ivorian's forward runs have been a real outlet for City, he is one of the finest tacklers in the game with an uncanny ability to read the game. So this shouldn't really be a problem and provided it doesn't work in a particular game, Mancini can always take off one of Nani, David Silva or most probably Samir Nasri and bring Barry on.
Marouane Fellaini to Arsenal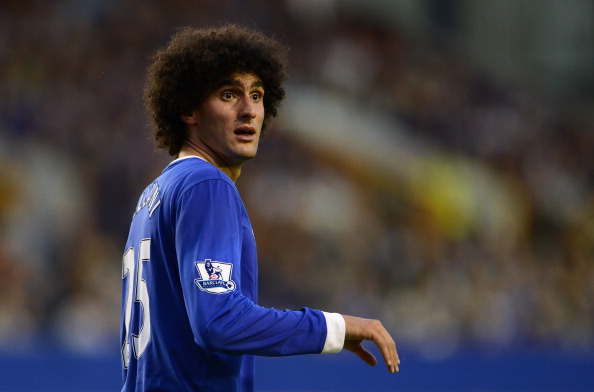 Again, not a match made in heaven as far as Wenger is concerned but the sort of deal the Frenchman has reneged on in the past, leading to his club's prolonged title drought that will surely continue for another year at least. Fellaini has been instrumental in Everton's charge to the top six places in the league this year and in similar runs during the last four years. Another crucial thing to remember is that Everton under David Moyes always get stronger in the second half of a season, much like United under Sir Alex.
Fellaini's improvement in form during after the Christmas period has been a major reason for that in the past and provided he can do the same, would be a master signing for the Gunners. The Belgian would provide a box-to-box, physical element to Arsenal's game that has not been seen at the Emirates ever. Indeed, not since Patrick Viera's heydays at the old Highbury stadium, have Arsenal had a player who was just as physically imposing as he was skillful on the ball.
That latter part of Fellaini's game often goes under-appreciated. While even Andy Carroll provides a good option to hoof the ball upfield and relieve pressure, the Englishman hardly ever manages to hold on to the football. Even if he does hold it up, his passing ability over even five yards is so pathetic as was proven over and over against high quality opposition at the Euros. Fellaini reaches and controls balls that very few people in football today can. His first touch, especially on high balls, is more often comparable to van Persie than Olivier Giroud.
Under Wenger's tutelage, with Jack Wilshere, Santi Cazorla, Theo Walcott, Lukas Podolski and Giroud playing with him, Fellaini can work wonders at the Emirates. All it takes is for Wenger to stop being the aristocratic snob he is and look beyond his fetish for French speaking and increasingly, British youngsters, and identify talent for what it really is, no matter age or nationality.
Demba Ba to Chelsea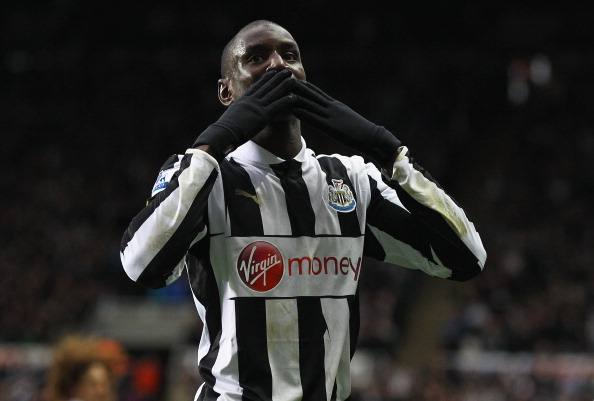 Much has been made of the 7.5mn Pound hole in Ba's contract. For Roman Abramovich, that represents money spent flying his troop of Ruski dance girls from Moscow to London for John Terry's birthday party. For interim manager Rafael Benitez, it provides a reliable front option that will let him tweak Chelsea's formation to one that suits his style, rather than that of his predecessor's predecessor, Andre Vilas Boas.
Like Fernando Torres benefited playing alongside Sergio Aguero for one season in 2006-07 at Atletico Madrid, the Spaniard would enjoy teaming up with Ba. For the Senegalese striker, he can expect service from four to five players of Yohan Cabaye's skill, instead of just the Frenchman alone. A proverbial win-win for everybody, except Ba's current club Newcastle United of course.
Ba's presence would also allow Benitez to try and find a partner for Ramires in the heart of his midfield, although fellow Brazilian David Luiz is doing a good job as a stop-gap. However, the fact remains that Lampard could be on his way in any of the next two transfer windows and Chelsea need options to replace not just his passing range, but also his goalscoring prowess, which is where Ba comes in.
Cheslea have been scoring for fun over the last month, but just as was proven in the Club World Cup final against Corinthians, their inexperienced attack can come unstuck in crucial games. They certainly do not have a match winner of Didier Drogba's ilk. While Ba is not the big-match player that Drogba was, he certainly has the ability to be. He just needs a club of the size of Chelsea to show faith in him and while Abramovich has as much faith in his manager's as Mancini had in Roque Santa Cruz, he certainly sticks by his players. Torres is a 50mn Pound example while Terry's 'heroics' would have seen him frozen out of most other clubs.
And finally, what about the rest of the Premier League? Hope for UEFA's Financial Fair Play to be implemented forcefully without there being as many loopholes as in the Indian Penal Code! Merry Christmas and a jolly good New Year.