The Footy Mumble: Ronaldo in United link, Mourinho in spat!
3.43K //
05 Dec 2012, 18:58 IST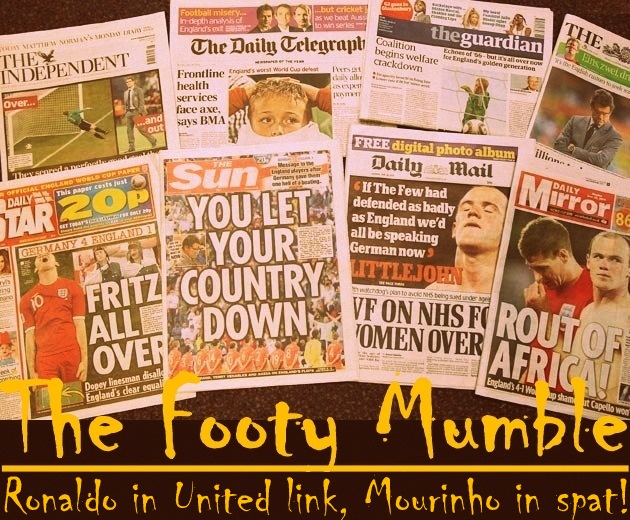 QPR cancel Christmas party after poor league performance!
Queens Park Rangers have cancelled their Christmas party this year, as the club struggles to cope with their poor performances on the pitch.
The decision was reportedly taken by the QPR players without taking manager Harry Redknapp's opinion into consideration.
Whether this decision actually helps them improve in the league is another question altogether!
Preston fans get freebies after match postponement
Fans of Preston were in for a treat after their away match to Bury in the Johnstone's Paint Trophy got postponed due to pitch water-logging.
Manager Graham Westley did his best to cheer up a group of fans by paying for their petrol and even buying cans of cola for everyone!
He did so live on camera (video below). If only Premier League clubs were that generous!
Mourinho in spat with Atletico Madrid coach
Jose Mourinho continues to be unpopular, with both fans and critics alike, with the Real Madrid manager now involved in a spat with Atletico Madrid assistant coach Germán Burgos.
According to El Mundo, Mourinho apparently complained about two people being present in the Atletico technical area. The extra one being Burgos himself.
The Atletico coach then reportedly approached the Madrid bench and hollered to Mourinho, "I'm not Tito! I'll rip your head off!" in a clear reference to FC Barcelona's manager Tito Vilanova. Ouch!
Manchester United have first option on Cristiano Ronaldo from the deal that took him to Real Madrid.
At least, that's what GiveMeFootball says. But before you start drooling thinking about a potential front three of Ronaldo, Rooney and van Persie, read the rest of this story.
They go on to claim that Manchester United will have to pay £120 million to get back their former star winger. And that, folks, is a third of United's existing debt. Poof!
Fernando Llorente has become the second major footballer in as many days to announce that he will not be renewing his current contract.
The striker's contract runs out at the end of the season, and he has now announced that he will not be renewing it.

'I am going to leave on June 30. I want to develop as a player and try something new,' said Llorente.
'It isn't about money because the offer the club made was irresistible.'
Liverpool, Arsenal and Juventus are now expected to start a bidding war for his services.
And in today's Video of the Day, watch Kolarov destroy your favorite Christmas carol via some awful singing!