The Champions League conducted by the Union of European Football Associations (UEFA) is the most prestigious club football tournament in the world. Top European clubs from all major football leagues compete for the coveted trophy.
The European Cup, which has been active since 1955 was renamed as UEFA Champions League in 1992 but the trophy presented is still known as the European Cup.
Clubs from Spain and England have dominated the league winning 18 and 12 titles respectively. Even with Spanish teams lifting the most cups, England has the highest number of winning teams as there have been fice English winners of the European Cup.
Real Madrid won their 13th title after defeating Liverpool 3-1 in the 2018 final. The team next to Real Madrid on the list is AC Milan with 7 titles. With Madrid maintaining a big lead, it might take a few decades for other teams to beat Los Blancos on this list.
Most Champions League Titles: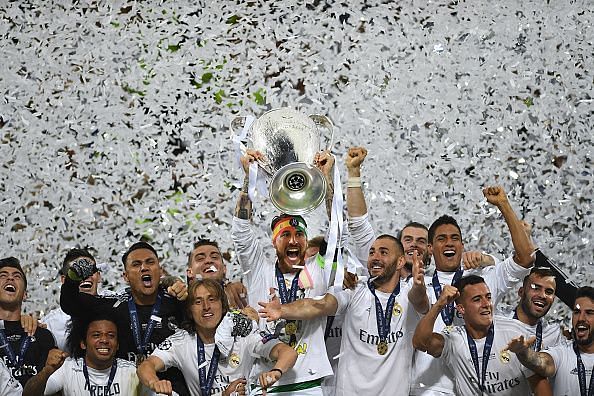 Real Madrid - 13
AC Milan - 7
Bayern Munich - 5
Barcelona - 5
Liverpool - 6
Ajax - 4
Juventus - 2
Benfica - 2
Porto - 2
Apart from the above mentioned multiple time winners, Celtic, Feyenoord, Aston Villa, Hamburg, Steaua București, PSV Eindhoven, Red Star Belgrade, Marseille, Borussia Dortmund, and Chelsea have lifted the coveted trophy once in the history of the tournament.
---
Champions League finalists, year-by-year:
S.No. Season Winners Runners-up
1 1955–56 Real Madrid Reims
2 1956–57 Real Madrid Fiorentina
3 1957–58 Real Madrid Milan
4 1958–59 Real Madrid Reims
5 1959–60 Real Madrid Eintracht Frankfurt
6 1960–61 Benfica Barcelona
7 1961–62 Benfica Real Madrid
8 1962–63 Milan Benfica
9 1963–64 Internazionale Milano Real Madrid
10 1964–65 Internazionale Milano Benfica
11 1965–66 Real Madrid Partizan
12 1966–67 Celtic Internazionale Milano
13 1967–68 Manchester United Benfica
14 1968–69 Milan Ajax
15 1969–70 Feyenoord Celtic
16 1970–71 Ajax Panathinaikos
17 1971–72 Ajax Internazionale Milano
18 1972–73 Ajax Juventus
19 1973–74 Bayern Munich Atlético Madrid
20 1974–75 Bayern Munich Leeds United
21 1975–76 Bayern Munich Saint-Étienne
22 1976–77 Liverpool Borussia Mönchengladbach
23 1977–78 Liverpool Club Brugge
24 1978–79 Nottingham Forest Malmö FF
25 1979–80 Nottingham Forest Hamburg
26 1980–81 Liverpool Real Madrid
27 1981–82 Aston Villa Bayern Munich
28 1982–83 Hamburg Juventus
29 1983–84 Liverpool Roma
30 1984–85 Juventus Liverpool
31 1985–86 Steaua București Barcelona
32 1986–87 Porto Bayern Munich
33 1987–88 PSV Eindhoven Benfica
34 1988–89 Milan Steaua București
35 1989–90 Milan Benfica
36 1990–91 Red Star Belgrade Marseille
37 1991–92 Barcelona Sampdoria
38 1992–93 Marseille Milan
39 1993–94 Milan Barcelona
40 1994–95 Ajax Milan
41 1995–96 Juventus Ajax
42 1996–97 Borussia Dortmund Juventus
43 1997–98 Real Madrid Juventus
44 1998–99 Manchester United Bayern Munich
45 1999–2000 Real Madrid Valencia
46 2000–01 Bayern Munich Valencia
47 2001–02 Real Madrid Bayer Leverkusen
48 2002–03 Milan Juventus
49 2003–04 Porto Monaco
50 2004–05 Liverpool Milan
51 2005–06 Barcelona Arsenal
52 2006–07 Milan Liverpool
53 2007–08 Manchester United Chelsea
54 2008–09 Barcelona Manchester United
55 2009–10 Internazionale Milano Bayern Munich
56 2010–11 Barcelona Manchester United
57 2011–12 Chelsea Bayern Munich
58 2012–13 Bayern Munich Borussia Dortmund
59 2013–14 Real Madrid Atlético Madrid
60 2014–15 Barcelona Juventus
61 2015–16 Real Madrid Atlético Madrid
62 2016–17 Real Madrid Juventus
63 2017–18 Real Madrid Liverpool
64 2018–19 Liverpool Tottenham Hotspur
Paul Merson predicts the result of Man City vs Inter UEFA Champions League final! Click here