Fortnite exploits are always a hot topic amongst the player community as they love to explore certain bugs that give them a gameplay advantage or add to the fun on the island.
From Creative XP glitch maps to using the Shockwave Hammer infinite times, players this season have explored every possible way to gain the upper hand compared to other players.
While some of these exploits are unethical, as Epic discourages such players, they can ultimately lead to a temporary or permanent ban from the game. However, other exploits that players perform in the game are simply due to a loophole they find in the game's functionality that is legitimate.
A recent exploit discovered by a YouTuber shows how players can use seven different pickaxes in a single Fortnite match. While the exploit is barely simple, here's how you can do it in Chapter 4 Season 1.
---
Fortnite YouTuber uses seven different pickaxes by exploiting the game's cosmetic locker
Famous YouTuber and creator Tabor Hill recently posted an elaborate video on how players can use seven different pickaxes in a Fortnite match without returning to the menu and their lockers. The impossible was done using certain emotes that grant players the ability to wield a pickaxe as soon as they act.
However, the exploit requires players to spend their V-Bucks to get those emotes in-game, which comes at a hefty price. While the exploit awed several of his fans, the following is a list of cosmetics you might require to do the same and how much you need to spend:
Ezio Auditore Skin (with Built-In Assassin's Strike Emote) - 1800 V-Bucks
Omni Sword Pickaxe with Built-In Blade Breaker Emote (Chapter 3 Season 2 Battle Pass) - 950 V-Bucks
Hand-Forged Emote (Chapter 2 Season 8 Battle Pass) - 950 V-Bucks
Conjure Weapon Emote (Chapter 3 Season 2 Battle Pass) - 950 V-Bucks (similar pass as Omni Sword)
Snikt! Snikt! Emote - by completing Reboot Rally Quests or redeeming from the $5.99 issue of Fortnite X Zero War Issue 3
Bench Upgrade Emote - $11.99 (part of Strange Transmissions Set)
Once you have all these cosmetics in your locker, you can perform the exploits shown by Tabor Hill in the video. You must head to your cosmetic locker and choose Ezio Auditore as your main skin.
After you equip the Ezio outfit, choose Omni Sword as your pickaxe. However, use the single-blade variant instead of the dual blades. Upon doing so, choose the following emotes and assign them as your main emotes in your locker: Hand Forged, Conjure Weapon, Snikt! Snikt! and Bench Upgrade. This will give you quick access to them, allowing you to use the built-in pickaxes tied to these actions.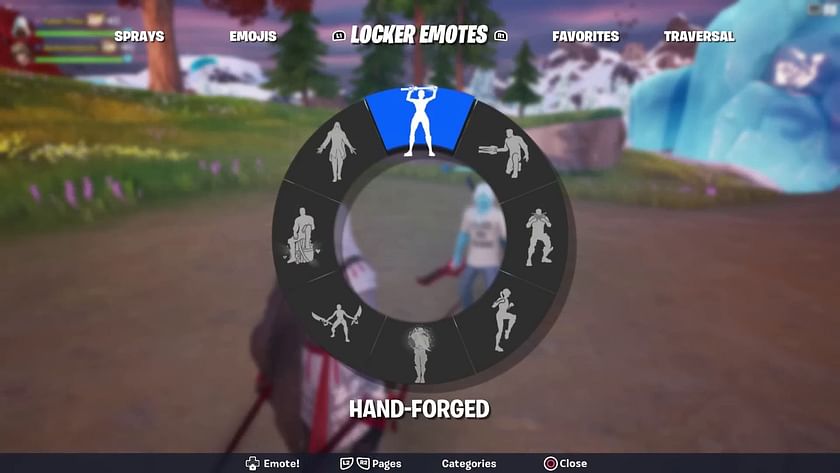 Once you are done, jump into the match and open the emote wheel. Upon opening it, you will see all your assigned emotes around the wheel that can be used one by one to give you a different pickaxe each time you use any of them.
Start with the Omni-Sword's two variants and proceed alongside the rest of the emotes to use Doctor Strange's Sword, Charlotte's Katana, Ezio's Blades, Wolverine's Claws, and Isaac's Plasma Cutter.
This is a beneficial method that loopers can use to show off their cosmetic locker and surprise other players across the island by using a different pickaxe for every playstyle they choose throughout a Fortnite match.