Fortnite Creative's Twitter account released a number of teasers today, confirming the release date of Unreal Editor for Fortnite (UEFN) and providing a glance at the app's user interface.
For a long time now, ever since the initial announcement, Fortnite players have been anticipating the arrival of Creative 2.0. Many are still waiting for Epic Games to release the Unreal Editor for Fortnite (UEFN) despite the fact that the launch date has been pushed back multiple times.
Tim Sweeney, the CEO of Epic Games, has revealed that the UEFN (also known as Creative 2.0) will be released sometime in March 2022. It will give developers access to raw assets in Unreal Engine 5 to create experiences that would be significantly more immersive than the current Creative mode.
Here are all the details on the upcoming Creative 2.0 in Chapter 4 Season 1.
---
Fortnite Creative 2.0 to arrive in Chapter 4 Season 2 on March 22
The Unreal Editor for Fortnite (UEFN) will be available on March 22, 2023, according to a teaser posted on the game's official Creative Twitter account.
This long-awaited application will finally be released to the public on the aforementioned day, and creators and fans will be able to download it through the Epic Games Store for free.
A screenshot of the user interface was released alongside the video teaser, revealing hyper-realistic trees that showcase the capabilities of Unreal Engine 5.1.
The UEFN enables creators to build their own high-end content in the Creative mode using Epic Games' asset library and a new programming language called Verse.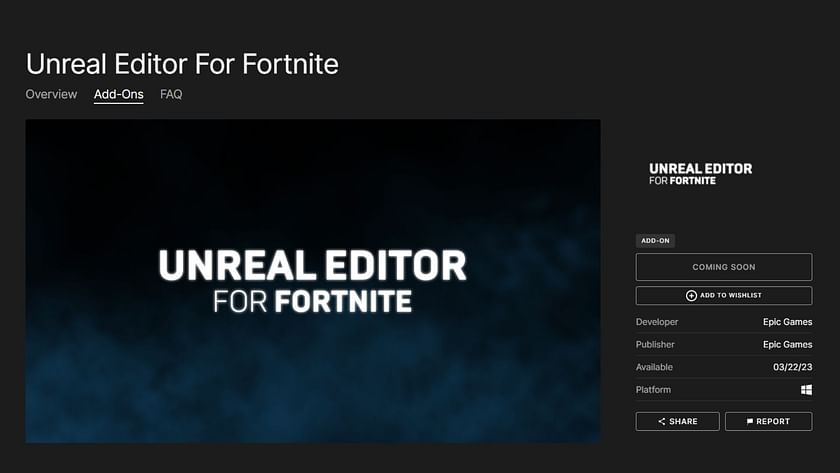 The application can be found by searching for UEFN on the Epic Games Store's website or desktop app. Those interested can now add it to their wishlists as it will be released to the general public on March 22, 2023, alongside the next update of Chapter 4 Season 2.
The official description for the UEFN on the Epic Games Store reads as follows:
"UEFN is a new PC application for designing, developing, and publishing games and experiences directly into Fortnite."
It further talks about how players will be able to make use of various powerful tools:
"With many of Unreal Engine 5's powerful tools and workflows at your fingertips, including custom asset import, modeling, materials and VFX, Sequencer and Control Rig, you'll have a whole new world of options for producing and publishing games and experiences for Fortnite that can be enjoyed by millions of players."
Meanwhile, Epic has the following response for those who are wondering how the UEFN will be different from the current Creative mode:
"UEFN is a PC-only editor that enables 3D viewport workstyles with the creation tools (Devices) found in Creative. This means unlike in Creative where you build and edit your islands by controlling a character inside the game, creators instead have access to a range of tools and workflows from the PC-based Unreal Editor, with many similarities to those used by Epic Games to develop the Battle Royale mode."
The UEFN, also known as Creative 2.0, will be released on March 22, 2023, marking the beginning of a new era for Creative mode and its rapidly growing metaverse.