Pakistan favourites to win Asian Champions Trophy: Nobbs
Doha, Dec 19 (IANS):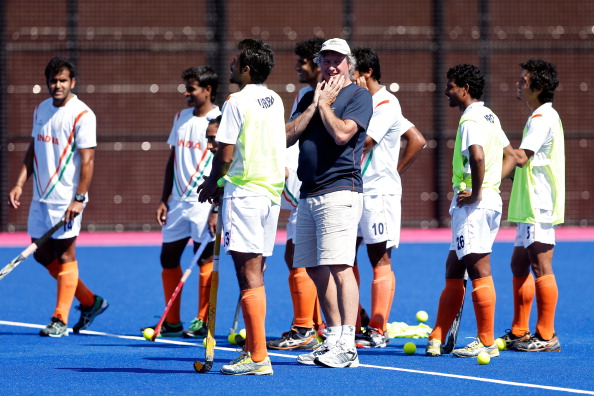 India's chief hockey coach Michael Nobbs feels that Pakistan, who finished third in the Champions Trophy, are favourites to win the Asian Champions Trophy that begins here from Dec 20.
The Australian feels Pakistan are an experienced side compared to defending champions India.
An experienced Pakistan team defeated India 3-2 to win the bronze in the Champions Trophy in Melbourne last week.
Nobbs said both India and Pakistan are coming straight from a tough tournament but Pakistan have the edge. The two teams arrived here Tuesday for the six-nation meet. India had defeated Pakistan to win the inaugural Champions trophy in China.
"Look, Pakistan is clearly the favourites for this tournament. Both teams are playing after coming straight from a tough tournament. But Pakistan has some great players like Shakeel Abbasi and Waseem Ahmed, between them they have around 600 games. We have Sardar (Singh) who has figured in 150 matches," Nobbs was quoted as saying by The Peninsula.
Thanks to their bronze-medal finish in the Champion Trophy, Pakistan have jumped from the ninth spot to fifth and are now the top-ranked in tournament in the Asian meet. They face defending champions India, Dec 24.
The Indian team has undergone a sea change since finishing last in the London Games. The selectors fielded a young team in the Champions Trophy, where India made an impressive fourth finish.
The Indian selectors have decided against tinkering with the team and Nobbs said the boys have been rewarded for their good show in Melbourne.
"Well, the selectors have decided to look at young players as they are the future. It doesn't mean that the senior players will be missing out completely. The young boys did very well in Australia," said Nobbs.
Nobbs said the German style of play is best suited for the Indian team.
"I think after the Olympics we looked at the German team. They have good standards at World Hockey and so we took positives from their play and put them in our style of play. We still have our attacking style of play but we have tightened up in the defence a bit more looking at the way the Germany's play," explained Nobbs.
Nobbs said Hockey India is trying to create a big pool of players.
"We are trying to build up the base of hockey. And we have made some conscious effort to try and make sure that we have 20-30 players or more whom we can call on anytime. We will also try and make sure all are provided opportunities and then, try and pick the best for the major tournaments."
Nobbs was not certain if veteran defender Ignace Tirkey wants to continue with the national team.
"I'm not sure if Ignace wants to comeback. He just told me after the Olympics I just want to go and see my baby. He has given everything to Indian hockey. It's like he has to make the decision on his own whether to continue or no," Nobbs said.