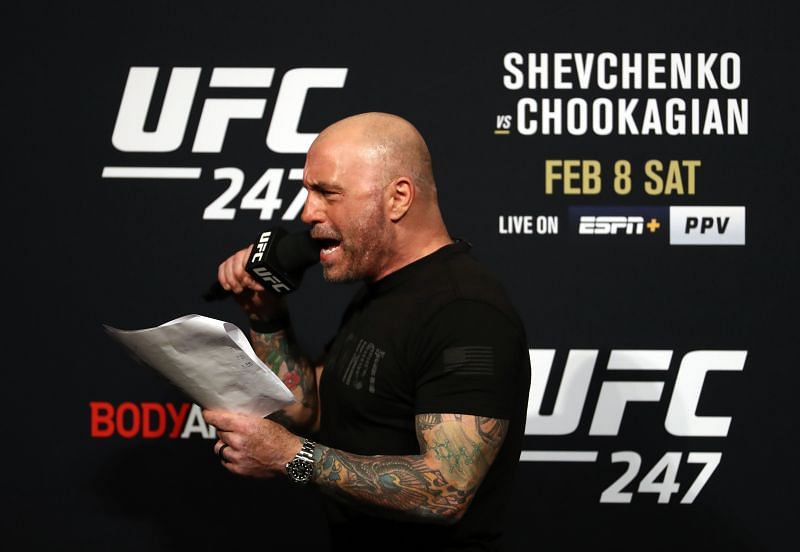 Joe Rogan is one of the most prominent celebrities in the world of MMA today. Although he is not an MMA fighter, Rogan has built a solid following for himself owing to his skills behind the UFC commentary desk.
But the 54-year-old's popularity is not limited to mixed martial arts. The New Jersey native is also a successful stand-up comedian who has released popular comedy specials like Strange Times on Netflix.
Rogan also has a very successful podcast called 'The Joe Rogan Experience' where he talks about everything under the sun with famous personalities and experts from various fields.
Celebrities like Kanye West, Quentin Tarantino, Elon Musk, Robert Downey Jr. and Miley Cyrus have made appearances on Rogan's podcast. From the MMA world, renowned fighters like Georges St-Pierre, Cody Garbrandt, Israel Adesanya and Jon Jones have appeared as guests on the show.
In 2020, the 54-year-old signed a licensing deal with Spotify to host his podcasts on their platform. According to the New York Times, the deal was worth more than 100 million dollars to the UFC commentator.
But all this fame and success doesn't always come without troubles. Over the years, the podcast host has made several controversial statements on 'The Joe Rogan Experience' that gained him unwanted attention and placed him at the center of the public's rage.
On that note, let's take a look at Joe Rogan's five most controversial statements of all time.
---
#5 Joe Rogan's comments on COVID-19 vaccine
Joe Rogan sparked a huge controversy in April 2021 when he claimed on his podcast that people who are healthy do not need to take the COVID-19 vaccine.
"I think for the most part, it's safe to get vaccinated. I do. But if you're like 21 years old and you say to me, 'Should I get vaccinated?' I'd go, "No.'...If you are a healthy person and you're exercising all the time and you're young and you're eating well, I don't think you need to worry about this," said Joe Rogan on his podcast.
The statement caused such a huge public uproar that officials from the White House had to come on record to criticize the podcaster's comments.
Rogan later clarified his stance on his podcast, saying he is not anti-vaccine.
You can see Joe Rogan clarifying his comments on COVID-19 vaccine below:
Read here: How much is UFC Commentator Joe Rogan's Net Worth?
#4 Joe Rogan's comments on transgender athlete Fallon Fox
Joe Rogan has never been one to hold back on his opinions and he did the same when it came to transgender MMA fighter Fallon Fox.
Fox used to compete as a transgender female fighter in MMA bouts against cisgender female athletes.
Rogan was of the opinion that Fox should not be fighting her cisgender counterparts as, according to him, she had an unfair physical advantage and could cause life-threatening damage to her opponents.
In a 2013 episode of his podcast, Joe Rogan said the following about the transgender MMA athlete:
"She calls herself a woman but I tend to disagree. She used to be a man but now she has had, she's a transgender … And she wants to be able to fight women in MMA. I say no f-----g way. I say if you had a d--- at one point in time, you also have all the bone structure that comes with having a d---. You have bigger hands, you have bigger shoulder joints. You're a f-----g man. That's a man, OK?"
The 54-year-old faced criticism for his statement, with many people claiming his comments to be transphobic.
Rogan's comments stem from the general belief that transgender athletes have a higher bone density and are stronger than their cisgender counterparts. But there have been studies showing these advantages get reduced significantly once a person goes through a gender reassignment procedure.
Fox recently condemned the podcaster, calling him transphobic in her Facebook post and asking Spotify to cut ties with him.
"Joe Rogan is being transphobic yet again. He has had more transphobic episodes than you can shake a stick at. Spotify needs to cancel his show already," wrote Fallon Fox in her Instagram post.
Although Rogan could have chosen his words more carefully, he is not the only one in the MMA world who shares this opinion on transgender athletes. Former UFC bantamweight champion Miesha Tate also raised questions about the issue in an ESPN interview.
Earlier this year, a high-school athlete named Alanna Smith, along with two other athletes, filed a lawsuit opposing transgender participation in women's sports. The lawsuit was later dismissed by a federal judge in April 2021.
---
#3 Joe Rogan accused of spreading misinformation about wildfires in Oregon
In an episode of his podcast with Douglas Murray, Joe Rogan discussed the issue of wildfires in Portland, Oregon, that ruined more than 11,000 acres of land and destroyed many homes in the area in 2020.
Joe Rogan made the mistake of confusing two separate incidents and stated that 'left-wing people' were the reason behind the wildfires occurring in Portland, Oregon. In reality, two arsonists were arrested in Portland but neither of them had any connection with left-wing activism or the wildfires in the area.
Many people called out the stand-up comedian for his statement, accusing him of spreading misinformation. FBI Portland also put out a statement debunking Rogan's theory.
Joe Rogan, upon realizing his mistake, issued an apology on Twitter, saying he had not done the proper research before making the statement.
"I f----d up on the podcast with Douglas Murray and said that people got arrested lighting fires in Portland. That turns out to not be true. I was very irresponsible not looking into it before I repeated it. I read one story about a guy getting arrested for lighting fires...turned out to be true, but the other s--t I read about people getting arrested for lighting fires in Portland was not true. I repeated it without looking into it and it was a really f-----g stupid mistake that won't happen again. I'm sorry," wrote Joe Rogan in his tweets.
#2 Joe Rogan's use of the n-word
In one episode of 'The Joe Rogan Experience', Joe Rogan narrated a story of him going to watch the 'Planet of the Apes' movie in a black neighborhood.
""So I look on the iPhone app and it says, okay, take me to this one [theater] and the guy goes 'Okay.' I go 'Is that in a good neighborhood?' He says 'Yeah yeah yeah.' The guy barely speaks English. He takes us there, we get out and we're giggling, 'Oh we're going to see 'Planet of the Apes.' We walk into Planet of the Ape. We walked into Africa, dude. We walked in the door and there was no white people," said Joe Rogan.
The 52-year-old came under fire as many people labeled him a 'racist' for his comments. Unfortunately, this was not the only instance of Rogan being accused of racism.
In 2020, American politician Bernie Sanders made an appearance on his podcast. After their conversation, Rogan gave his endorsement to Sanders, saying he would vote for the 80-year-old in the primaries.
"I think I'll probably vote for Bernie...I believe in him...I like him a lot...He's been insanely consistent his entire life. He's basically been saying the same thing, been for the same thing his whole life. And that in and of itself is a very powerful structure to operate from," said Joe Rogan.
This did not sit well with many of Sanders' followers, who asked the 2020 presidential candidate not to associate himself with Rogan, who has a long history of passing controversial remarks.
During that time, a compilation video also surfaced online that had the podcast-host saying the n-word in different episodes of 'The Joe Rogan Experience'.
---
#1 Joe Rogan takes ivermectin to treat himself for COVID-19
Joe Rogan recently uploaded a video to his Instagram account stating that he had tested positive for COVID-19. At one point in the video, the UFC commentator said that he was using ivermectin, a medicine used to treat heartworms in horses, as part of his treatment for the virus.
This became the reason for another controversy, as many people started accusing Rogan of spreading misinformation regarding COVID-19 treatment.
Rogan later appeared on his podcast to clear the air and explain why he took the medicine.
"Well I had this guy on, Dr. Pierre Kory...he's from Frontline Covid Critical Care Workers. He's a well-established doctor. Treated thousands of people with Covid. Early on in the pandemic, they found some good efficacy with ivermectin... He's not the only doctor that told me to take it. Multiple doctors told me to take it," said Joe Rogan.