Tonight saw the UFC head to Moscow for UFC Fight Night 163, and while the show was low on name value, with a heavy contingent of Russian fighters in action it was hoped that we'd get an exciting and fun show with a hot crowd.
Did we get that? Kind of. There were some epic finishes up and down the card, but a run of slower fights early on the main card slowed things to a crawl and meant that the show overall ended up being somewhat forgettable. Still, at least the main event was fun.
Here are the best and worst moments from UFC Fight Night 163: Magomedsharipov vs. Kattar.
#1 Best: Magomedsharipov vs. Kattar lives up to the hype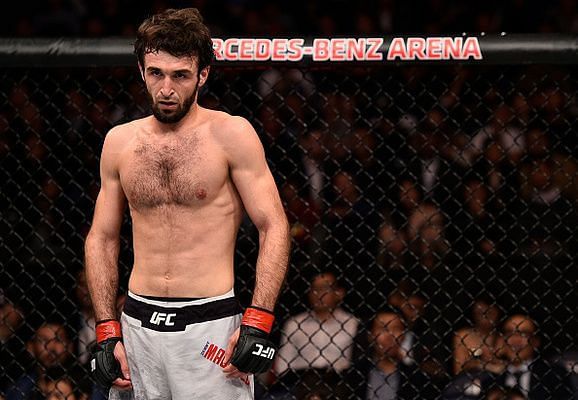 Most UFC fans were excited by the idea of Zabit Magomedsharipov vs. Calvin Kattar, wondering how Zabit's wild combination of striking and grappling would fare against Kattar's excellent cardio and clean boxing style, and everyone was hoping for a great fight. Well, we were definitely treated to the best fight on the card overall by the main event, and when all was said and done, the only complaint was that it wasn't a five-round bout.
Magomedsharipov was able to win a unanimous decision, largely due to the first two rounds, when he was able to use his length to land some nasty kicks on the Boston native as well as drag him to the ground on a couple of occasions. But Kattar hung tough and came on strong in the third round, landing the better punches as it looked like Zabit was tiring. An ill-advised flying knee attempt allowed the Dagestani to take him down though, and the fight ended there.
Post-fight saw Magomedsharipov call out the winner of Max Holloway vs. Alexander Volkanovski for a Featherweight title fight, and while a couple of other contenders – namely Chan Sung Jung and Yair Rodriguez – may have something to say about that, it's definitely a possibility. For Kattar, he proved that he belongs in the upper echelon of this division, and considering how stacked it is, that's quite the statement.
After a so-so show leading up to this fight, the UFC needed its main event to deliver, and it certainly did just that.
#1 Worst: Those slow fights on the early part of the main card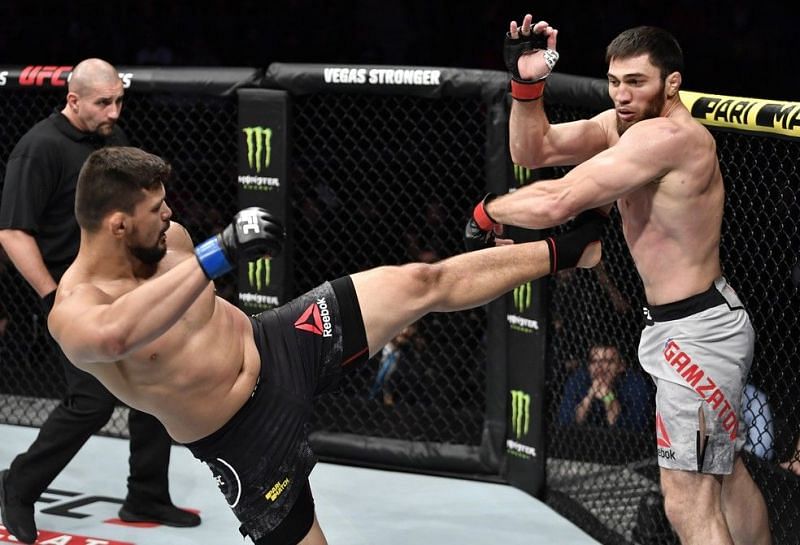 Nobody really expected tonight's show to be a contender for best UFC card of the year; the show lacked name value and while there were some intriguing-sounding contests, in general, it felt like a classic throwaway European show. We were treated to some excellent prelim fights, though – David Zawada vs. Abubakar Nurmagomedov, Magomed Ankalaev vs. Dalcha Lungiambula – and so going into the main card, hopes suddenly became a little higher.
They soon came crashing down though, with the first three fights on the main card. Klidson Abreu vs. Shamil Gamzatov was painfully slow, Anthony Rocco Martin vs. Ramazan Emeev wasn't much better and while Ed Herman vs. Khadis Ibragimov had some decent action, it was also largely sloppy and both men got very tired.
Basically, the show had to be saved by Danny Roberts' unlikely highlight-reel knockout of Zelim Imadaev, and while it was perfectly fine from that point onwards, those first three fights ensured that nobody will be looking to replay it again.
#2 Best: Ankalaev's unbelievable knockout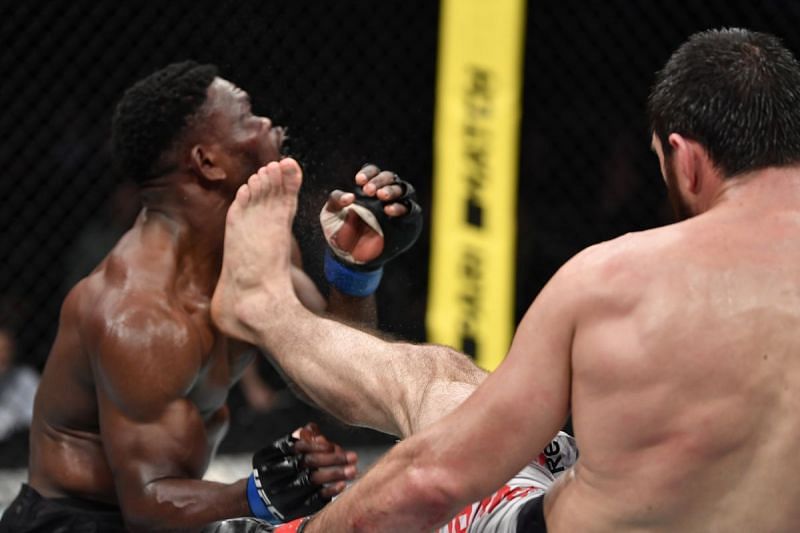 Dagestan's Magomed Ankalaev came into the UFC with quite a lot of hype in 2018, but his loss to Paul Craig – a submission in the last second of a fight he'd been dominating – was such a stunning disappointment that despite solid wins over Marcin Prachnio and Klidson Abreu, the Light-Heavyweight hadn't quite gained back his dangerous aura.
After tonight's fight with Dalcha Lungiambula though? That aura is back with a vengeance. Ankalaev dominated the first two rounds of the fight, abusing the South African in the clinch in the first round before taking him down and smashing him with elbows in the second. The third round was the big moment, though. Ankalaev channeled his inner Anderson Silva – and destroyed Lungiambula with a clean front kick to the jaw before finishing him off with a couple of heavy punches.
205lbs is a bit of an underrated division right now; prospects like Dominick Reyes, Aleksandar Rakic and Corey Anderson are all making their name as potential title contenders while veterans like Anthony Smith and Glover Teixeira still appear to be dangerous too. After tonight Ankalaev can certainly be considered up there with the best prospects at 205lbs; another big win and his name will be in the hat of contenders.
#2 Worst: The Hardy hype train ends with a whimper and not a bang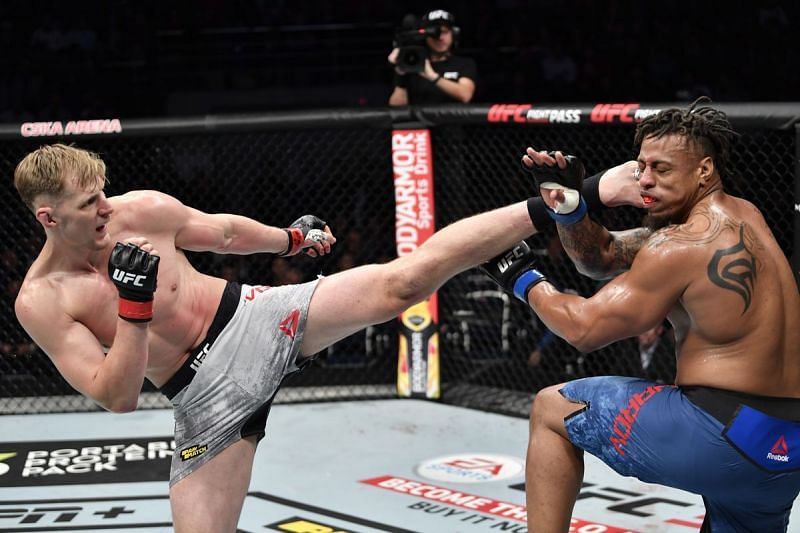 Okay, so it'd be unfair to criticise the performance of Alexander Volkov tonight. Faced with a very different opponent to the one he was initially matched with, 'Drago' fought a smart fight and largely picked apart former NFL linebacker Greg Hardy over three rounds with some clean, varied striking. Sure, he ate a couple of shots from 'The Prince of War', but realistically he never let the fight leave his control.
However, it was still a little sad to see Hardy's run of wins in the UFC end with him losing a decision rather than being knocked out or submitted. It's no secret that Hardy is not exactly a likeable character; his history of domestic violence prior to his UFC career naturally leaves a sour taste in the mouth and he's not done a lot to endear himself to MMA fans since, whether it's down to his penchant for in-cage controversy (see his fights with Allen Crowder and Ben Sosoli) or his very unfair shots at Derrick Lewis's past in interviews.
When he was matched with a monster like Volkov then, it felt like every anti-Hardy fight fan's dream. Surely a fighter who'd taken out Fabricio Werdum and Stefan Struve in violent fashion would be able to put Hardy away? Well, it turned out that he couldn't. So while it was nice to see him pick up a strong win, this was probably one of the lower points of this show.
#3 Best: Danny Roberts saves his UFC career in the best way possible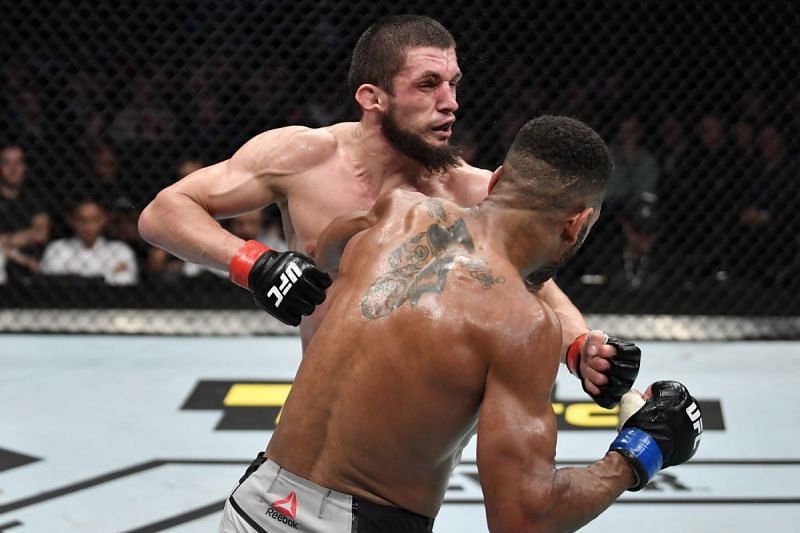 British Welterweight Danny Roberts undoubtedly had his back to the wall coming into tonight's event; he'd lost his last two fights in pretty bad fashion, submitting to Claudio Silva in controversial fashion and then being violently knocked out by Michel Pereira, a fighter who has since been exposed as more flash than substance. A third loss tonight and it probably would've been curtains for 'Hot Chocolate'.
Instead, Roberts hung tough against a dangerous striker in Zelim Imadaev, and managed to survive plenty of heavy blows in the first round without being hurt or stunned as we've seen before. And after working Imadaev over with some knees in the second round, he then uncorked perhaps the best knockout of his UFC career – a whipping left hook that sent his Russian foe spinning around before crashing face-first to the mat.
Not only will this knockout resurrect Roberts' UFC career, but it should move him into the good books of the UFC brass; prior to his fight we'd had three slower decisions that dragged the show to a crawl. Roberts' knockout woke everyone back up, and UFC President Dana White doesn't tend to forget such things.