| | |
| --- | --- |
| Full Name | Zabit Akhmedovich Magomedsharipov |
| Date of Birth | March 1, 1991 |
| Nationality | Russian |
| Height | 6 ft 1 1⁄2 in |
| Role | Sanda |
Zabit Magomedsharipov News
Zabit Magomedsharipov: A Brief Biography
Zabit Magomedsharipov is an unranked UFC Featherweight fighter with a professional MMA record of 18-wins and 1-loss. Zabit was formerly ranked #3 in the UFC rankings before getting removed due to inactivity.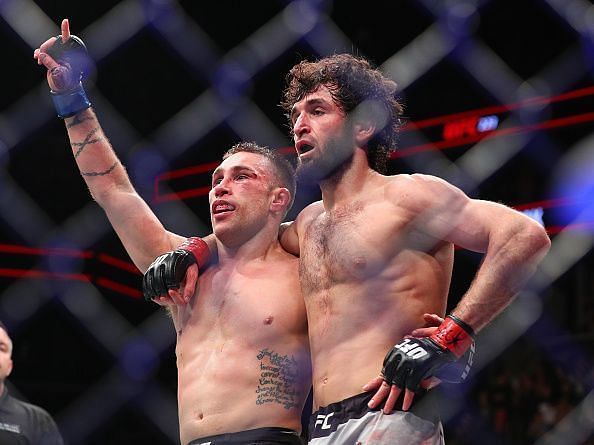 Early life and career
Zabit started his combat sports journey at age 10 when he started training in freestyle wrestling and Sanda. Zabit started training in Wushu at the Five Directions of The World School for 10 years before transitioning to MMA in 2012.
Zabit made his professional MMA debut at the Odessa Golden Cup against Zhumageldy Zhetpishbayev. Zabit TKO'ed Zhumageldy via third-round TKO and followed it up by defeating Timur Bolatov via unanimous decision.
Zabit signed with ProFC in 2012 and went 2-1 in the promotion with his only loss coming against Igor Egorov.
He left the promotion and amassed 2 victories on the regional circuit that led to him signing with Absolute Championship Berkut in 2014.
Zabit entered the ACB featherweight Grand Prix in 2014 and defeated Orudzh Zamanov and Artak Nazaryan to enter the finals at ACB 24 against Abdul- Rakhman Temirov. Zabit outclassed Temirov throughout the fight and submitted him in the first round via guillotine choke to win the Grand Prix.
He got a title shot at the vacant ACB Featherweight Championship against Sheikh-Magomed Arapkhanov at ACB 31. Zabit knocked out Sheikh in the first round to win the title and later successfully defended it against Valdines Silva at ACB 45.
Zabit vacated the title and left the promotion to sign with the UFC in 2017.
Zabit Magomedsharipov UFC
Magomedsharipov made his UFC debut on 2nd September 2017 against Mike Santiago. The Russian won via a rear naked choke submission in the second round and took home the honors for 'Performance of the night'.
Zabit Magomedsharipov vs Calvin Kattar
Magomedsharipov was initially supposed to face Calvin Kattar at UFC on ESPN 6 in the latter's hometown but unfortunately, Zabit pulled out due to injury.
The fight was later rescheduled to UFC Fight Night 163 where the pair met in the main-event. The fight turned out to be thoroughly entertaining and closely contested. In the end, Magomedsharipov had his hand raised via unanimous decision.
Zabit Magomedsharipov Stats
Current Status:
Zabit Magomedsharipov's current record stats at 18-1. He is on a 14-fight win streak and inactive since 2019.
Win-Loss-Draw:
| | | | |
| --- | --- | --- | --- |
| Matches | Wins | Losses | Draws |
| 19 | 18 | 1 | 0 |
Wins by KO:
6
Wins by Submission:
7
Wins by Decision:
5
Weight:
145 lb / 66 kg
Reach:
73 in (185 cm)
Weight Class:
Lightweight (2012-2013)
Featherweight (2014-present)
Zabit Magomedsharipov Record
Below is the Professional MMA record of Zabit Magomedsharipov.
| | | | | | |
| --- | --- | --- | --- | --- | --- |
| Result | Record | Opponent | Method | Event | Date |
| Win | 18–1 | Calvin Kattar | Decision (unanimous) | UFC Fight Night: Magomedsharipov vs. Kattar | 09/11/2019 |
| Win | 17–1 | Jeremy Stephens | Decision (unanimous) | UFC 235 | 02/03/2019 |
| Win | 16–1 | Brandon Davis | Submission (Suloev stretch) | UFC 228 | 08/09/2018 |
| Win | 15–1 | Kyle Bochniak | Decision (unanimous) | UFC 223 | 07/04/2018 |
| Win | 14–1 | Sheymon Moraes | Submission (anaconda choke) | UFC Fight Night: Bisping vs. Gastelum | 25/11/2017 |
| Win | 13–1 | Mike Santiago | Submission (rear-naked choke) | UFC Fight Night: Volkov vs. Struve | 02/09/2017 |
| Win | 12–1 | Valdines Silva | TKO (punches) | ACB 45 | 17/09/2016 |
| Win | 11–1 | Sheikh-Magomed Arapkhanov | KO (punch) | ACB 31 | 09/03/2016 |
| Win | 10–1 | Abdul-Rakhman Temirov | Submission (guillotine choke) | ACB 24: Grand Prix 2015 Finals Stage 2 | 24/10/2015 |
| Win | 9–1 | Mukhamed Kokov | TKO (arm injury) | ACB 20 | 14/06/2015 |
| Win | 8–1 | Artak Nazaryan | TKO (retirement) | ACB 15: Grand Prix 2015 Stage 2 | 21/03/2015 |
| Win | 7–1 | Orudzh Zamanov | Submission (guillotine choke) | ACB 11 | 12/11/2014 |
| Win | 6–1 | Sarmat Hodov | Decision (unanimous) | Oplot Challenge 88 | 16/11/2013 |
| Win | 5–1 | Sergei Sokolov | Submission (triangle choke) | Fight Nights: Krepost Selection 1 | 20/09/2013 |
| Loss | 4–1 | Igor Egorov | Submission (armbar) | ProFC 47 | 14/04/2013 |
| Win | 4–0 | Iftikhor Arbobov | TKO (doctor stoppage) | ProFC 44 | 02/12/2012 |
| Win | 3–0 | Abkerim Yunusov | Submission (rear-naked choke) | ProFC 42 | 13/10//2012 |
| Win | 2–0 | Timur Bolatov | Decision (unanimous) | Liga Kavkaz 2012 | 03/07/2012 |
| Win | 1–0 | Zhumageldy Zhetpisbayev | TKO (punches) | Odessa Golden Cup | 09/05/2012 |