| | |
| --- | --- |
| Full Name | Calvin Kattar |
| Date of Birth | March 26, 1988 |
| Nationality | American |
| Height | 5 ft 11 in |
Calvin Kattar : A Brief Biography
Calvin Kattar is an American mixed martial artist who participates in the Featherweight division of the UFC. He made his professional debut in 2007, competing for the now defunct USA-based MMA promotion EliteXC. He is currently ranked #11 in the UFC Featherweight rankings and has been awarded with the Fight of the Night on one occasion.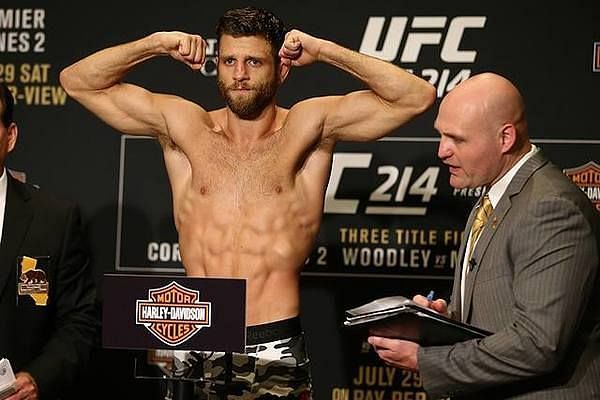 Calvin Kattar MMA
Calvin Kattar made his MMA debut in 2007 competing for the now defunct United States-based MMA promotion Elite Xtreme Combat a.k.a EliteXC. After the promotion ceased its operation in 2008, Kattar made his move t o UFC. Prior to joining UFC, Kattar had an impressive winning streak of 8 matches and was unbeaten for over 7 years.
Calvin Kattar UFC
The Boston Finisher made his UFC debut on July 29, 2017 at UFC 214 by replacing South Korean fighter Doo Ho Choi and faced Andre Fili in the Preliminary Card (FXX) and won by unanimous decision.
Kattar then faced Shane Burgos who was undefeated at that time at UFC 220 and won the fight via TKO in the third round. For the fight, he was awarded with the Fight of the Night bonus award.
Calvin then faced his first loss in his fight against Brazilian sensation Renato Moicano at UFC 223. He lost the fight via unanimous decision. He then went on to win his next two fights against Chris Fishgold and Ricardo Lamas.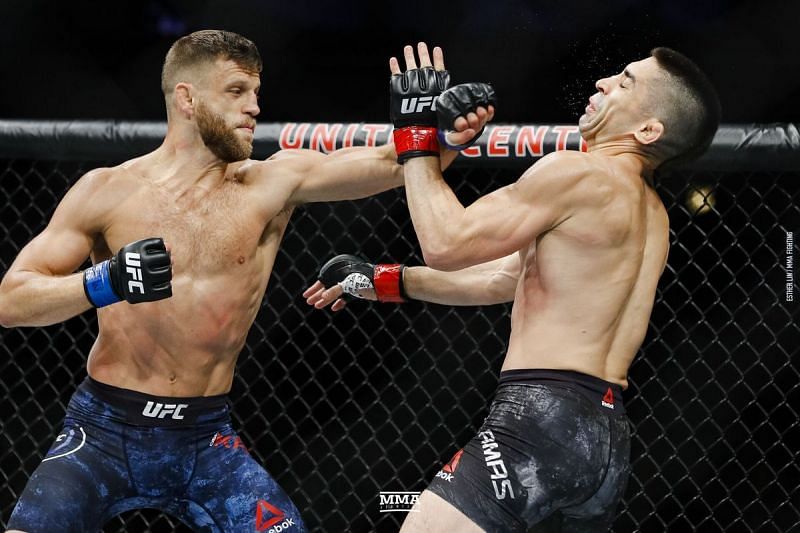 Calvin Kattar Stats
Here are the stats of Calvin Kattar:
Win-Loss-Draw:
| | | | |
| --- | --- | --- | --- |
| Matches | Wins | Losses | Draws |
| 24 | 20 | 4 | 0 |
Wins by KO:
9
Wins by Submission:
3
Wins by Decision:
8
Weight:
145 lb / 66 kg
Reach:
72 in (183 cm)
Weight Class:
Lightweight
Featherweight
Calvin Kattar Record
Given below is the Professional MMA record of Zabit Magomedsharipov.
| | | | | |
| --- | --- | --- | --- | --- |
| Result | Record | Opponent | Method | Event |
| Loss | 20–4 | Zabit Magomedsharipov | Decision (unanimous) | UFC Fight Night: Magomedsharipov vs. Kattar |
| Win | 20–3 | Ricardo Lamas | TKO (punches) | UFC 238 |
| Win | 19–3 | Chris Fishgold | TKO (punches) | UFC Fight Night: Volkan vs. Smith |
| Loss | 18–3 | Renato Moicano | Decision (unanimous) | UFC 223 |
| Win | 18–2 | Shane Burgos | TKO (punches) | UFC 220 |
| Win | 17–2 | Andre Fili | Decision (unanimous) | UFC 214 |
| Win | 16–2 | Chris Foster | Decision (unanimous) | CES 38: Soriano vs. Makashvili |
| Win | 15–2 | Kenny Foster | Decision (split) | CES 34: Curtis vs. Burrell |
| Win | 14–2 | Gabriel Baino | Decision (unanimous) | Combat Zone 44: Steel Cage Fighters |
| Win | 13–2 | Saul Almeida | Decision (unanimous) | CES 13: Real Pain |
| Win | 12–2 | Cody Stevens | Decision (unanimous) | Combat Zone 39: Smack Down at the Rock |
| Win | 11–2 | Luiz Rodrigues | Decision (unanimous) | Combat Zone 36: Smashing on the Rock |
| Win | 10–2 | Chris Connor | TKO (punches) | Combat Zone 33: Massacre in the Meadow |
| Win | 9–2 | Jeff Anderson | TKO (punches) | Xtreme Championship Fight League 2 |
| Loss | 8–2 | Don Carlo-Clauss | Decision (split) | Xtreme Championship Fight League 1 |
| Win | 8–1 | Andrew Montanez | Decision (unanimous) | American Steel Cagefighting 2 |
| Win | 7–1 | Rodrigo Almeida | Submission (guillotine choke) | World Championship Fighting 7 |
| Win | 6–1 | Jonathan Bermudez | TKO (punches) | Combat Zone 27: The Rock 2 |
| Win | 5–1 | Bobby Diaz | Submission (triangle choke) | World Championship Fighting 5 |
| Win | 4–1 | Kevin Roddy | KO (punches) | Combat Zone 26: The Rock |
| Loss | 3–1 | James Jones | Submission (rear-naked choke) | EliteXC: Primetime |
| Win | 3–0 | Bob Pupa | Submission (punches) | Combat Zone 24: Renaissance |
| Win | 2–0 | Donald Peters | TKO (punches) | Combat Zone 23: Down and Out |
| Win | 1–0 | Tony Armijo | TKO (punches) | Combat Zone 22: Cage Masters 3 |