Val'anyr, Hammer of Ancient Kings is a unique one-handed mace in World of Warcraft. Legendary weapons are more about the powerful effects they bring in, rather than simply being a big weapon, and in this regard, Val'anyr, Hammer of Ancient King fits perfectly. If you have Val'anyr equipped and you heal a player, there is a 10% chance that you will receive the Blessing of Ancient Kings buff, which lasts for 15 seconds.
While under the effect of this buff, any healing spell you cast will also create an additional shield called Protection of Ancient Kings on target, which lasts for eight seconds.
Broadly, Val'anyr can be equipped with the following four classes:
Holy Paladins
Restoration Druids
Restoration Shamans
Disciple Priests
In this guide, we'll show you the easiest way to get the legendary hammer in World of Warcraft.
---
Walkthrough on how to get Val'anyr, Hammer of Ancient Kings in World of Warcraft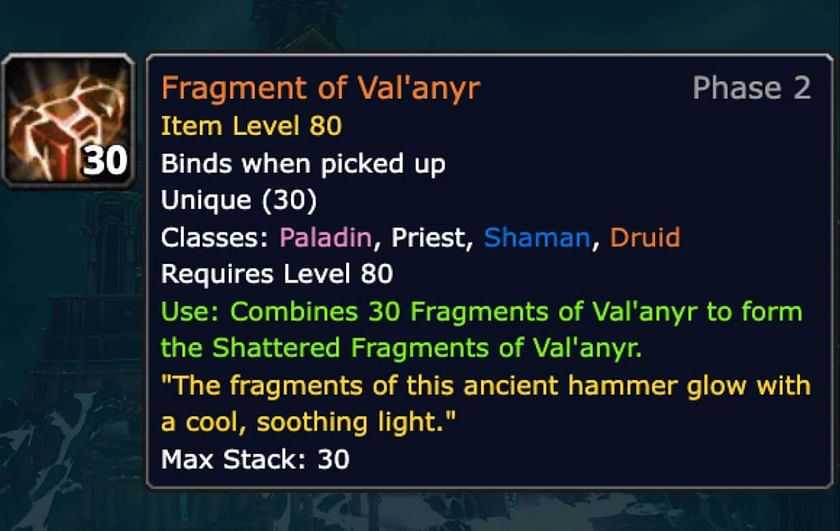 Procuring the Val'anyr is one of the last quests you'd have to do in World of Warcraft. The entire quest will take you on a long and windy road.
The quest starts with collecting "Fragments of Val'anyr". These are items of legendary quality loot that have a 7-10% chance of dropping when you take down bosses in 25-player raids.
Getting the Fragments of Val'anyr
Certain bosses such as Algalon and Yogg'Saron have a 20-30% chance of dropping Fragments of Val'anyr. However, Algalon comes off as a hard boss among all the other Ulduar bosses, which includes Ignis, Razorscale, and Auriaya.
Keep slaying the bosses and keep stacking up Fragments of Val'anyr until you reach 30 pieces. These pieces will be slotted into an item tab called "Shattered Fragments of Val'anyr".
Now it's time to activate the main quest – Ancient History, to begin the arduous journey of finding the iconic weapon in World of Warcraft lore, Val'anyr.
---
Completing the Ancient History Quest in World of Warcraft
The Ancient History Quest requires you to beat Yogg'Saron once more. However, this time around, players are only allowed three keepers with them, which makes this quest particularly difficult.
To defeat Yogg'Saron in the Ancient History quest, you will have to use the "Unbound Fragments of Val'anyr" on your hammer and throw it at the mouth of the beast during phase 3 of the boss-fight, when Yogg'Saron starts casting his Deafening Roar ability.
This can be a bit tricky, as the cast time for Deafening Roar is very short (two seconds), so you will have to react quickly to hit Yogg with the hammer before the cast completes.
If you successfully hit Yogg with the hammer during the Deafening Roar spell, you should see a debuff "In the maws of the Old God" appear on the boss, indicating that the fragments of Val'anyr are now inside his physical body.
If you miss it, the item will go on a 20-second cooldown before you can use it again. With careful timing and patience, you should be able to defeat Yogg'Saron once again and complete the Ancient History quest.
After Yogg'Saron is slain, you'll find the loot item: Reforged Hammer of Ancient Kings". Pick it up, turn it in on the quest, and you'll finally be rewarded with Val'anyr, Hammer of the Ancient Kings as a reward.
Remember that the quest to get hold of Val'anyr is particularly hard and windy in the world of Warcraft. If you are unlucky when it comes to spawning the right loot, it may even drag up to 30 weeks.
---
This wraps up our guide on how to obtain the legendary Val'anyr Hammer of Ancient King in World of Warcraft. Keep tabs on Sportskeeda for more related content on World of Warcraft and the rest of the gaming world.
Edited by Sijo Samuel Paul