Chief Justice John Roberts' wife, Jane Sullivan Roberts, recently came under scrutiny after her former colleague sent a letter to Congress and the Justice Department complaining that Jane's work as a legal recruiter would cause a conflict of interest at the Supreme Court.
According to The New York Times, Boston lawyer Kendal Price accused Justice John Roberts of failing to acknowledge the complete details of his wife's work during his ethical disclosures. In his letter, Price argued that justices should disclose information about their spouse's work and salary:
"I do believe that litigants in U.S. courts, and especially the Supreme Court, deserve to know if their judges' households are receiving six-figure payments from the law firms."
Reports suggest that while Jane Roberts quit her job as a law partner when John Roberts was confirmed as Chief Justice in 2005, she allegedly earned millions of dollars in commissions by helping recruit lawyers at firms, including some that had business before the high court.
---
Everything to know about John Roberts' wife Jane Sullivan Roberts
Jane Sullivan Roberts is a lawyer at Pillsbury Winthrop Shaw Pittman. She previously worked as a recruiter for the recognized legal recruitment firm Major, Lindsay & Africa. She is also part of the Board of Trustees at her alma mater, the College of the Holy Cross.
Sullivan was born into an Irish Catholic family in the Bronx and grew up with her four siblings. Her father reportedly worked as a mechanic at a post office, while her mother was an administrative assistant in a hospital.
During her commencement speech at the New England School of Law in 2011, Sullivan revealed that she worked as a waitress in a Greek restaurant in a Jewish neighborhood during high school.
Following her graduation from the College of the Holy Cross with a degree in math, she went on to teach math while pursuing a master's from Brown University. Shortly after, Sullivan decided to pursue law and graduated from Georgetown University Law Center in 1984.
Sullivan served on the Board of Feminists for Life, a pro-life non-profit organization, between 1995 and 1999. According to her biography, prior to joining Major, Lindsay & Africa, she was also the Executive Partner for Talent Development at Pillsbury Winthrop Shaw Pittman.
She also served as a partner in the firm's Global Technology Group focusing on IT sourcing and procurement of satellite systems, and practiced litigation at Shaw Pittman and Dorsey & Whitney. In 1992, Sullivan litigated before Australian courts with leading law firm Arthur Robinson & Hedderwicks in Australia.
The lawyer also served as a clerk for the Honorable James M. Sprouse, Federal Court of Appeals for the Fourth Circuit, during the 1984–85 term. In addition to teaching math, Sullivan was also a Systems Engineer at Bell Laboratories prior to entering the legal profession.
Jane Sullivan met John Roberts at a beach house in 1986 while they were both attorneys in D.C. However, they got to know each other and started dating several years later, after the former returned to the U.S. from Australia in 1993.
The pair married in 1996 in a traditional ceremony at St. Patrick's Roman Catholic Church in Washington, D.C. The couple are members of the Church of the Little Flower in Bethesda, Maryland, and are proud parents to their adopted children, Jack and Josephine.
---
Netizens scrutinize John Roberts' wife Jane Sullivan Roberts' professional background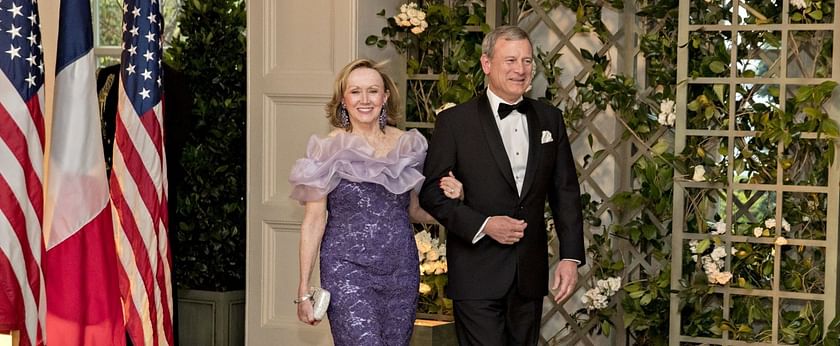 The Justice Department and Congress recently received a complaint that Chief Justice John Roberts' wife Jane Sullivan Roberts' work as a legal recruiter could cause a conflict of interest at the Supreme Court.
The Chief Justice was also accused of not revealing the full details of his wife's professional background and the alleged history of earning millions of dollars from commissions by placing lawyers at firms.
As the complaint came to light, several social media users also took to Twitter to scrutinize John Roberts and his wife, Jane Sullivan Roberts:
While reactions continued to pour in online, Supreme Court spokesperson Patricia McCabe told The Times that all the justices were "attentive to ethical constraints" and complied with financial disclosure laws.
McCabe also referred to the code of conduct for federal judges and cited an advisory opinion that said a judge "need not recuse merely because his or her spouse had worked as a recruiter for a law firm with issues before the court."
Meanwhile, Kendal Price's attorney shared a statement explaining why the lawyer came forward with his complaint against Jane and John Roberts several years later:
"I made the disclosures at this time for two principal reasons. First, any potential influence on what cases are accepted by the Supreme Court is a serious matter that affects the justice system in the U.S., particularly if that influence is not publicly known."
He continued:
"Second, the national controversy and debate regarding the integrity of the Supreme Court demanded that I no longer keep silent about the information I possessed, regardless of the impact such disclosures might have upon me professionally and personally."
Jane Sullivan Roberts and Price are both former employees of Major, Lindsey & Africa. Reports suggest that Price was fired in 2013 and allegedly sued the firm, Jane Roberts, and another executive over his dismissal before losing the case.