5 instances that prove India is right in rejecting DRS
30.81K //
Timeless
A fast reverse-swinging delivery has come the batsmans way. He edges it and the wicketkeeper catches it. The bowler and the fielder appeal in unison. But the nick was very faint; the umpire doesnt spot it and gives not out. In the days when walking has become pass, the batsman stands his ground and goes on to score a century. The fielding team is left to rue that moment of the match when the umpire decided not to give out. This is where the UDRS (Umpire Decision Review System) comes in play.It is the latest technological development in the sport of cricket. As the name suggests, it was introduced to review controversial decisions taken by on-field umpired for the dismissal of the batsman. Nothing heats up the DRS debate like an India series. In the first Test in England, on the third day Matt Prior was adjudged out by Kumar Dharamsena off Bhuvneshwar Kumars bowling even when he hadnt nicked it. But for the lack of DRS, Prior wasnt able to review it and had to leave the field.Karma striked back when on the 4th day of the second Test, Ajinkya Rahane was given out in a similar fashion by Bruce Oxenford. India is the only Test playing nation which refuses to use the technology. Ironically, the system was first tested in aSri Lanka vs India seriesin 2008. Reportedly, India managed to get only 1 out of their 20 referrals right in that series. But in the Champions Trophy in 2013, India was the only country that got all their reviews right.But this still doesnt make India go in favour of the DRS because despite all the progress being made, the system is not yet foolproof. Here is a look at somecontroversial decisions due to DRS in Test cricket.
#5 Shivnarine Chanderpaul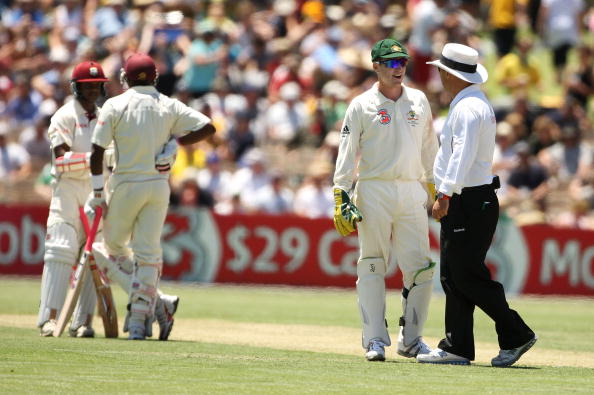 When West Indies visited Australia in 2009-2010, among other things, it became a cause for the retirement of umpire Mark Benson. Shivnarine Chanderpaul was twice adjudged not outby Benson to caught-behind appeals by the Australian players. Australia reviewed it both the times. The decision stayed the first time but was overruled the second time despite conclusive proof.
It happened because TV umpire Asad Rauf was sure and had seen a clear edge. This happened despite ICCs guidelines that a TV umpire should not give answers conveying likelihoods or probabilities.
According to ICC, in case of inconclusive proof, the onfield umpires judgment stays and Chanderpaul should have been not out. Undoubtedly, this made Benson unhappy and he missed out on the next Test and later retired.