10 most heartbreaking moments in World Cup history
122.37K //
Timeless
There is a lot at stake for all the participating teams at the World Cup with it being the most coveted trophy in the cricketing world. Given the enormity of the occassion, certain teams take their game to the highest level. When their performances gel with a little bit of good luck, they go all the way to the trophy.However, at times, certain teams just don't have their lady luck smiling on them and in spite of delivering some really good performances, they suffer heartbreaks.Let's take a look at the most heartbreaking moments in World Cup history:
#10 Bob Woolmer\'s demise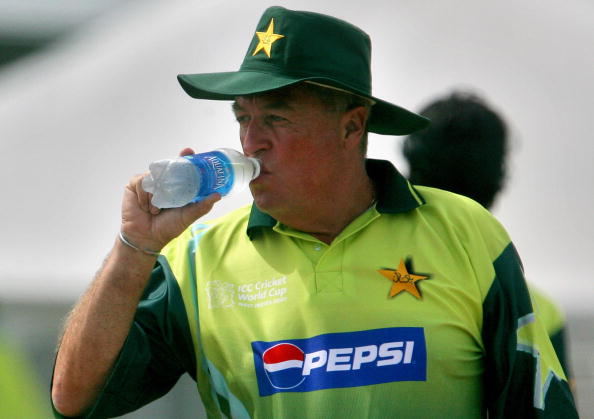 Bob Woolmer, Pakistan's coach and one of the sharpest cricketing brains in the history of the game, passed away in rather mysterious circumstances during the 2007 World Cup. It was heartbreaking to see the ugly way in which the entire situation after his death was handled. Allegations of foul play and murder conspiracies surrounded the Pakistan team. Ultimately, the police could not find any conclusive evidence and an open verdict was recorded on Woolmer's death stating that there was insufficient evidence of either a criminal act or natural causes.
Pakistan were drawn in a group that consisted of hosts West Indies and minnows Ireland and Zimbabwe. Though Pakistan lost vs West Indies by 54 runs, they were expected to win against Ireland and Zimbabwe and make it to the next stage. However, Ireland pulled off a major upset when they beat Pakistan by 3 wickets, which led to them crashing out of the tournament after just 2 games. By the time the cricketing world recovered from this shock, news came in that Bob Woolmer was found dead in his hotel room.
An autopsy was conducted on Woolmer's body which revealed that he may have died of asphyxiation which in layman terms is manual strangulation. The evidence around the scene of his death pointed to foul play and there were murmurs of his death being connected to the Pakistani team's poor performance at the World Cup. Allegations of match-fixing reared their ugly heads owing to the Ireland result and many Pakistani players including captain Inzamam-ul-Haq came under the scanner.
The police, though, could not find any conclusive evidence that could support their claim for a murder. Though a jury in Jamaica delivered an open verdict regarding Woolmer's death, two former cricketers, Clive Rice and Ian Chappell went on record stating that Woolmer may have been murdered as he may have found out about some misgivings and was ready to come out with it. The fact that all the wickets in the Pakistani innings against Ireland were caught out led to further suspicion of foul play.
#9 England vs Pakistan, 12th Match, World Cup 1979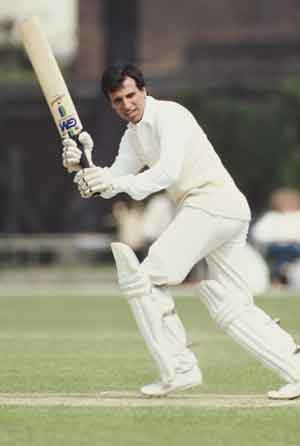 In the final group stage game of the 1979 World Cup, Asif Iqbal, Pakistan's captain, led from the front as he dished out a superb all-round performance versus England. However, Pakistan narrowly lost the game by 14 runs. Had Pakistan won this game, they would have topped their group and would have avoided the mighty West Indies in the semi-finals, a team they lost to eventually. Looking at the bigger picture, Pakistan's defeat in this game had a significant bearing on their entire campaign.
In a bid to utilise the seaming conditions at Headingley, Asif Iqbal won the toss and elected to bowl. The Pakistan bowlers vindicated the faith their captain had placed in them as they kept taking wickets at regular intervals and never really allowed a partnership to develop. Asif led by example as he himself picked up 2 wickets and gave away just 37 runs in 12 overs. In their 60 overs, the Poms huffed and puffed their way to 165/9.
Pakistan were rattled early by a fiery spell of bowling from Mike Hendrick, Bob Willis and Ian Botham as they were reduced to 34/6. At this stage, it seemed as if all was lost for the visitors. However, Asif Iqbal was not done yet as he staged a fightback in the company of the tailenders. He added 52 runs for the 7th wicket with Wasim Raja. When Raja got out, Imran Khan stood by Iqbal to notch up a 29-run partnership for the 8th wicket. Bob Willis finally got the better of the Pakistan skipper to put England in the driver's seat once again.
Imran Khan, inspired by his captain's inning, fought back and took the team to the cusp of a famous victory as he, along with Wasim Bari, put together 30 runs for the ninth wicket. With 2 wickets in hand and 20 runs needed for Pakistan, England opening batsman Geoffrey Boycott took the ball in his hands and broke the partnership by taking Bari's wicket to set up a tense finish. He was not done, however, as Pakistan's last batsman Sikander Bakht also fell victim to Boycott as England won the game by 14 runs to top their group and avoid a clash with defending and eventual World Cup winners West Indies in the semis.
#8 India\'s first round exit, World Cup 2007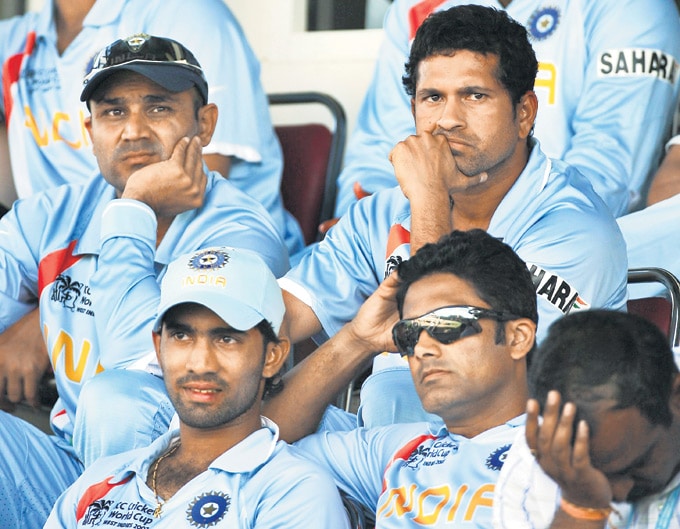 In the 2007 World Cup, expectations were high from the Men in Blue as they were the runners-up in the previous edition and had a very balanced squad. Given that veterans like Sourav Ganguly, Rahul Dravid, Anil Kumble and Sachin Tendulkar were possibly playing their last World Cup, there was extra motivation to do well. India's group consisted of minnows Bangladesh and Bermuda. Though Sri Lanka too was in the same group, India had tamed them at home just before the World Cup.
In the first game against Bangladesh, Rahul Dravid elected to bat first after winning the toss. India, with all their batting might, were expected to score big, but the Bangladeshi bowlers bowled out of their skins and bowled the Indians out for a paltry 191. Sourav Ganguly and Yuvraj Singh were the only batsmen who managed to post decent scores as wickets tumbled around them. Half centuries from Tamim Iqbal, Mushfiqur Rahim and Shakib Al Hasan took the minnows over the line as they pulled off a sensational upset.
India took on Bermuda next and as expected, crushed them by a huge margin of 257 runs as both their batting and bowling came good. Since Sri Lanka had won both their games and Bangladesh was to play Bermuda next, India's game against Sri Lanka was a must win game for the Dravid-led side.
Against Sri Lanka, India opted to field after winning the toss. Half centuries from Upul Tharanga and Chamara Silva and some useful contributions down the order, helped Sri Lanka post a total of 254/6 in 50 overs. The Indian batsmen, it seemed, were bogged down by the pressure of the occasion and never really looked like putting up a fight in the game. India were bowled out for 186 by the Lankans. This way India made a swift exit from the World Cup despite boasting of a stellar lineup.
#7 South Africa vs Sri Lanka, 40th Match, World Cup 2003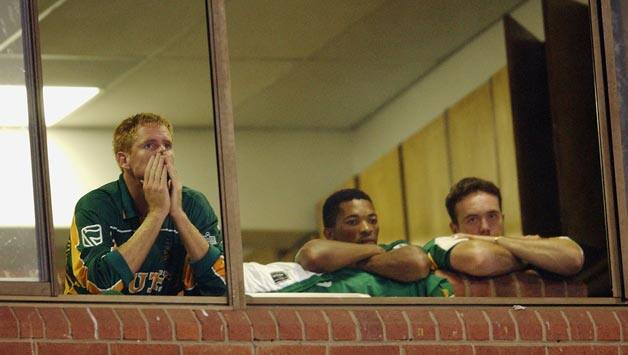 After suffering heartbreaks in 1992 and 1999, it seemed as if the Proteas would be able to break the World Cup jinx on homesoil in 2003. However, lady luck eluded them once again as they could not get past the group stages. In a do or die encounter vs Sri Lanka, they choked again as they misread the D/L calculation and fell short of their target by a solitary run.
In a must-win game, Sanath Jayasuriya won the toss and elected to bat. Measured bowling from the Proteas had the Lankans at a tricky 90/3 in 22.1 overs. Veterans Marvan Atapattu and Aravinda De Silva, after a watchful start, attacked the South African bowlers. In just 136 balls, the pair added 152 runs. The partnership was finally broken in the 45th over when Atapattu was dismissed and Sri Lanka reached a respectable total of 268/9 in 50 overs.
Graeme Smith and Herschelle Gibbs went after the Sri Lankan bowlers from the word go as they scored at nearly 6 runs per over without losing a single wicket till the 11th over when the scoreboard read 65/0. Despite, South Africa losing 3 wickets, Gibbs continued his onslaught and kept the score ticking and took his team to 124/3 after 23.1 overs. Soon after, both Gibbs and Boeta Dippenaar were dismissed off consecutive deliveries, as Sri Lanka clawed back. Shaun Pollock and Mark Boucher then played sensibly as they took the hosts close.
The final overs were played under the threat of rain as the sky was covered with clouds. The Proteas needed 57 runs off 45 balls when Pollock was dismissed in the 43rd over. Just like it happened before with the team from Africa in 1992, the clouds gave way and it began to drizzle.
All kinds of mathematical computations were going on in both dugouts as the rain became heavier and it looked like the result would come from the Duckworth/Lewis rule. Needing 46 off 32 balls, Boucher hit Muralitharan's delivery for a six taking his team's score past the calculated D/L par score. Thinking they've passed the required score, he defended the last ball before play was suspended to take South Africa's total to 228 off 45 overs.
The covers came on and that brought the curtain for South Africa's run at the World Cup as they were informed that they were still 1 run behind the D/L score. They watched on, praying for the rain to stop, but unfortunately for them, it didn't and they were left to rue their costly mathematical error as the match ended in a tie, which resulted in South Africa being eliminated from the tournament.
Take a look at how a mathematical goof up cost the Proteas dear:
#6 Australia vs West Indies, 2nd Semi-Final, World Cup 1996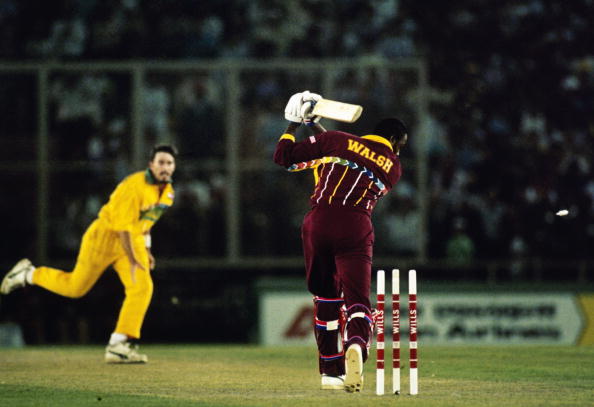 Given that the much fancied Indian team had crashed out of the World Cup just a day back, there wasn't much excitement around the semi-final between Australia and West Indies. However, the PCA stadium in Mohali witnessed a thriller, as the Aussies beat the once mighty Calypso Kings by a narrow margin of 5 runs. In Wisden's words, "West Indies pulled off an extraordinary defeat."
Mark Taylor, Australia's captain, won the toss and elected to bat first. Australia were rattled early by Curtley Ambrose and Ian Bishop as they lost 4 wickets with just 15 runs on the board. Stuart Law and Michael Bevan then combined to rescue the Australian innings as they added 138 runs for the fifth wicket. Law was run out in the 41st over and Bevan followed him soon after in a bid to up the scoring rate. A quick innings from Ian Healy took Australia past 200 as the Kangaroos reached a respectable 207/8 in their fifty overs.
At 165/2 at the end of 41 overs, it looked as if the Windies were on course for their fourth final appearance. What transpired thereafter was madness as the Calypso Kings imploded. One West Indies batsman after another gave a lesson on how not to bat. Richie Richardson, West Indies' skipper was raging a lone battle as he took his team close.
The equation came down to 10 runs off the last over with two wickets in hand. Richie smashed the first ball to the fence. With six needed off five, he inside edged the next delivery to the keeper and set off for a single. Ian Healy hit the target as Curtley Ambrose was caught short off his crease.
Richardon had a lengthy discussion with Courtney Walsh, West Indies' number 11, before he faced his first ball. It was to no avail as Walsh was bowled trying to play a million dollar shot. Richardson lost his last game and remained unbeaten on 49.
Watch the highlights of that game in the video below:
#5 India vs Australia, Final, World Cup 2003
This surely has to be one of the most heartbreaking moments in World Cup history that Indian cricket fans must have witnessed. After all, their team had overcome a rather sluggish start and had made it to the finals. Though Australia were on an unbeaten streak and had thumped India in an earlier game, yet there was belief in the Indian camp and among the fans that after 20 long years, India would regain the World Cup.
Sourav Ganguly won the toss and elected to bowl first on a belter of a wicket. All members of the Indian team were featuring in their first World Cup final and their inexperience showed. Before they could get a grip of things, Australia had raced to 105 in under 15 overs. A couple of wickets fell in quick succession. It seemed as if the Indian bowlers had pulled things back a little.
However, Ricky Ponting and Damien Martyn had other ideas as they were involved in an unbeaten partnership of 234 runs for the 3rd wicket. Ponting was particularly severe on the Indian bowlers as he played a blazing knock of 140* from 121 balls. His innings was studded with 4 fours and 8 sixes. Martyn too came to the party as he scored 88 at more than run-a-ball. The Indian bowlers went astray in the most crucial of games.
Sachin Tendulkar, who was in scintillating form, was India's biggest hope in pursuit of the Aussie total. However, he was dismissed in the very first over of the Indian innings. Virender Sehwag and Rahul Dravid were the only two batsmen who offered some resistance. The remaining Indian batsman faltered as Ganguly's men were bundled out for 234, a good 125 runs short of Australia's score. India's African safari came to a sad end as the Aussies retained their title.
Watch the highlights of that game in the video below:
#4 Mike Gatting\'s reverse sweep, Final, World Cup 1987
Mike Gatting's reverse sweep is possibly one of the most talked about shots in World Cup history, albeit for the wrong reasons. It has also haunted him for his entire life. Gatting, a hero of England's campaign until then, became a villain, as it took away from England their best chance at getting their hands on some silverware.
After winning the toss, Australian captain Allan Border elected to bat first. David Boon and Geoff Marsh gave Australia a great start as they added 75 for the first wicket. Neil Foster then dismissed Marsh as the English drew first blood. A 76-run partnership for the second wicket between Boon and Dean Jones followed. Eddie Hemmings then picked up two quick wickets as Australia's score read 168/4. Some quick runs by Border and Mike Veletta took the Kangaroos to a solid 253/5 in 50 overs.
After suffering an early setback, England were steadied by a 65-run stand for the 2nd wicket between Graham Gooch and Bill Athey. Gooch's wicket brought the Aussies back in the game. Athey was then involved in a 69-run partnership with Mike Gatting. The pair looked very composed in the middle as they milked the bowlers for ones and twos and got the odd boundary.
Gatting, then had a brainfart, as he attempted a reverse sweep off Allan Border's bowling. He mistimed the ball and was caught behind by Greg Dyer. This proved to be the turning point of the match as there was no significant partnership thereafter. Ultimately, England fell short of the Australian total by just 7 runs. A fair bit of the blame fell on Gatting's shoulders as he was England's captain. His shot selection in a crucial game like this was baffling, especially at a time when runs were coming along rather easily.
Take a look at that ungainly shot that Gatting played in the video below:
#3 India vs Sri Lanka, 1st Semi-Final, World Cup 1996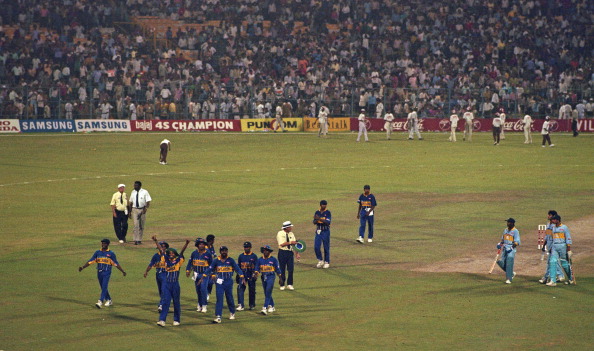 This match epitomises the state of Indian cricket in the nineties. The team was talented but somehow ended up short on when it mattered. Poor cricket from the Indian team and an unruly crowd led to India's heartbreaking exit. Buoyed by their victory in this game, Sri Lanka dished out a brilliant performance in the final and lifted their first ever World Cup.
On a hot March day, Mohammad Azharuddin, the Indian captain won the toss and elected to field first. The Indian bowlers rattled the visitors early in the game restricting them to 35/3. However, Aravinda de Silva was unfazed by the shock start and scored 66 before he was dismissed by Anil Kumble. A partnership of 83 for the fifth wicket between Roshan Mahanama and Sri Lankan skipper Arjun Ranatunga consolidated Lanka's position. Soon afterwards, Ranatunga got out and Mahanama retired hurt, giving the Indians an edge. A late flourish by the lower order took the islanders to a respectable 251/8 in 50 overs.
After losing an early wicket, India's innings was steadied by Sachin Tendulkar and Sanjay Manjrekar as they added 90 runs for the 2nd wicket. Sachin looked impressive as he put the loose balls away and kept India on course. However, against the run of play, he was stumped off the bowling of Sanath Jayasuriya. Tendulkar's dismissal seemed to have opened the floodgates as the Indian batsmen kept falling to Sri Lanka's spinners. From a commanding 98/1, the hosts slipped to an embarassing 120/8.
Enraged by the poor performance of their heroes, a capacity crowd at the Eden Gardens lost it's temper and started pelting bottles on the outfield. In some sections, seats had been set on fire. Clive Lloyd, the match referee tried hi best to appease the crowd. However, the Kolkata crowd did not relent and Lloyd had to award the match to Sri Lanka by default.
Watch the highlights of the Indian innings in that game in the video below:
#2 England vs South Africa, 2nd Semi-Final, World Cup 1992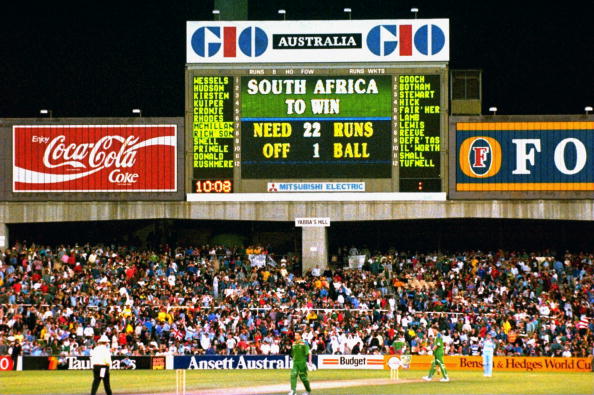 In addition to being one of the most heartbreaking moments in World Cup history, this also happens to be the one of the most controversial moments. It ended South Africa's dream run in the 1992 World Cup after their return to cricket from the Apertheid era ban. There was a big outcry to get rid of the dubious rain rule that was in place. It was replaced in 1999, but, an even more dubious rule, the Duckworth Lewis rule took it's place.
South African skipper Keppler Wessels won the toss and elected to field first. Play was delayed by 10 minutes due to early rain. To compensate for the delay, 10 minutes were deducted from the innings break. After a shaky start, England looked set for a big total, riding on crucial partnerships for the third and fourth wicket, both of which involved Graeme Hick.
However, Hick's dismissal pegged England back. The English lower order, though, scored some quick runs as they reached 252/6 in 45 overs. At this stage, England's innings was given a premature end due to the time restrictions as the 50 overs were not bowled before the scheduled time of 6.10 pm.
South Africa's target was 253 runs in 45 overs at a run rate of 5.62. Since the asking rate was high, the Proteas batsmen tried to score quickly from the word go. In the process, they kept losing wickets at regular intervals. There weren't any big scores, but most batsmen got off to quick starts and perished in a bid to up the ante. After 42.5 overs, South Africa were standing at 231/6. 22 were needed off the last 13 deliveries, making it anybody's game.
Another 12-minute rain interruption led to a reduction in overs. As per the rain rules, the Proteas were set a revised target of 252 runs in 43 overs, meaning they now had to score an impossible 21 runs off just 1 ball. South Africa could not achieve the unlikely target set for them and were eliminated from the tournament.
Take a look at the highlights of that match in the video below:
#1 Australia vs South Africa, 2nd Semi-Final, World Cup 1999
Not just World Cup history, this is one of the most heartbreaking moment in cricketing history. This game earned the Proteas their infamous 'Chokers' tag. For most part of this match, they weren't meant to lose, they didn't lose – but they did. The memories of this loss haunt South African to this day as they are yet to win a knockout game in World Cups.
After winning the toss, Hansie Cronje opted to field first. Excellent bowling from Shaun Pollock, Jacques Kallis and Allan Donald left the Australians reeling at 68/4. Steve Waugh, Australia's captain, then joined hands with Michael Bevan to put together a 90-run partnership for the 5th wicket. Pollock returned to break this partnership and along with Donald cleaned up the lower order as the Aussies were shot out for 213 in 49.2 overs.
At the innings break, it seemed that the Proteas would overhaul this total given their batting might. Though South Africa got off to a good start, they lost wickets in a cluster when Shane Warne was brought on. At 61/4, it seemed as if the match was slipping away from them. An 84-run partnership for the fifth wicket between Jonty Rhodes and Jacques Kallis brought South Africa back into the game. Paul Reiffel though broke this partnership in the 41st over.
At this stage, the equation was 69 runs off 57 balls. The Proteas kept losing wickets at regular intervals while trying to score at the required run rate. Lance Klusener, though, single handedly kept South Africa in the hunt. The game went to the last over off which 9 runs were needed with the last pair at the crease. Klusener smoked the first couple of deliveries to the cover fence and almost sealed the deal for his team. A comedy of errors followed as some serious miscommunication between Donald and Klusener led to the former's run out. The game ended in a tie and Australia progressed to the finals having finished higher than South Africa in the Super Sixes.
Watch the incredible end in the video below: