An average cricketer is in the prime form of his life between the ages of 25 and 30, fights an increasingly difficult battle with his body and mind to continue playing in his thirties, and is well ensconced in retirement by the time 40 comes around, contemplating his playing days gone by.For most, crossing a certain age means that their reflexes will slow down, their batting suffer from a lack of timing. Or it can happen that their body simply runs out of steam, like in the case of fast bowlers.There are some cricketers, however, who have enjoyed a great run of form even after crossing the age of 40, and sometimes well into their fifties and even sixties – some careers that would put Sachin Tendulkar's 24-year career into perspective.This following team consists of 1 fast bowler, 3 spinners, and several all-rounders. A World XI constituted of players who enjoyed a great spell after turning 40:
#1 Sanath Jayasuriya (2nd oldest ODI centurion)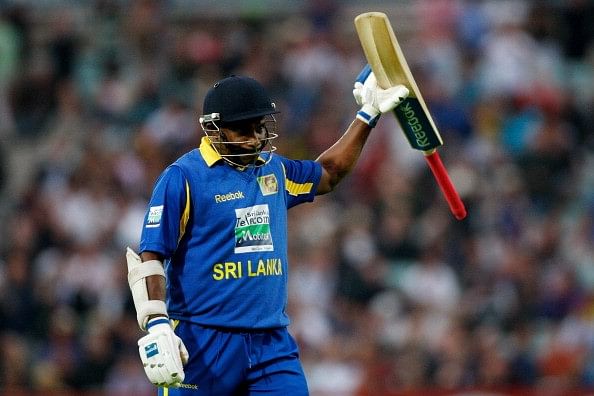 Last appearance – 42 years old
Sanath Jayasuriya made his international debut in 1989, at the age of 20. Over the next two decades, the definition of limited overs batting was to be changed irreversibly, and this swashbuckling Lankan opener was instrumental in this change in approach to ODI batting.
For most hard hitters of the ball, their effectiveness goes down as they grow older – a shot that would have easily gone out of the stadium struggles to cross the rope in advanced years. Not Jayasuriya though. With his 107 against India on 28 January 2009, Jayasuriya—39 years and 212 days old at the time—became the oldest player to score an ODI century, a record surpassed by UAE batsman Khurram Khan in the 2015 World Cup.
Jayasuriya continued to play international cricket for two years after turning 40, despite having retired from Test cricket earlier, consistently providing quick starts and also chipping in with his left-arm spin. He was also a sought-after figure in the T20 circuit, turning out for several Asian franchises, which included Mumbai Indians.
Even in 2015, at the age of 46, Jayasuriya was seen leading a World XI side in a charity match against Nepal in August – managing one huge boundary in the first over to roll back the years, and bowling figures of 2/10.
#2 Sir Jack Hobbs (Oldest Test centurion)
Last appearance – 52 years old
Sir Jack Hobbs, hailed to be one of the greatest batsmen of the 20th century, debuted for England in 1908 at the age of 26, going on to establish his reputation as one of the most skilful run-getters from the pre-War years.
This self-taught son of a groundsman remains one of cricket history's most prolific batsman, but would have amassed even more than his existing record of 61,237 first-class runs and 197 centuries had the World War I not interrupted his playing days.
In the years after the war, Hobbs struggled with ill-health, and was accused of deliberately throwing away his wicket once his individual score reached triple digits. However, after reaching the age of 42, he found a second lease of form – adopting a more cautious approach and going on to play for England for a further 6 years, creating records that stand to this day.
Hobbs is the oldest Test centurion – with the 142 for England against Australia at MCG in 1929, at 46 years 82 days. He has the record for most Test centuries scored after 40 – 8. He is one of the only four people to have scored a Test double century after turning 40. He is the oldest to score two fifties in a Test – at the age of 47 – and the oldest batsman to score 500 runs in a Test series – at the age of 42.
From the time of his 43rd to his 46th birthday, the opening batsman scored around 11,000 runs, averaging round about the sixties. Yet he once said that he would wish to be remembered for the way he batted before 1914. "But, Jack," his friends had protested, "you got bags of runs after 1919!"
"Maybe," Hobbs had replied, "but they were nearly all made off the back foot."
This great batsman and character, thought by many to have been even better than Don Bradman, announced his retirement from cricket at the age of 52 in 1935, and became a few years later the first professional cricketer to receive the knighthood.
#3 Shivnarine Chanderpaul
Shivnarine Chanderpaul received his first cap at the age of 19 in 1994, but was criticised for his weak physique and dubbed a hypochondriac till he had a piece of floating bone removed from his foot in 2000.
Since then, Chanderpaul has guarded one end of the West Indies batting innings with seemingly mechanical perfection, becoming the 7th highest Test run-getter of all time, and the 2nd highest from his country, only after Brian Lara.
Despite having been unceremoniously removed from the national team's framework earlier this year, Chanderpaul made a stand of his longevity with his performances in the series against Bangladesh in 2014, just after having turned 40. With his scores of 85*, 84* and 101*, he remains among the handful of batsmen, and one of the only two batsmen of the current era, to have scored a Test century after the age of 40.
#4 C.K.Nayudu
Last appearance – 62 years old
The legend of CK Nayudu has an unparalleled place in Indian cricket history. He was India's first Test captain in 1932, and India's entry into Test cricket itself was largely on the strength of Nayudu's 116-minute 153 – a knock that included 11 sixes and 13 fours – for the Hindoos against a strong visiting MCC side in December 1926.
Nayudu's decimation of famed British bowlers woke up the cricketing world to the existence of India, and the Indian nation to the strange power of cricket – a charm that has enchanted the nation for the succeeding century. But the fact that India's first cricket hero was also a symbol of endurance is a fact that escapes many – his playing days spanned six prolific decades.
A dashing batsman, a wily medium pace bowler and a sharp fielder, Nayudu played his last Test for India at the age of 41 in 1936, but astonished everybody by turning out in first-class cricket till 1957, when he hung up his boots at the ripe old age of 62.
The 62-year-old marked his last innings for Uttar Pradesh with a score of 52, following up a masterly innings of 84 against Rajasthan earlier in the season.
Nayudu returned to play in a charity match in 1963-64, turning out for a Maharashtra Governor's XI against a Maharashtra Chief Minister's XI, at the age of 69, making him the oldest well-known cricketer to have taken a cricket field.
#5 Misbah-ul-Haq
Still active in international cricket
Misbah-ul-Haq came to prominence in the 2007 T20 World Cup, where at the age of 33, he was one of the stars of the tournament – an unfancied hero taking his country to the final of the tournament, and within one shot of triumph.
In subsequent years, the middle order batsman has been consistently the bulwark around which the struggling Pakistani team have rallied around.
In October 2014, Misbah became only one of two batsmen from the current era to score a century after turning 40, when a majestic run of form saw him record scores of 69*, 101, 101* and 102* against Australia and New Zealand.
In July earlier this year, Misbah scored a priceless 59* in the deciding Test against Sri Lanka, where he alongside Younus Khan took his team to a series win in Sri Lanka on the final day of the keenly contested 3-match series.
#6 W.G Grace (Oldest Test captain)
Last appearance – 60 years old
The bulky man of medicine who is also said to have 'invented' modern batsmanship, WG Grace, was one of the leading members of the England team in the earliest days of Test cricket, making his debut in 1880 at the age of 32. He lorded over the world of cricket for the next two decades, despite also increasing in girth at the same time.
However, it was at the ripe old age of 47 that 'The Doctor' achieved the peak year of his career, 1895 turning out to be his 'Indian summer' – a season in which he scored 2,346 runs and reached his 100th century. He also had no hesitation in getting into confrontations with players half his age, his passion for winning not in the least dimmed with age. The spectacle of Grace turning out drew crowds everywhere he went.
He bowled only occasionally in his later years however, and his slowness on the field increasingly started hurting England. At the age of 51, Grace, who was then England captain, decided to step down and retire midway into a series against Australia. He remains the oldest ever Test captain.
Grace continued to play first-class cricket, and still managed to be one of his teams' best batsmen, well into his late fifties. He played his last first-class match at the age of 60, a match where he opened the innings and scored 15 and 25.
Grace continued to play minor cricket for several years after his retirement from the first-class version, and is known to have scored a masterly 69* for Eltham Cricket Club in 1914, days after turning 66.
#7 Alec Stewart
Last appearance – 40 years old
One of England's most unappreciated greats on the basis of his versatility alone, and one of the few bright spots in a grim decade for the national side, Alec Stewart is only 1 of 2 international cricketers after the Wars to have kept wickets beyond the age of 40 – Bob Willis, also of England, being the other one.
Stewart was groomed for captaincy ever since his debut at the age of 26 in 1989, but was handed the captaincy only after Michael Atherton retired in 1998. Despite being the age of 35 at the time, Stewart's level of fitness was impeccable.
Stewart, one of the current era's most enduring cricketers, turned out for England till 2003, when at the age of 40, he hung up his boots.
#8 Wilfred Rhodes (Oldest Test cricketer)
Last appearance – 52 years old
Wilfred Rhodes was a wily slow left arm bowler for England in the years between 1899 and 1930, who also grew to be an able opening batsman because his team needed it. Rhodes made his debut at the age of 21 and was dropped not before he had crossed trhe age of 44, but his greater and more mind-boggling contribution to the team's cause would come only 5 years later.
To force a result after four draws in the 1926 Ashes, a selection committee member asked co-member Rhodes, then 49, to make an international comeback. Rhodes took 4-44 as Australia fell way short in the last innings – a Test that is widely recognised as the end of England's years of wilderness after the First World War.
In the four Tests after his 1926 recall Rhodes bowled 301 overs, 116 of them precisely thought-out maidens. He went for 1.76 an over and took 16 wickets.
After a tour of the Caribbean in 1930, well into his 53rd year, he announced his wish to retire from playing the game. His feats on that tour make him the oldest Test wicket-taker till date. In the second innings of his final Test, Rhodes dismissed the West Indian opener Clifford Roach, one of ten wickets for Rhodes in the four Tests of that series.
To provide a fairytale finale to a fairytale career, he took a wicket with his last ball in first-class cricket.
#9 Palwankar Baloo
Last appearance – 44 years old
Palwankar Baloo, the orthodox left arm spinner and lower caste Dalit hero who had learnt his trade by bowling to his British masters, was an undisputed star of the Bombay Quadrangular – India's premier domestic tournaments in the years that preceded the days of the Ranji Trophy.
On India's inaugural tour of England in 1911, it was the 35-year-old Baloo who was the standout performer – taking 114 wickets at an average of 18.84.
The stigma of untouchability that his caste entailed meant that authorities were hesitant in recognising his talents, but the prolific rate at which Baloo took wickets over the next decade meant that there were consistent clamours for him to be made Hindoo captain.
At the age of 44, when Baloo was dropped from the Hindoo team, there was a huge protest raised by both players and fans, and in the very next match he was brought back as vice-captain. What followed in the 1920 match was a historically epoch-making moment.
The designated captain deliberately left the field for an extended period, allowing Baloo to direct the team in his absence – one of the 2 premier cricket teams of India, albeit unofficially, was being led by a Dalit, a man of no political significance.
#10 John Traicos
Last appearance – 45 years old
John Traicos is the only Egyptian to play Test cricket, but that is hardly the most unusual aspect of this hugely talented off spinner's career – he holds the record for the most time between two Test appearances – 22 years and 222 days.
Traicos was part of the 1969-70 South African squad as a young 23-year-old, the last series the country was allowed to play before international boycott for the apartheid regime meant that South African players were out of action for the next two decades.
After Zimbabwe gained independence, Traicos turned out in their colours over the 1980s, being an integral part of the 1983 World Cup squad that inflicted a shock defeat on Australia.
In 1992, when Zimbabwe was granted Test status, the 45-year-old Traicos was the best off-spinner of the country by some miles and also one of the best in the world; his reflexes as a gully specialist would also put men half his age to shame.
Returning to Test cricket after 22 years, Traicos repaid the selectors' decision with his best Test bowling figures of 5/86. He played three more Tests for Zimbabwe, and his final appearance came at the age of 45 years and 304 days, making him the oldest Test player since Miran Bux 38 years earlier.
#11 Gubby Allen
Last appearance – 52 years old
Gubby Allen was an English fast bowler who holds the rare feat of playing top level cricket well into his late-forties. A bowler bent on extracting as much pace as possible, and devastating when on song, Allen also remains the 2nd oldest Test captain, only behind the captain of this team, WG Grace.
Allen made his England debut in 1930 at the age of 28, and made a significant mark in world cricket when he refused to toe his team's Bodyline tactics on the 1932-33 tour to Australia but still emerged as the most prolific bowler of that series.
When cricket resumed after the 2nd World War, Allen was 43 – well past the prime of fast bowlers. In 1947, however, at the age of 45, Allen found himself captain of his country on a tour of the Caribbean. The series went was lost 0-1 to a strong West Indies side, but Allen had again showed himself to be an ideal touring captain.
Allen made his final first-class appearance in 1954 for the Free Foresters, at the age of 52.