Holger Rune and Casper Ruud have booked their place in the last eight of the 2023 French Open with fourth-round victories over Francisco Cerundolo and Nicolas Jarry, respectively, on Monday, June 5. Doing so, the Scandinavian duo have set up a repeat of their quarterfinals clash from last year.
At last year's French Open, Holger Rune and Casper Ruud's encounter turned out to be a controversial one, with many dramatic moments during the four-set battle. With a semifinals spot on the line, tensions were high from the get-go as both players were contesting their career-first Grand Slam quarterfinal at the 2022 claycourt Major. Ruud and Rune snatched a set each as they entered the third set in their face-off.
The first moment of high tension came when the Norwegian secured a break in the third set. A frustrated Rune seemingly proceeded to scream at his mother, asking her to leave the stadium during the changeover.
Ruud eventually sealed the win in four sets [6-1, 4-6, 7-6 (2), 6-3] on a controversial match-point, which was initially challenged by his opponent. Unhappy with the decision, Holger Rune went for an icy handshake at the net. Casper Ruud, who was visibly unimpressed by the Dane's behavior throughout the encounter, let out a disapproving nod at the net.
While many thought that they had seen the last of the Scandinavians' drama-filled match, their feud spilled into the locker room. Rune claimed that the 24-year-old was distasteful in his celebration of the victory, and accused him of screaming in his face.
"He just goes straight to me and shouts 'JAAAA' straight up in my face. You can cheer on the court all you want. But that's such a bad style. Have a little respect," the 20-year-old said at the time.
The feud intensified further when the Scandinavian pair's families got involved, with each defending their child and disagreeing on the correct version of events.
While the Paris Masters champion has maintained that the incident did happen, the French Open and US Open runner-up has denied its occurrence on multiple occasions.
---
Holger Rune and Casper Ruud faced off in the Italian Open 2023 semifinals ahead of French Open 2023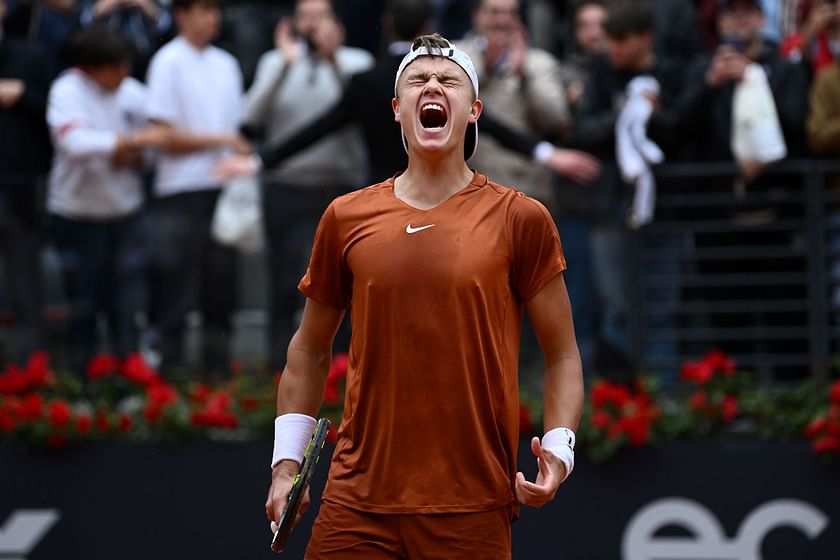 World No. 4 Ruud and World No. 6 Rune recently clashed in the semifinals of the 2023 Italian Open, where the Dane managed to earn his first victory over his Norwegian counterpart 6-7 (2), 6-4, 6-2 after four straight losses.
The encounter, while rich in the terms of their tennis prowess, was rather deficient in drama for the most part. Hints of their feud were visible, however, as Holger Rune roared 'Jaa' after crucial points in the match – seemingly teasing his opponent's alleged French Open celebration.
Nonetheless, the duo concluded their battle on a friendlier handshake this time around, and the 20-year-old insisted that there was no bad blood between them.
---
"I hope we can make less drama this year" – Holger Rune ahead of French Open 2023 clash with Casper Ruud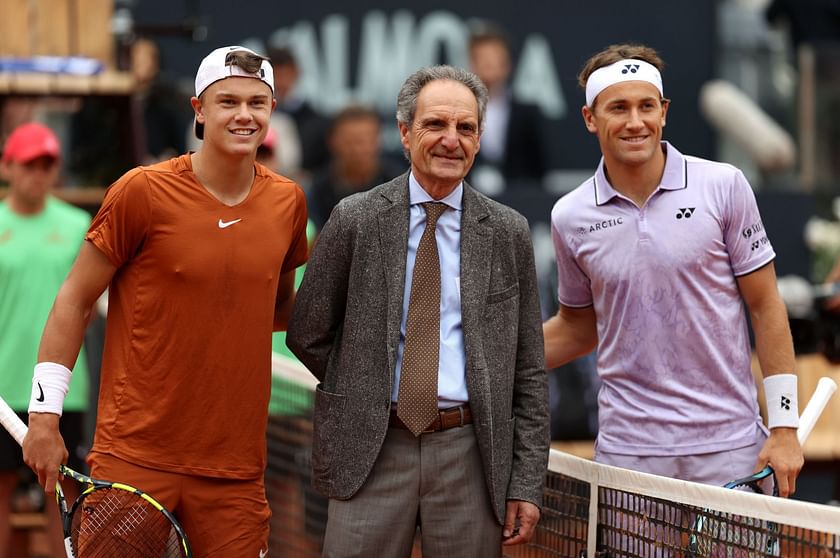 Former World No. 2 Casper Ruud got the better of Nicolas Jarry in straight sets 7-6 (3), 7-5, 7-5 in the fourth round of the 2023 French Open.
Holger Rune, meanwhile, earned his final-eight spot from the brink of defeat against Francisco Cerundolo, as he closed out the encounter in the deciding tiebreak 7-6 (3), 3-6, 6-4, 1-6, 7-6 (7).
Speaking about his impending quarterfinals repeat with the fellow Scandinavian, Rune said he was hoping for "less drama" this time around.
"Obviously, there was drama last year and I hope we can make less drama this year," the 20-year-old said. "We played each other in Rome. It was a good match, I think."
The Dane further praised the defending finalist and conveyed that he "respects" him.
"Casper Ruud's a good player," he continued. "I respect him. There's no problem. We're good. Should be a match without problems, hopefully. Just looking forward for it."
Casper Ruud and Holger Rune will be seen in action on court Philippe Chatrier on Wednesday, June 07 at 12:00 pm local time.
Edited by Siddharth Dhananjay