Elina Svitolina touched upon her 2023 French Open campaign so far after scoring a significant victory against Daria Kasatkina on Sunday, June 4.
Svitolina knocked out defending semifinalist and World No. 9 Kasatkina in straight set 6-4, 7-6(5) in the fourth round of the claycourt Major. Doing so, she registered her first Top-10 victory since her return from maternity leave.
This was also her seventh victory against the Russian in the seven matches they have contested so far. She previously earned a similar win against yet another defending semifinalist Martina Trevisan in the opening round. The Ukrainian has now soared into the quarterfinals of the ongoing tournament — which is her first Grand Slam event she become a mother in October 2022.
World No. 192 Svitolina, who entered the French Open main draw based on a protected ranking, shared her feelings about her run so far in Paris. She said she doesn't feel the same pressure of expectations she used to, before her maternity break.
"One of the things that I noticed that right now I don't have that pressure that I used to have before," Elina Svitolina said in her post-match press conference after win over Kasatkina.
"No one expects that I'm going to come into Roland Garros and make quarterfinal at the beginning of the tournament. I don't think many people would say, 'Yeah, she's gonna do it,'" she added.
The player thus revealed that she had a renewed sense of competition.
"I feel like this really helps me. I feel almost like I'm 17 again coming on the tour fresh. I'm not defending any points. Not here, not next week. I feel more free," the 28-year-old said.
The Tokyo Olympic bronze medalist also credited her time away from the tour for her rejuvenation.
"For me, it was great period of time to be away from tennis, to be completely switched off from it. I really could enjoy my time with my family. My mind rested. My body rested in the way that it could with the pregnancy. This period really helped me to refresh," she said. "I guess that's why I came back to the tour quite quick."
---
"I put pressure for myself" – Elina Svitolina after making French Open 2023 QF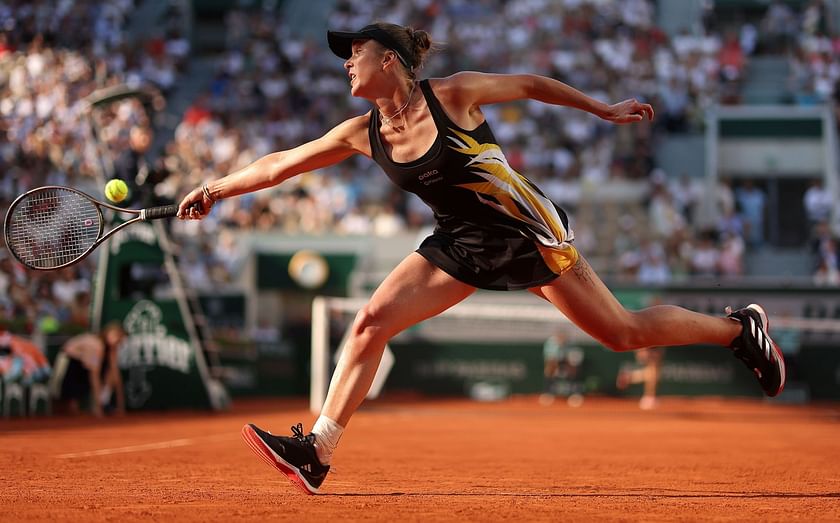 Elina Svitolina is on an eight-match winning streak after her latest victory against Daria Kasatkina. The Ukrainian, who commenced her comeback journey in April this year, stunned the tennis world by clinching her 17th career title last week at the WTA 250 in Strasbourg. She is now placed in the 73rd position in live rankings.
"Of course, me personally, I put pressure for myself because I want to win a slam. This is the ultimate goal for me," Elina Svitolina said in her latest presser.
Svitolina has previously made two semifinals and six quarterfinals at Grand Slams but has yet to lift a Major trophy. The former World No. 3 said that while she wishes to win the 2023 French Open, she will be taking things one day at a time.
"I would love to win here. It will be the dream, but it's always been in my career like step by step," she said.
The French Open quarterfinals will be Svitolina's fourth final-eight appearance at the event. However, she hasn't made it past the stage thus far.
The 28-year-old will now face the tough test of World No. 2 Aryna Sabalenka on Tuesday, June 6.