Iga Swiatek recently shared an insight into why she limits her social media usage during tournaments.
On June 5, Swiatek advanced to her fourth consecutive quarterfinal at the French Open in less-than-ideal circumstances after Lesia Tsurenko was forced to retire mid-match from their fourth-round clash. The defending champion was leading 5-1 in the opening set when Tsurenko called it quits.
The Ukrainian later disclosed that she believed she was experiencing the same illness that had caused Elena Rybakina's withdrawal from the French Open.
During her post-match press conference, Swiatek shared her satisfaction with the improvements in her level of play with each subsequent match, which has boosted her confidence.
"Well, for sure I felt like, I don't know, every match I was playing better, and even today for these few games that I had a chance to play, I felt pretty confident," Iga Swiatek said.
The World No. 1 also lamented the match finishing with Tsurenko's retirement and wished the Ukrainian a speedy recovery.
"So overall, I'm happy with the performance, but of course, as you said, it's not nice to finish a match like that. So I hope Lesia is going to be okay and she'll recover quickly," she added.
Speaking to the Polish media, Swiatek mentioned that she usually restricts her social media usage during tournaments, preferring to catch up on it afterward. However, she admitted that she hasn't been doing so lately because of a bad experience after losing a final.
"Generally, I limit social media at tournaments," she said. "I often have a period after the competition that I make up for it. However, recently I don't do it, because I had a few tournaments after which I was happy, and I lost in the final and there was a lot of hate and it wasn't nice."
"I have to be ready, regardless of what happened last year" - Iga Swiatek on facing Coco Gauff in French Open QF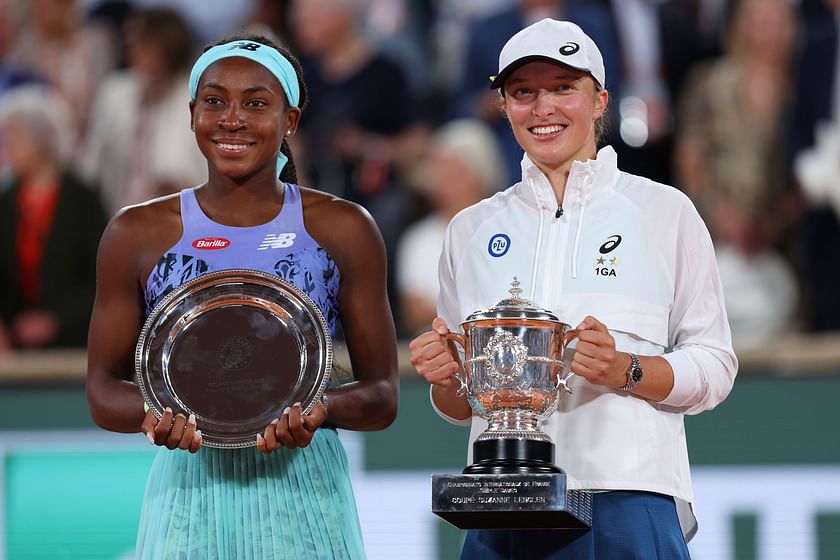 In a rematch of last year's final, Iga Swiatek will take on Coco Gauff in the French Open quarterfinal on Wednesday, June 7. Swiatek defeated the American 6-1, 6-3 in 2022 to secure her second Grand Slam title.
Looking ahead to the clash, the Pole highlighted that their previous encounter was in the final, which adds extra pressure and changes the dynamics of the match.
"But last year, you know, it was a final, so I think, you know, finals have kind of different rules. Sometimes these matches are a little bit different than the other rounds that we play during the tournament because of, you know, the pressure and everything that's going on around," Iga Swiatek said.
She also emphasized that the circumstances are completely different this time around and acknowledged that she needs to be prepared regardless of last year's result.
"So, you know, this is a totally different year, totally different tournament. I have to be ready, you know, regardless of what happened last year," she added.
Iga Swiatek enjoys a dominant head-to-head record against Gauff, having won each of their six previous meetings on tour.