Reigning Wimbledon finalist Nick Kyrgios recently rekindled his off-the-field rivalry with compatriot Bernard Tomic. Kyrgios once again indulged himself in a war of words with Tomic following the latter's "revolutionary" idea for tennis.
Renowned tennis journalist Ben Rothenberg recently shared a video on social media that shows Tomic riding a bicycle while playing tennis. In the video, he moves along the court on his bicycle, holding his racquet as he returns his opponent's shot.
The Australian posted the video on his Instagram and sang the praises of his new-found "technique." He further added how he combined both of his "favorite training."
"Actually surprisingly good for coordination," Tomic wrote on Instagram. "Starting a new sport. My two favorite training combined."
Rothenberg reshared the video on Twitter and credited Tomic for the "revolutionary" idea.
"Leave it to the mind of Bernard Tomic to revolutionize tennis like this," he tweeted.
Kyrgios, however, took a different approach to Tomic's technique and
"Moves better moving forward like this," Kyrgios wrote.
The online kerfuffle comes as a surprise to many as it comes just a few days after Tomic sent well-wishes to his countryman following his surgery. The former World No. 17 hoped for Kyrgios' speedy recovery.
"Despite our differences, we go way back. Wishing Nick Kyrgios a quick recovery, hope to see him back on the circuit soon," Bernard Tomic wrote on his Instagram story.
Nick Kyrgios and Bernard Tomic have often been at loggerheads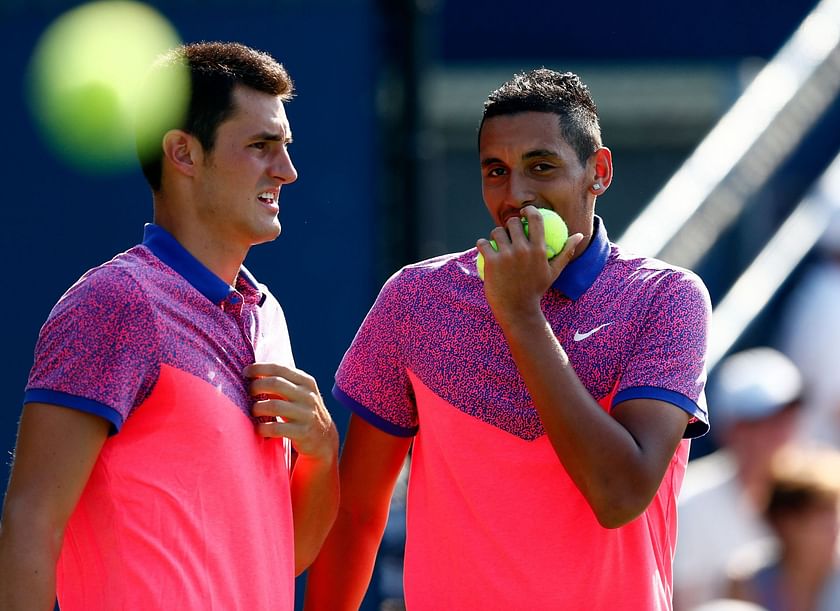 Nick Kyrgios and Bernard Tomic are yet to play each other on the ATP Tour but have frequently been involved in online feuds.
In December last year, Kyrgios took a shot against his compatriot after the latter was not given a wildcard for the Australian Open 2023. Replying to a fan's inquiry about Tomic's exclusion, Kyrgios jokingly said that the former World No. 17 hasn't received the wildcard for the Grand Slam.
""Hahahahaha NO HE DOESNT," wrote the Aussie."
Even earlier, Nick Kyrgios made fun of Tomic's ITF Futures win in Mexico. In light of that, the 2022 Wimbledon finalist mocked his countryman, hinting at his decline.
"Incredible," Kyrgios captioned his tweet.
During one of his Instagram AMA sessions, the former World No. 13 responded to a fan asking if he would play a match with Tomic. To which the US Open quarterfinalist stated that he would not play a match against a player ranked as low as 800.
"To be honest, I don't want to make him relevant anymore. I'm not gonna bother with someone 800 in the world. All the best," he wrote.