Andy Roddick expressed his concern about Novak Djokovic's fitness ahead of the 2023 French Open after the latter failed to make it to the semi-finals of any of the clay-court tournaments he has played this season.
After early exits in Monte-Carlo and Banja Luka, the Serb bowed out of the Italian Open, his most successful clay event. Djokovic lost 2-6, 6-4, 2-6 to Holger Rune in the quarter-finals on Wednesday, May 17, ending his dream for a seventh title in Rome and a record-extending 39th Masters 1000 title.
While the World No. 1 was beaten by Lorenzo Musetti in the third round of the 2023 Monte-Carlo Masters, Serbia's Dusan Lajovic downed him in the quarter-finals of the Srpska Open. The 35-year-old recently struggled with an elbow injury and withdrew from the Madrid Open.
Speaking on Tennis Channel, former World No. 1 Roddick expressed concern for Djokovic's physical condition, questioning if his body was ready for seven five-set matches at Roland Garros, beginning on May 28.
"Novak needs to get his body right, needs to feel like he's physically fit to go three out of five [sets] seven times in 15 days at Roland Garros. He has proven he can do that time and time again," Roddick said.
The 2003 US Open champion also praised Rune, who now has a 2-1 record against the 22-time Grand Slam champion.
"Rune is quickly changing the conversation from 'This is what I believe I can do' to 'This is what I'm actually capable of and here are the facts of my accomplishments'. To go out there and bully Novak around the court in wet conditions is not the easiest thing to do, I promise you," Roddick said.
---
Novak Djokovic still has the hunger to keep going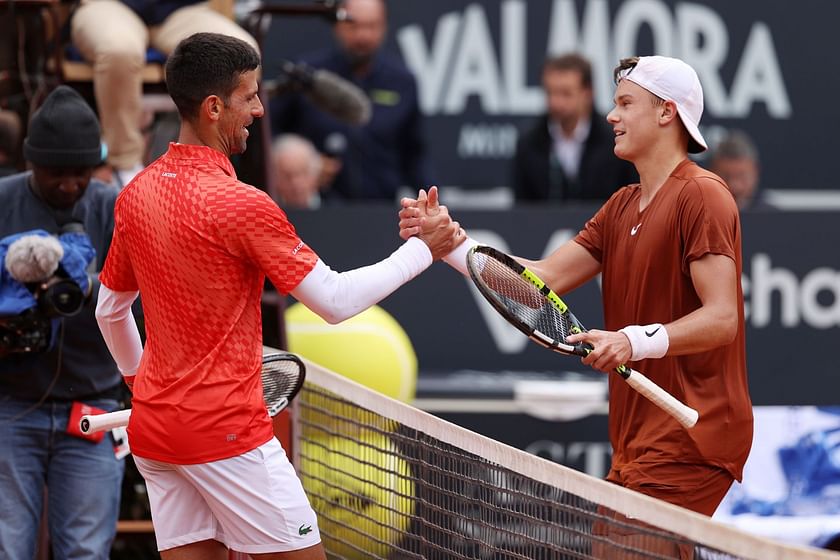 In a press conference after losing to Holger Rune, Novak Djokovic stated that he was happy to see the next generation players like Rune and Carlos Alcaraz finally taking over.
However, the Serb added that he would keep fighting for many years to come.
"The new generation is here already. I mean, Alcaraz is No. 1 in the world from Monday. Obviously, he's playing amazing tennis," Djokovic said. "I think it's also good for our sport that we have new faces, new guys coming up. It's normal. We've been saying this for years, that we can expect that moment to come when you have a shift of generations."
"I'm personally still trying to hang in there with all of them. I'm very happy with my career so far. I still have the hunger to keep going. Let's see how far I'm going to play," he added.
Djokovic will lose the No. 1 ranking to Spain's Alcaraz on Monday, May 22 after his premature exit from the Italian Open.