Tennis is one sport that has stood the test of time, with thousands of players turning professional and wielding the racquet in Grand Slams over the years.
Throughout the documented history of tennis, there have been players who have left an indelible mark on the game, whether through their success, persona or sheer will to win. The 10 players listed below also enjoy a unique distinction, of being the shortest players ever to pick up a racquet.
On our journey to compile the most accurate list of shortest tennis players of all time, we came across plenty of inaccuracies and historical evidence to make this a challenging proposition. The criterion for selection was that the player had to have played some sort of professional tennis during his or her career.
In our quest to prepare a list that would be the final and definitive word on shortest players in tennis, we came up with this:
10) Billie Jean King
Height: 1.63m (5 feet 4.2 inches)
Billie Jean King is a name synonymous with women's tennis. Winner of 39 Grand Slam titles, including a record 22 Wimbledon singles and doubles titles, King dominated women's tennis for a long spell.
Her continuous protests against gender inequality led to the creation of the Women's Tennis Association (WTA), and a "Battle of the Sexes" match against former men's champions Bobby Riggs in September 1973, which King won in three sets.
And she did all this despite being 5 feet 4.2 inches, a height handicap compared to her peers. Truly staggering.
---
9) Maureen Connolly
Height: 1.63m (5 feet 4 inches)
Maureen Connolly, nicknamed "Little Mo" on account of her diminutive stature, was the darling of the tennis world in the early 50s. She was the first woman to win all four Grand Slams in the same calendar year (1953), and was also the youngest woman to win the prestigious US Championships, when at 16 she claimed the 1951 title.
In an era of serve-and-volleyers, she was a baseline specialist, with tremendous power and accuracy in her groundstrokes. By the age of 19, she had already collected 12 Grand Slam titles, but her career ended abruptly courtesy a freak horseback riding accident.
"Little Mo" died of cancer at the age of 34, but her short yet successful tennis career gave hope to other players of similar stature. In Connolly's case, height was just a number.
8) Angel Gimenez
Height: 1.63m (5 feet 4 inches)
A former player but now a coach, Angel Gimenez stands at 1.63m and comes in at No. 8 on our list. Gimenez enjoyed limited success as a player, but earned more recognition as a coach.
He has worked with many players, including Gabriela Sabatini, Arantxa Sanchez Vicario, Svetlana Kuznetsova and Daniela Hantuchova. He now works at the Academia Sanchez Casal Vicario in Barcelona, Spain.
---
7) Bryan Morel "Bitsy" Grant
Height: 1.63m (5 feet 4 inches)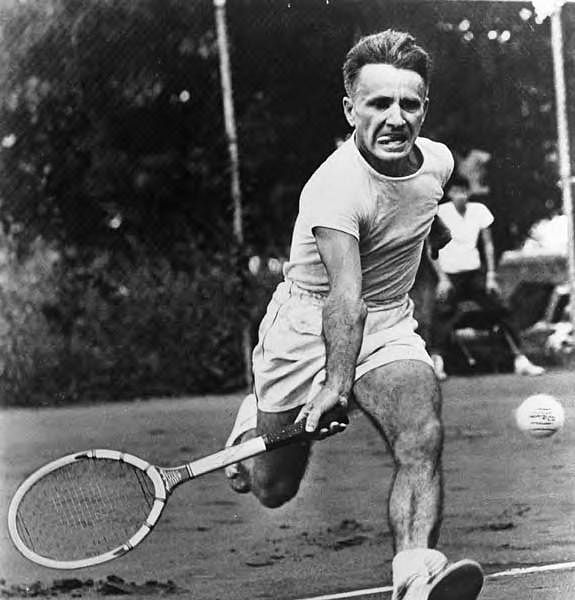 At 5 feet 4 inches and 54 kg, Grant did not have an intimidating presence. But that did not stop him from taking down bigger and heavier players with faster groundstrokes than him, thus earning him the nickname "Itsy Bitsy the Giant Killer". He was also officially recorded as the smallest American man to win an international tennis championship.
Not everything was smooth sailing for Grant though. Frank Shields, another tennis player of Grant's era, was infamous for making fun of Grant's size. Legend has it that an inebriated Shields once held Grant upside down out of his hotel window!
---
6) Dominika Cibulkova
Height: 1.61m (5 feet 3.5 inches)
Hailing from Slovakia, Cibulkova is a tennis player known for her hard-hitting groundstrokes and aggressive style of play. She achieved a career best rank of No. 5 in October 2016 following her win at the year-ending WTA Finals.
At just 1.61m, Cibulkova's small stature could have proved to be a stumbling block, but she has modelled her game around her size. Her exceptional lower body strength, coupled with her incredibly high tennis IQ, ensures that she is very quick around the court and very explosive with her groundstrokes.
Cibulkova is also a former Grand Slam finalist, reaching the summit clash at the 2014 Australian Open – where she lost to Li Na.
5) Jill Craybas
Height: 1.60m (5 feet 3 inches)
Having turned pro in 1996, 38-year-old Jill Craybas was one of the longest-serving players on the circuit. She competed in 45 consecutive Grand Slam main draws, starting from the 2000 US Open to the 2011 US Open. Craybas recorded her best result at the 2005 Wimbledon, when she beat Serena Williams and Marion Bartoli.
At 5 feet 3 inches, Craybas is one of the shortest women's tennis players and stands at No. 5 on our list.
---
4) Anna Smashnova
Height: 1.57m (5 feet 1.8 inches)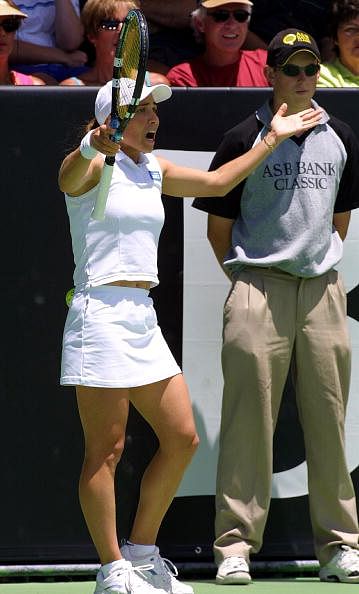 Besides having a terrific, tennis-worthy last name, Anna Smashnova is an Israeli tennis player who shot to fame in 2002 on the back of winning four WTA titles and causing huge upsets by beating Jelena Dokic, Justin Henin and Kim Clijsters.
Owing to her stature, Smashnova developed a game centered around chasing down every ball, being mentally tough and eliminating mistakes as much as possible. At 5 feet 1.8 inches, Smashnova is the third shortest women's tennis player in the world.
---
3) Nuria Llagostera Vives
Height: 1.55m (5 feet 1 inches)
And so we move into the top 3, and the competition heats up! Our next entrant is Nurai Llagostera Vives of Spain, who measures 5 feet 1 inch from head to toe. Having turned pro in 1996, Vives reached her career high ranking of 35 in 2005.
Her biggest claim to fame is the 2009 WTA Finals doubles title, where she paired up with Maria Jose Martinez Sanchez and beat the Williams sisters in the semifinals before beating Cara Black and Liezel Huber in the final.
2) Felicisimo Ampon
Height: 1.5m (4 feet 11 inches)
If you thought the article was going to be dominated by the women players till the end, think again. At No. 2 is the greatest tennis player produced by the Philippines, Felicisimo Ampon.
Since he lived and played in the 30s, 40s and 50s, accurate descriptions of his exact height are difficult to obtain. But whatever evidence there is, points to a man who was not even 5 feet tall, but was rated as the best player in the world inch for inch.
Ampon represented Philippines for nearly 30 years in Davis Cup competitions and at 47 years and 196 days old, holds the distinction of being the oldest player in Davis Cup history. Legend has it that Ampon used to play barefoot and that he had a knack of beating 6-foot plus tall players.
Tennis experts from that era believed that had Ampon been 5′ 5 or 5′ 6, he would have easily been the best player of his generation.
---
1) C.G Hoahing
Height: 1.45m (4 feet 9 inches)
At 4 feet 9 inches, C.G Hoahing is comfortably the shortest player in tennis history. She was a British player from the 1930s and appeared at the 1949 Wimbledon Championships where she beat Gertrude Morgan of USA to proceed.
Multiple sources were used for the compilation of this list including wikipedia, and tennis forums. If there is a player shorter than the ones on this list, we would love to hear from you. Drop us a line in the comments and we will update the article.