The fitness and wellness industry is on the rise, and several female WWE Superstars have taken part in that field throughout the last few years.
As many trainers have launched their mobile applications, YouTube channels, or even posted videos on Instagram, a few WWE Superstars have walked the same path. Some of them went even further to provide full nutrition guidance for their clients.
The popularity and success of such WWE Superstars in their new career paths has made them the faces of many fitness-related brands.
Here is a list of five female WWE Superstars who made it in the fitness industry. Looking at their fabulous form, you would assume that they know the secrets of getting in the best shape.
---
#5. Former WWE Superstar Veronica Lane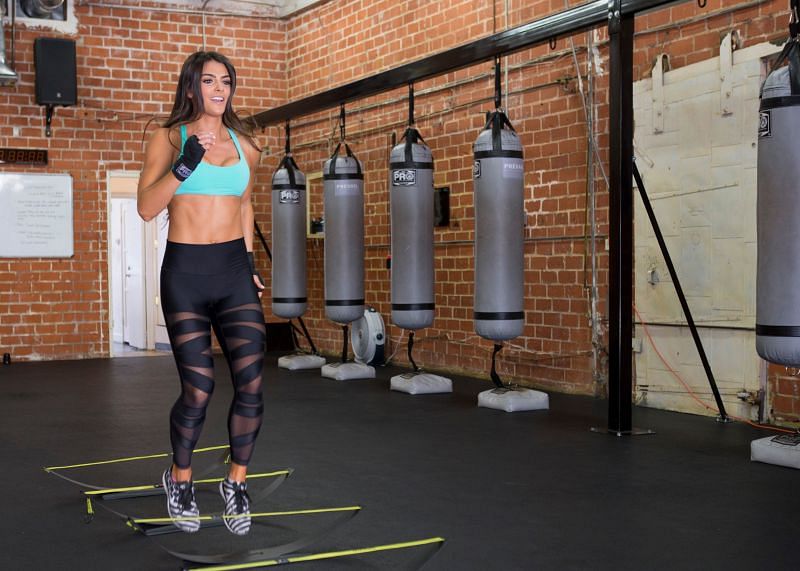 Erika Ann Hammond, aka Veronica Lane, joined NXT in October 2013. She played the gimmick of a beauty queen. During her time on the Black and Gold brand, she shared the ring with some of the biggest stars today, including Becky Lynch, Alexa Bliss, and Bayley, in untelevised matches.
On television, WWE used Erika as a ring announcer and a backstage interviewer.
In less than a year, Erika revealed through Twitter that she had decided to part ways with WWE to pursue new opportunities.
Following her WWE career, Erika worked as a personal trainer in the boxing industry in Los Angeles. In 2016, she became one of the founding instructors of Rumble Boxing Workout. They offered fitness classes with either boxing or treadmill work and weighted strength work as well.
In July 2020, Erika co-founded The Strong Collective on-demand service and phone application, offering monthly workout programs, live classes, and boxing-inspired workouts. She also posts workouts on her Instagram, where she has more than 81,000 followers.
#4. WWE icon Trish Stratus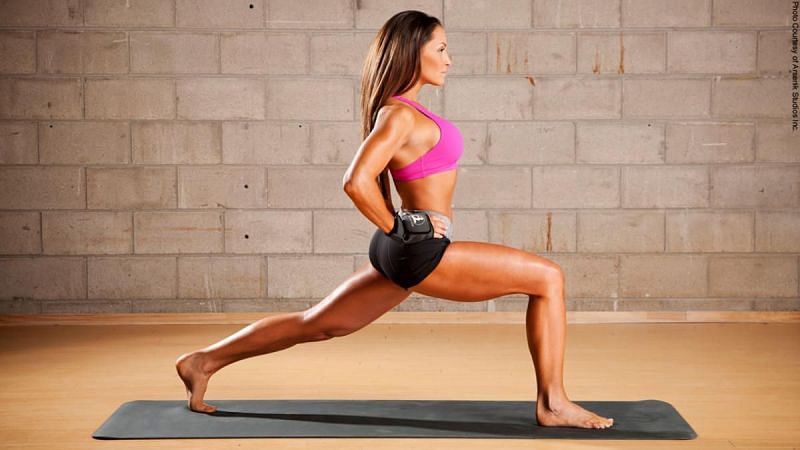 Trish Stratus is arguably one of the greatest female WWE Superstars of all time. She is a seven-time WWE Women's Champion, a Hall of Famer, and now a yoga and fitness instructor.
Before her WWE career, Trish worked as a fitness model. She returned to the fitness industry after her initial retirement in 2006.
After her retirement, Trish turned to yoga. She revealed the reasons behind her decision in an interview with WWE.com.
" When I retired in 2006, I delved into yoga, practiced all over the world in different studios and styles with different teachers. In 2010 I was asked to do my first movie, 'Bounty Hunters' in a role as a kick-ass bounty hunter. She was a Krav Maga fighter, but I had a skinny yoga body and had lost my buff Diva body. I started training at the dojo to learn Krav Maga and my body was killing me. I had to bulk up a little bit, but I didn't want to abandon my yoga."
She went on to tell the story of how her brand Stratusphere was born.
"I started integrating strength training movements and basic calisthenics into my yoga program. All of a sudden, my muscles were coming out, my 'yoga booty' was coming out and my body was changing. I started showing it to my teachers and students and Stratusphere Yoga was born. I pair strength training movements with yoga poses. So you're strengthening your muscles but also getting the yoga benefit."
The former WWE Women's Champion opened her yoga studio Stratusphere in 2008, which received awards in the following years. Trish was also voted Business Woman of the Year in 2010 by Top Choice Magazine.
She has been on the covers of many fitness magazines. Stratus has also released several fitness and yoga DVDs as the WWE Hall of Famer became an icon in the industry.
#3. Former WWE Superstar Torrie Wilson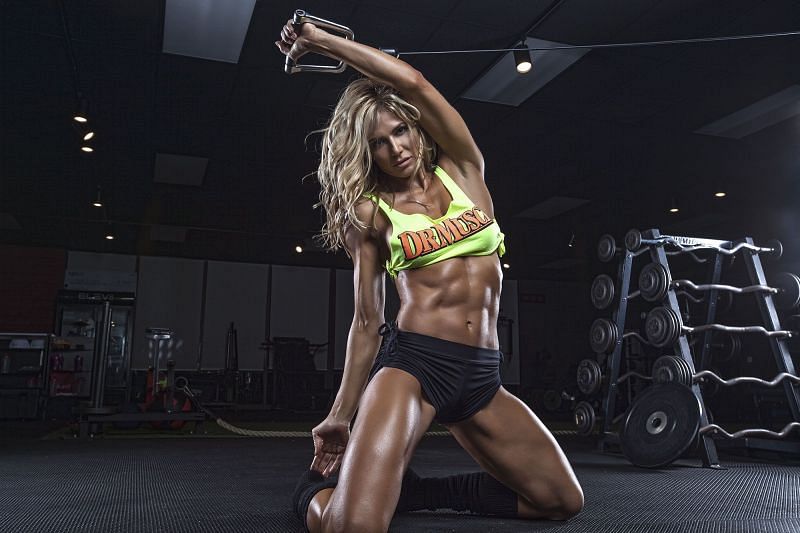 Torrie Wilson started her wrestling career at WCW and then moved to WWE in 2001.
Despite failing to capture championships during her WWE run, Torrie was one of the top divas in the women's division. She created many memorable moments throughout her career and was inducted into the WWE Hall of Fame in 2019.
Torrie initially retired from professional wrestling in 2008 to look out for other opportunities. The WWE Hall of Famer returned to the fitness industry, being no stranger to it, having worked as a fitness model before her pro wrestling journey.
Following her retirement, the former WWE Diva became a web-based fitness trainer and blogger. She launched a fitness blog providing workout videos and fitness tips.
Torrie released Fittensity on-demand fitness programs and regularly posts workout videos on her social media platforms.
The Hall of Famer, who looks now in better shape than she was in her wrestling days, identifies herself on Twitter as an "Athlete, Entrepreneur, Fitness Expert, Model, Spokesperson, Former WWE Queen".
Torrie made several appearances in WWE after her initial retirement. She made history by participating in the first-ever Women's Royal Rumble match. Torrie also entered the 2021 Women's Royal Rumble at number 17 and got eliminated by Shayna Baszler.
#2. Former WWE Superstar Eva Marie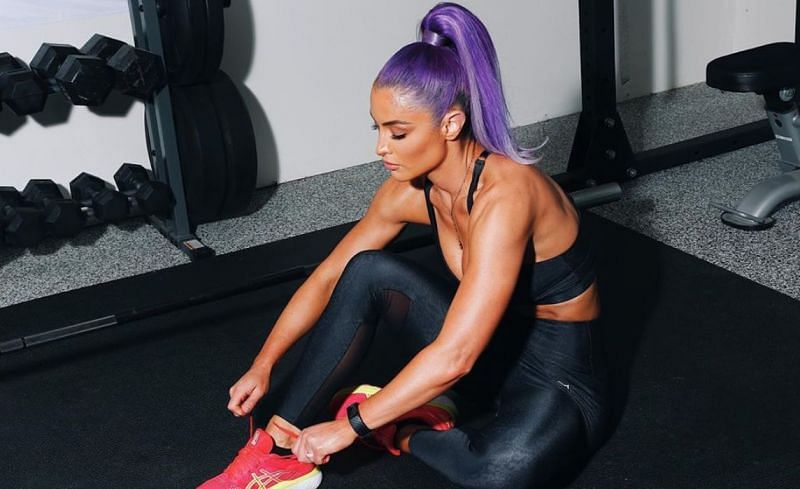 Natalie Eva Marie joined WWE in 2013 and spent nearly four years fluctuating between the main roster and NXT. She also starred on the hit reality show, Total Divas.
In 2017, Eva Marie left WWE to focus on her acting career. In the same year, she played a role in the film Inconceivable. The former WWE Superstar also made few appearances on some TV Shows and will be featured in the new Amazon Prime series Paradise City.
Besides her acting career, Eva Marie worked as a fitness expert after she departed from WWE. She built a fitness empire and launched her brand NEM in 2016, which now includes NEM FIT.
Eva Marie described the aim of NEM FIT on her official website as following:
"NEM FIT is an online daily workout program that caters to those of all fitness levels. Whether you're a complete newbie, or you've been training for years, this program has you covered. Let me help you take your results to the next level, so you can finally start achieving the body you want and deserve!"
Besides her NEM FIT work, The former WWE Superstar is now a fitness influencer on Instagram, posting workouts for her 4.5 million followers.
#1. WWE Superstar Mandy Rose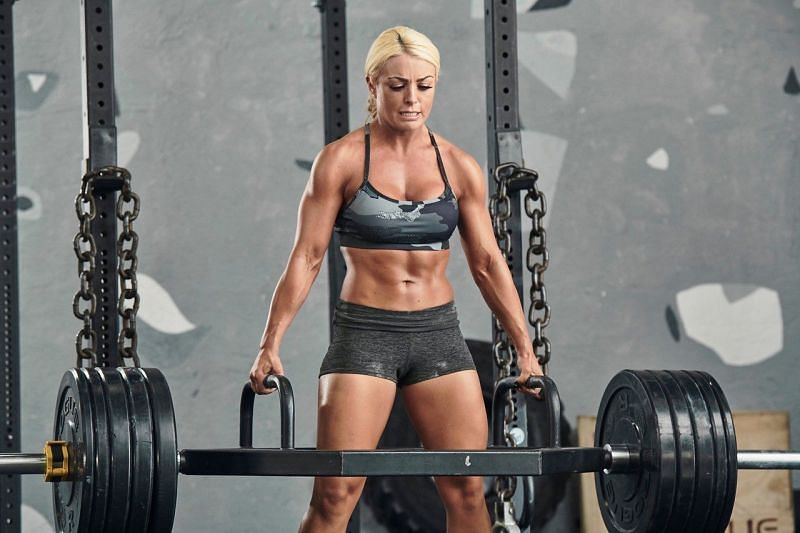 Mandy Rose is the only active Superstar on this list. She is currently a part of a tag team with Dana Brooke on WWE Monday Night Raw.
The Golden Goddess joined WWE after finishing second on Season Six of WWE Tough Enough in 2015. Mandy is one of the most popular female Superstars on the roster today, and she made sure to use this popularity to create her fitness brand.
God's Greatest Creation had a previous experience in the fitness industry as she participated in and won several competitions before joining WWE. She confessed in an interview with Muscle and Fitness Magazine that her first love will always be fitness, adding:
"I want to share that with as many people as I can."
Mandy launched her own fitness app called Fit With Mandy. The phone application offers a 12-week at-home program tailored to fit all participants despite their age and skill level. She occasionally posts workouts, as well, for her 2.7 million followers on Instagram.