WWE fans were in delight earlier today after learning that Alexa Bliss is currently pregnant with her first child, who is due this upcoming December.
Just like her on-screen character, the announcement was nothing short of creative. However, she's not the only superstar who added something extra to their pregnancy announcement.
For this list, we are going to explore three more WWE stars who shared their pregnancy news in creative fashion.
---
#3. Carmella and Corey Graves' stepkids had an emotional reaction to the announcement
Fans did not see much of Carmella in the last year, and it was sadly due to a personal matter. The Princess of Staten Island shared that she suffered two miscarriages and an ectopic pregnancy. Fortunately, her current pregnancy is looking to be a success.
Before the WWE couple shared the news with the fans, they first shared it with their kids. In a video posted by the former SmackDown Women's Champion, her kids were seen unboxing shoes she got them. The happy occasion became an emotional one after her kids saw that a fourth and smaller shoe was waiting for them, later announcing that she was indeed pregnant.
---
#2. Becky Lynch announced her pregnancy on WWE Monday Night RAW
On the May 11, 2020, episode of RAW, Becky Lynch began tearing up while delivering an emotional promo. She began by sharing her journey in WWE and stated she had to go away for a bit. As a result, she awarded the RAW Women's Championship to Asuka.
The Japanese star celebrated inside the ring while The Man looked on. The latter then stated that Asuka should go on to become a warrior, while she becomes a mother. Both women shared an emotional moment and hugged inside the ring.
---
#1. Brandi and Cody Rhodes had an entire video presentation
Unlike the announcements of Alexa Bliss, Becky Lynch, and Carmella, Brandi and Cody Rhodes' announcement was not done in a personal and emotional manner. Their reveal was focused more on theatrics. However, it should be noted that the announcement was done while the couple was still with All Elite Wrestling.
Since the news came during the Christmas season, the video was made with a festive vibe. Cody and Brandi were seen decorating a tree when they were interrupted by the doorbell. Upon answering the door, they saw a small gift box. Upon unwrapping the gift inside their home, they revealed an ornament stating that they are expecting a baby. Fans can watch the video here.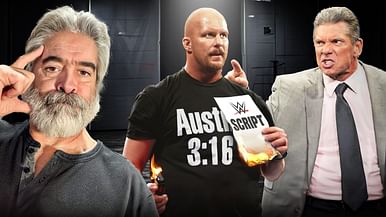 How Stone Cold was born in 2 minutes