WWE Backlash is in the history books after another wild night at the WWE Performance Centre.
WWE's Superstars once again delivered to produce an excellent night's entertainment without the added aid of a live crowd for atmosphere - the only live presence being that of a scattering of NXT and Performance Center recruits at ringside.
WWE used the catchphrase "The Greatest Wrestling Match Ever" to promote the main event at Backlash, the colossal clash between Edge and Randy Orton. While many felt it would leave the two veterans with too much to do and too high a bar to reach, they unquestionably exceeded expectations, as we'll go on to explain.
WWE Backlash 2020 - What you need to know
After WWE Backlash the WWE Champion Drew McIntyre and Universal Champion Braun Strowman are both able to breathe a sigh of relief after successfully retaining their respective Championships.
The same can be said for the United States Champion Apollo Crews, RAW Women's Champion Asuka, and the WWE Tag Team Champions Bayley and Sasha Banks.
With so many Championships on the line at WWE Backlash and so many stories to take from the show, there's a lot to consider but, to give you a helping hand, we've helped compile some of the key talking points from the event.
Here are the five things we learned from WWE Backlash 2020.
---
#5. The Greatest was Great
Having a match billed as "The Greatest Wrestling Match Ever" for weeks before it happens is certainly one way to pile pressure on those involved.
Going into WWE Backlash, it certainly felt as though Edge and Randy Orton were on the proverbial hiding to nothing: either miraculously have the greatest wrestling match ever and get a pat on the back, or fall short and be labeled a failure for not living up to the billing.
Yet if there were ever two stars who would be capable of somehow pulling this out of the bag, it was indeed Edge and Randy Orton. Whether this was 'The Greatest Wrestling Match Ever" is, of course, subjective - but you won't find many who wouldn't at least admit their clash was great.
In many respects, it had everything; wrestling, storytelling, theatrics, and production. And in the end, we'd probably have to accept that, for the sake of his character, Orton won in the only way he could have - by the use of underhand tactics.
After spending weeks claiming that his wrestling skills and "natural ability" far outweighed that of Edge, the fact that The Viper had to use a low blow to help get the job done was beautifully fitting.
#4. Edge's reported can be a major blow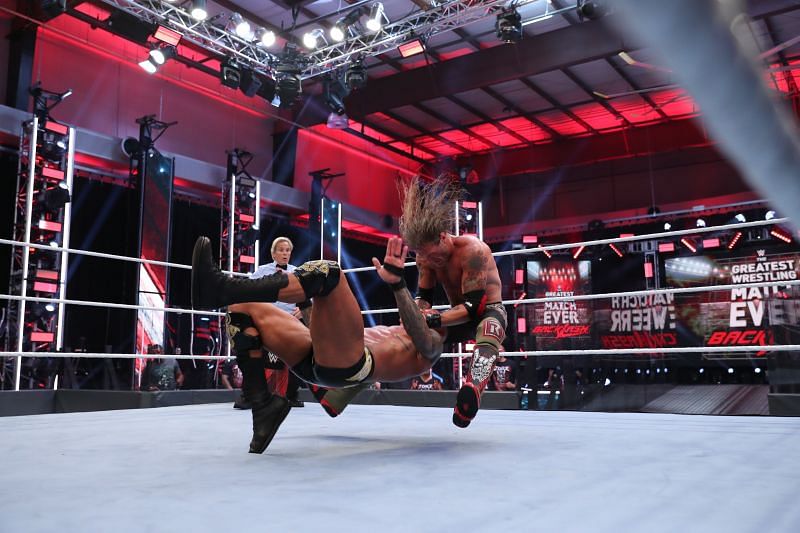 Arguably one of the major talking points from WWE Backlash was the reported injury to Edge in the main event.
During "The Greatest Wrestling Match Ever", the Rated-R Superstar is said to have suffered a torn tricep. While WWE themselves has yet to officially confirm the injury, it is now being widely reported.
Edge suffers a major injury at WWE Backlash?
If it does transpire that the Canadian has suffered this injury, it's highly likely he'd miss several months worth of active, in-ring action as a result. After only just completing a return to the ring after almost a decade away having previously retired due to serious neck issues, this latest development would be a crushing blow for Edge.
His return at Royal Rumble this year was easily one of the most talked-about moments in WWE history, and his first match back, against Orton at WrestleMania, was also heavily praised.
If at WWE Backlash Edge has indeed been stopped firmly in his tracks, it will be a loss not just for fans, but for WWE, too. With a number of key stars already out of the picture just now, the loss of another big name is likely to be costly.
Fingers crossed, if the injury is confirmed, for a speedy recovery for the former World Champion.
#3. It's time to get serious with Braun Strowman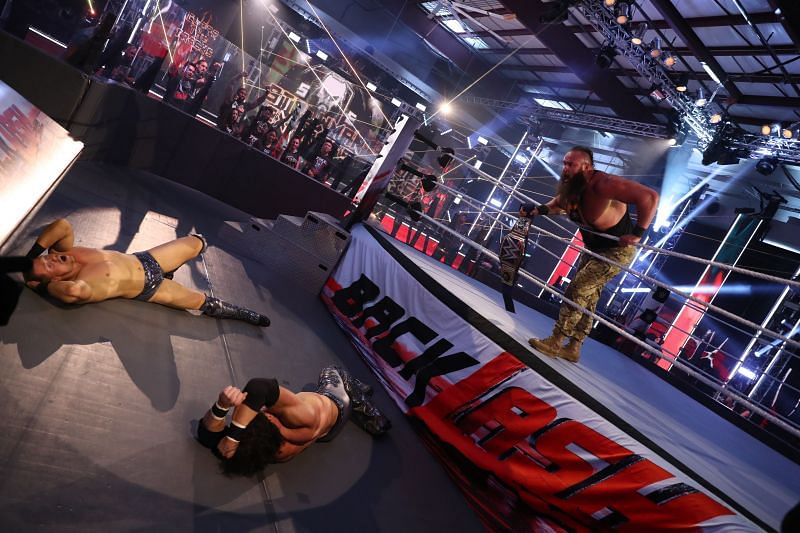 Among the other victors at WWE Backlash was Universal Champion Braun Strowman.
The Monster Among Men successfully defended his title in a two-on-one handicap match against both The Miz and John Morrison.
The match was short and sweet but was probably what we expected as Strowman gave these two mouthy heels their punishment for spending the last few weeks riling him up on episodes of Friday Night SmackDown.
WWE Backlash: Braun Strowman retains his WWE title
Now that victory is in the record books for Strowman, however, I'd like to see WWE move the champ on to something more long-term and interesting.
I don't necessarily feel that Strowman has had a stellar reign as Universal Champion so far, and that's no criticism of him or WWE. He was an accidental Champion at WrestleMania, having been slotted into the mix late after Roman Reigns withdrew from the event.
Since then, it almost feels as though WWE are having to play catch-up with Strowman and have yet to decide how they want his reign to play out in the long-term.
After WWE Backlash, I feel it's time to really get to work on that and to let the Monster loose once and for all!
#2. Nia Jax will come again for Asuka
If there was another major certainty to take from WWE Backlash, it's that Nia Jax isn't done with Asuka as yet.
The RAW Women's Champion successfully defended her title against Jax at the Performance Center - but I use the word 'successfully' in a loose sense, given it was only as a result of a double count-out.
I believe this was WWE's way of ensuring Jax can stay in the title picture for a while longer yet.
Asuka retains her title at WWE Backlash
That's probably pretty sensible, too. Since her return from injury several weeks ago, Jax has been booked as a major, unstoppable force on every episode of RAW, so it might not have made too much sense for her to be beaten clean by Asuka in what was her first high-profile match back.
Similarly, given the ceremonial way in which Asuka claimed the title at WWE Money in the Bank and given a seal of approval by Becky Lynch, it would have made even less sense for the Empress of Tomorrow to surrender her gold so early in her reign.
In short? After WWE Backlash, this is probably a match we'll be seeing again in the not too distant future.
#1. Sasha and Bayley is WWE's best tale right now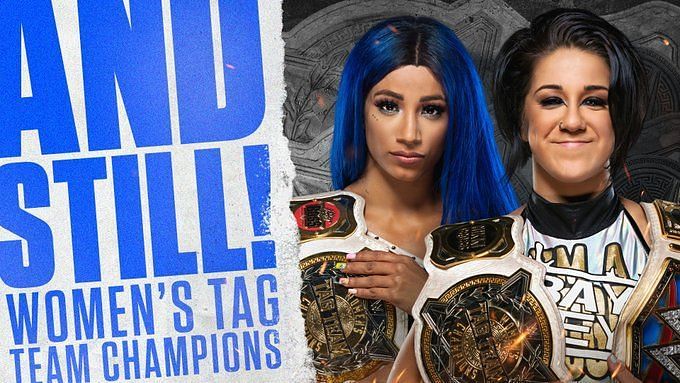 In the wake of WWE Backlash, you aren't likely to find two happier people than Sasha Banks and Bayley.
The WWE Women's Tag Team Champions successfully retained their titles in a triple-threat tag team match against The IIconics and Nikki Cross & Alexa Bliss, though they took the short route after Bayley pinned Peyton Royce after she'd eaten Twisted Bliss.
WWE Backlash sees Banks and Bayley retain
While the champs now head to NXT to face their next challenge on Wednesday night after a successful day at the office at WWE Backlash, there's no doubt that their gloating and hooting is a joy to watch - for those of us that believe they know what's coming at least.
I don't think you have to be a groundbreaking detective to see that Banks is slowly being primed to turn on Bayley to have a rivalry over her SmackDown Women's Championship. However, the fact that WWE aren't rushing this and are taking their time, is giving us plenty of hilarious moments as we watch these two best friends infuriate fans and fellow wrestlers.
Keep it up!