Roman Reigns has a lot of cousins in and out of WWE. With a vast family like the Anoa'i clan, it's not surprising that occasional disagreements occur. However, there was a time when Charlotte Flair had her difference with them.
For those wondering, the cousin of Roman Reigns we're referring to is Nia Jax. The latter and Charlotte Flair were having a match on RAW when they began hitting each other for real. However, the former superstar has since cleared the air and said they have no issues and what transpired was all due to some miscommunication.
Aside from not actually having an argument, both stars have remained close friends even after Jax got released from WWE.
What exactly happened between Nia Jax and Charlotte Flair?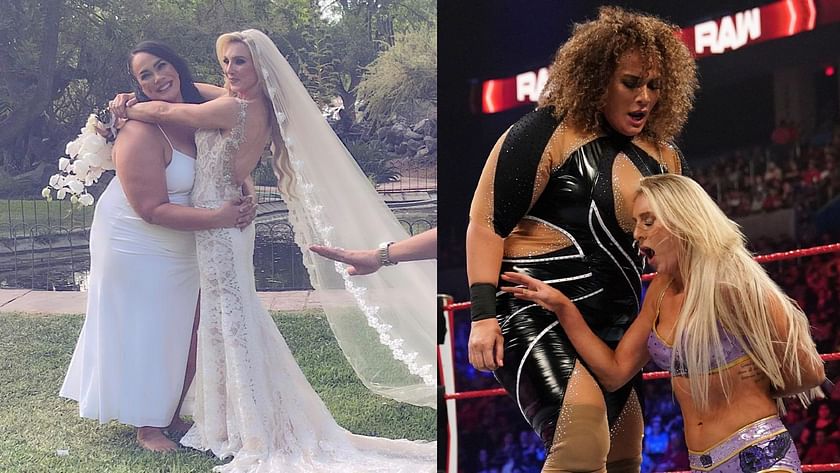 The match in question was during the August 30, 2021, episode of Monday Night RAW. The bout was a simple one-on-one, but towards the middle, Flair delivered what appeared to be an actual blow to her opponent.
Nia pushed her to the ropes, and both had a staredown. They later had a messy exchange of punches. The match continued, but the actions between the competitors caused a lot of discussion among fans.
While on The Sessions with Renee Paquette, Nia revealed that she was shocked when Flair hit her. Once they reached backstage, she stated that there was some miscommunication, and Charlotte apologized.
"There was some sort of miscommunication. We got backstage and I literally was like, 'What the f***?' I look at her and I said, 'Are you good?' She said, 'Yeah, yeah, out there something went off and I didn't feel right.'" [H/T Inside the Ropes]
Nia Jax and Roman Reigns made headlines after fans assumed they had beef
Although Nia is not with the Stamford-based promotion anymore, some fans still think that she has problems with some of its stars. Interestingly, one of them is her own cousin, Roman Reigns.
WWE released a behind the scene photo of The Tribal Chief and The Usos watching the production team testing Jax's music and titantron for this year's Royal Rumble. Some fans stated that the trio looked disinterested in what was happening.
However, Nia cleared the air by stating they were not fighting. She shared that Roman Reigns and The Usos were just talking about their match.
"Zero beef....they're going over their match and production is testing the tron. But I'm sure it'll be a scandal somewhere *two crying laughing emojis*,"
It remains to be seen if Nia Jax will ever return to WWE and join Roman Reigns and the rest of her family.
Edited by Gurjyot Singh Dadial